10 Best Humidifier For Baby Reviews 2019
The Winter/Fall is setting in, and we all know that it comes with its set of problems like sore throats, coughing, stuffy nose, croup, and colds. The heating of your house, humidity from air and cold strips makes it even worse especially if you have a baby in the house. All that dry air flowing in your home only makes the symptoms worse for your child, and it may take very long for them to recover.
During the night is when your child immune system gets the chance to fight infections and clear up these symptoms. Therefore this is the perfect time to set up your humidifier to add some moisture to your baby's room, clear coughs, soothe dry throats, and help your baby fight viruses.
Now that you've decided it's time to buy a humidifier, but how do you know which is the best humidifier for your baby? If you have a toddler or an infant in the house, there are several factors that you should consider when choosing the right humidifier for your baby's room. Children often have different requirements unlike adults and keeping the right humidity balance in their rooms is crucial for their respiratory development.
Is it important for my baby to have a humidifier?
Yes. Babies have a weaker immune system compared to adults. They are even more susceptible to certain diseases, pathogen and health problems than adults. Lack of moisture balance (humidity balance) can create conditions where viruses and other pathogens thrive. To create an optimal health condition for your infant/toddler, you'll want to maintain moisture balance in your baby's room.
Additionally, there are other benefits associated with maintaining right humidity levels such as the ability to prevent dry skins, red patches, itchy skin, and chapped lips and the right baby humidifier can solve all these problems.
Even when your child is sick, maintaining the right moisture levels helps create better breathing environment for them, and this makes it easier for them to fall asleep.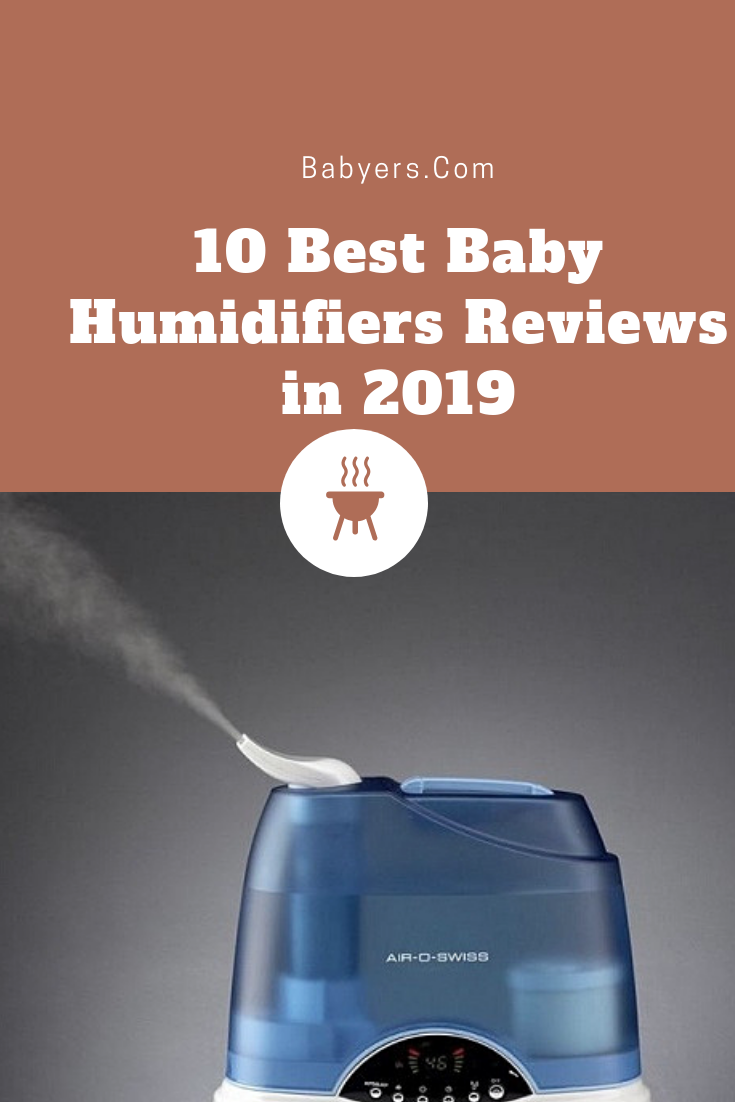 Buying a humidifier for your baby
There are several crucial factors that you should consider when choosing the best baby humidifier. They include:
Anti-bacterial properties
Noise level
Cool vs. warm mist
Cleaning and maintenance
White Dust
Antibacterial Properties
Something is deemed to have Antibacterial properties only if it can destroy or suppress bacteria growth or the ability of the bacteria to reproduce. You will notice that many humidifier brands in the market claim that their products have anti-pathogenic and antibacterial properties.
These two properties are important for ensuring your baby is healthy. But it is important to know that the degree to which these two factors are effective varies widely and therefore it is always important to conduct your research, read product reviews and consumer reviews to ensure that you get a humidifier whose anti-pathogen and antibacterial properties are most effective.
Noise Level
Same as adults, babies require sleep to maintain a healthy status and wellbeing. Babies are also sensitive to surrounding noises than adults, and it's for this reason you will have to check the noise levels of the humidifier you intend on buying. A noisy humidifier will disturb your baby sleep patterns which can affect their wellbeing.
Ultrasonic humidifiers are considered the quietest humidifiers on the market. They utilize ultrasonic frequency that transforms water into mist without the need of heating it first. The fine mist is then released into the room hence maintaining humidity balance. Even though some ultrasonic baby humidifiers use fans to force out the moist air, these fans are often silent and produce vibrations beyond human ability to hear.
However, if you don't fancy ultrasonic humidifiers, there are several alternatives such as evaporative and steam humidifiers designed for babies and are quieter compared to standard humidifiers.
Cleaning and Maintenance
Just like any other household item, most humidifiers require regular cleaning and maintenance not only to keep them in good working conditions but also to ensure that mildew, mold, bacteria and other pathogens are not growing within the unit.
In other words, these are two factors that you should consider when buying a humidifier for your child's room. You will want to have one that is easy to clean and requires low-level maintenance. If the unit is easy to clean, you will save more time and also keep your child healthy.
White Dust
White dust is a common problem with most humidifiers- even the ultrasonic ones. White dust is formed when mineral deposits in water get filtered out and reduced to fine particles.
The white dust is then released into the air and can be a problem for your baby. This is why you should take some time and review all your options and make a choice based on your research, consumer reviews and products reviews or even speaking to professionals.
Cool versus warm Humidifiers
There are several differences between warm and cool humidifiers. Ultrasonic humidifiers are quiet but are cool mist humidifiers. This is because they don't heat water to turn it into mist. However, because of the antibacterial properties that come with boiling water, your doctor might recommend using warm mist humidifiers for your baby's room instead of a cool mist humidifier. Additionally, if your baby has early respiratory problems, then a warm mist humidifier can be better for their breathing issues compared to a cool mist humidifier.
However, there are challenges you might encounter with warm mist humidifiers. Babies are prone to accidents, and in case an accident occurs, it can result in your child becoming scaled either by steam or the boiling water. Again warm mist humidifiers are also susceptible to the growth of mold. While boiling water is good at killing pathogens and bacteria, warm water relatively below the boiling point can be a breeding ground for mold and other pathogens. Therefore you will want to be careful and conduct regular cleaning and maintenance.
Best baby humidifiers reviews
best warm mist humidifier for baby
1.  Honeywell HCM-350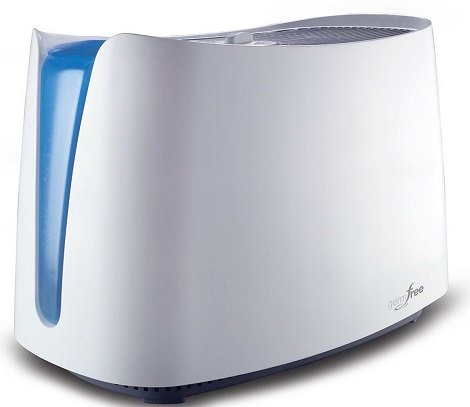 Check Price and Deals at Amazon

First in my list and our best pick is the Honeywell Germ-Free Humidifier.
Reasons to love it:
Cleaning is a breeze
It's readily affordable and made of high-quality materials
Easy to use, the tank last over 8 hours
It quiet and the fan emits a soothing noise at higher settings
Energy saver (It doesn't drain a lot of electricity)
Cleaning
The ease of cleaning ensures that the Honeywell Germ-Free Humidifier stays ahead of its competition. Many humidifiers on the market today have all the electronic components baked into the whole unit thus making extremely difficult to clean.
The best part about this humidifier is that every single part that makes contact with water is fully submersible in water. The water tray and the reservoir are dishwasher safe, so you don't have to worry about cleaning especially if you hate hand washing.
The water tray is simple and has no areas where mold, bacteria and other pathogens can be trapped. The reservoir has a large filling hole, and so you can fit your entire arm to clean it, unlike other similar humidifiers that you can barely fit your fingers inside.
Reservoir and Refilling
What we love about this humidifier is the ease of refilling, and unlike other humidifiers in the same price range, the humidifier reservoir is removable. The reservoir is small enough such that you can easily refill it in your kitchen sink and the filling hole is big enough so you can quickly fill without making any mess.
Or even if you have a bottle of water at hand, you can pour it hence saving you a trip to the bathroom or kitchen with the reservoir.
When the reservoir is filled up, it's not even heavy to carry around as it weighs approximately 10 pounds.
The filtration system
The filters used in Honeywell baby humidifier are affordable and easy to replace. The manufacturer recommends replacing the filters every one to three months. The filters are easy to replace.
With time the filters will turn brown, but that's normal, and it should be a concern. The brown build up is just minerals from water and nothing dangerous.
If you note that the filter is not as efficient as it used to be, then its high time you replaced it. Again if you find more water in the tank when you go to refill it or if the room isn't humid as it used to be, then that's a good sign that you should replace the filters.
What about the mold?
You may have experienced moldy filters before in any other humidifier, and yes the same can happen to this humidifier. But there is a simple way you can avoid this from happening.
The reason as to why mold grows is because the humidifier filter is always wet. So to keep the filter free from mold, you should let it dry once in a while. The easiest way to do this is switching filters every time you refill. This will give a chance for one filter to dry out while the other is in use completely.
Is the UV light- the germ killer?
Honeywell claims that the Ultra Violet light kills over 99.9% of bacteria. While this sounds true, I'm not convinced that the UV does anything. It doesn't seem that the UV comes into contact with the water. The manufacturer also claims that the light burns out after 300 hours of continuous use and has to be replaced after it burns out.
Is the humidifier fan loud?
Some people want a silent baby humidifier, that's okay but the truth is you won't find one in an evaporative humidifier but you can with an ultrasonic humidifier.
This humidifier fan has three settings: low, medium and high. From what I know, the low setting is the most silent but emits a soothing white noise that's proven to be a sleep aid for both babies and adults.  There is the medium setting, it's louder than low setting, but it's not unbearable. This unit works well with the lowest setting.
The customers complained that the humidifier lacks a humidistat. A humidistat is responsible for automating the on and off process, in case the room is too dry or when its humid enough.
But this shouldn't worry you.
Since this Honeywell humidifier is an evaporative humidifier, it is practically impossible for it to put too much moisture in the room. Once the baby room is humid enough, it won't add any more moisture, and you will also notice that the water level in the reservoir doesn't get depleted easily.
Quietest humidifier on the market
2. Crane Ultrasonic Cool Mist Humidifier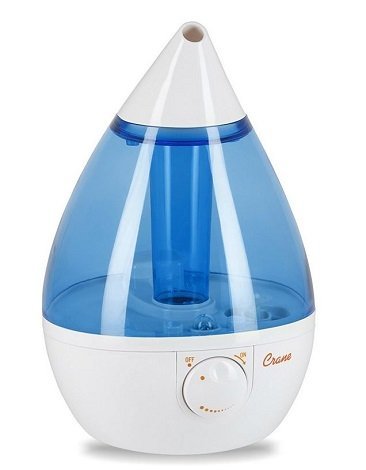 Check Price and Deals at Amazon

Second in the list of best baby humidifiers is the crane ultrasonic cool mist humidifier. It is a cool mist humidifier and below are the reasons why we recommend it.
Silent: the crane ultrasonic humidifier is entirely silent when on low and medium settings and emits an only soothing white sound which can actually be soothing to a child and it for use in your baby's nursery.
Straight on a full tank, the humidifier runs for a minimum of ten hours meaning that you will have all night without interruptions. The auto-shutoff feature ensures that the unit shuts down when it runs out of the water.
What's more interesting about the humidifier is that it does not require any filter but you can always but separate demineralization filters if you intend on using hard water. Additionally, you will need to clean the humidifier at least once a week. Cleaning is simple and will only take 5 to 10 minutes of your time.
Crane Drop humidifier comes in a variety of colors so you can pick either blue for your baby boy or pink for your adorable princess. The unit is also small in size thus capable of fitting in small surfaces like changing table or a drawer.
Setting up the unit is quite simple, but I would recommend you check the manual first. Some users complained, but I think it's because they didn't read the manual first.
This machine is also very affordable compared to other humidifiers out there with the same specs. So you will be saving some bucks for other expenses.
cold mist humidifier for baby
3. Tao Tronics Cool Mist Humidifier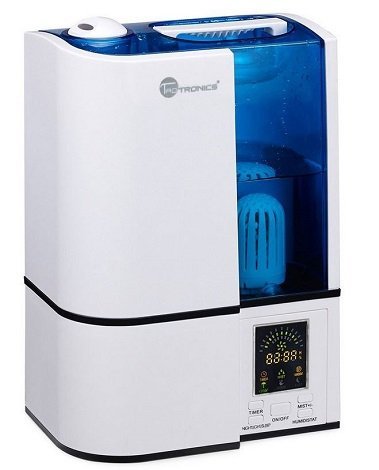 Check Price and Deals at Amazon

Third on our list is the Tao Tronics Cool Mist Humidifier. Even though it will cost you extra buck than the other humidifiers in our review, if you can afford it, then it's definitely worth the cost.
The unit features three speed settings (low medium and high). The low-speed setting is just as quiet as Honeywell reviewed above but the medium and high settings are still quiet as well.
this humidifier has a 4-liter tank large than the Anypro or Pure and will run on a full tank (at low-speed setting) for 15 hours which confirms that this humidifier does an excellent job in balancing the humidity of your baby nursery.
The humidifier is equipped with several advanced features such as a nice LED screen, a built-in humidity meter that will show your baby's room humidity conditions. Additionally, it has a sleep timer, a sleek profile, and a rotating nozzle.
Refilling the reservoir can be tiring given its size, but a large tank also means that it will last longer without any refilling. Cleaning is much easy, and just like any other humidifier, you only need to clean the tank and clean the metal ring.
What we also love about this humidifier is the fact that the manufacturer is very responsive to customer queries. Other than the tank being large to fill there are no other cons to this humidifier.
Cool mist humidifier for baby cold
4. Pure Ultrasonic Cool Mist Humidifier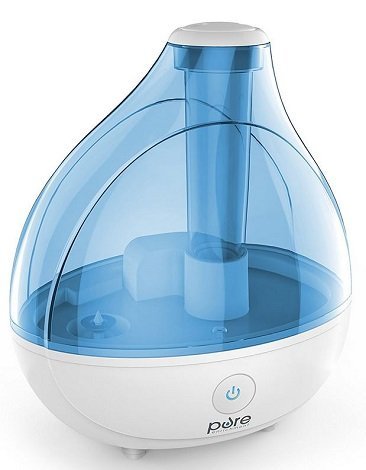 Check Price and Deals at Amazon

Available at a price tag of $50, this humidifier will last over 14 hours. This means that you can turn it on a 4 in the evening and would go all way to the morning.
The Pure Ultrasonic Cool Mist Humidifier is simple to operate as it features only one button that controls the on and off functionality. Other features include: the nozzle can be swivel 360 degrees just exactly how you want it. When the water level in the reservoir gets low, the unit automatically shuts off. It is also one of the quietest baby humidifiers on the market today.
What you will also love is that there are no annoying filters to clean, and is sold at a really great price. However, if you want a humidifier with some fancy features, I would recommend you to check out the TaoTronics above.
The only drawback with this humidifier is that the tank is tiny (1.5 liters). This means that even though it will last for over 10 hours, you will not be getting as much moisture compared to other humidifiers with larger tanks.
5. AnyPro Cool Mist Humidifier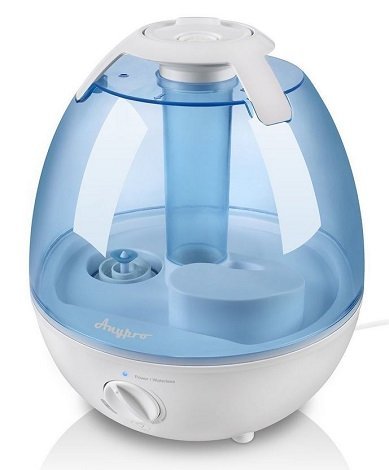 Check Price and Deals at Amazon

At a price range of $50-60, AnyPro Cool Mist Humidifier is one of the best baby humidifiers on the market. The humidifier has a tank capacity of 3.5 liters and is equipped with a continuous mist control knob that will allow you to customize the amount of humidity produced.
While set at its lowest speed setting, I discovered that this humidifier lasted over 24 hours while on its highest setting it lasted over 10 hours. There are no filters required but comes with a single knob to control the intensity of the mist and a single button to turn on and off the light.
The best part about the night light is that it will cycle through different colors, (blue, white, purple, red, green, and purple) and if you press the light button again, it will stay on whichever color it is currently showing.
There is a nozzle on the top that spins to direct mist to any direction, and there is also an aromatherapy essential oil diffuser just sitting next to the nozzle. Add a few drops of your best aroma to the diffuser and your room will smell great. Just like the humidifiers reviewed above, this unit is also very quiet such that you won't even notice when it's on. AnyPro Cool Mist Humidifier comes with a small brush fitted in the base to help you in the cleaning process.
However, there are several drawbacks to this humidifier unit. Some consumers complained about how the aromatherapy diffuser tends to fall off when the humidifier is flipped to fill with water. Other than this one drawback, this cool mist humidifier is wonderful for a great price. I highly recommend it.
Top rated humidifier for baby
6. Seneo/Primacc Cool Mist Humidifier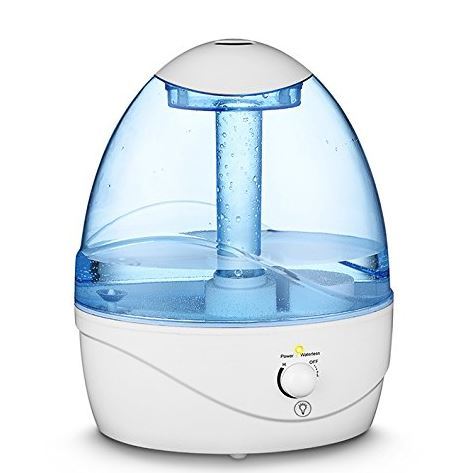 Check Price and Deals at Amazon

The Seneo cool mist humidifier will only cost your $40-50. It comes six in our list for a couple of reasons. It is quiet, and its equipped with a continuous speed – with 25 settings and from medium to low the unit is whisper quiet.
Refilling this unit is also very easy, just pull the blue part off and then unscrew the cap on the bottom and you're good to refill the 2.6 liters tank. While on the low-speed setting, the tank will last for over 10 hours. But there is an auto shut down feature, so you don't have to worry if it runs out.
A subtle night light is available in seven distinct colors, but you can choose whether you want the light on or off without affecting the humidification process. Finally, you don't have to worry about those annoying filters to replace.
But you will only need to clean two things first: first, clean the tanks/reservoir as you would with any other humidifier at least once a week. Secondly, use the brush that comes with the humidifier to clean the silver is located at the bottom of the unit.
Overall, Seneo Cool Mist Humidifier is an excellent humidifier, its simple to use and easy to clean. The only drawbacks are that you cannot swivel the nozzle to point the mist in the direction you want. The unit has small capacity than other humidifiers in its price range. Other than these two drawbacks, I think that this is an excellent choice.
7. Vornadobaby Huey Evaporative Humidifier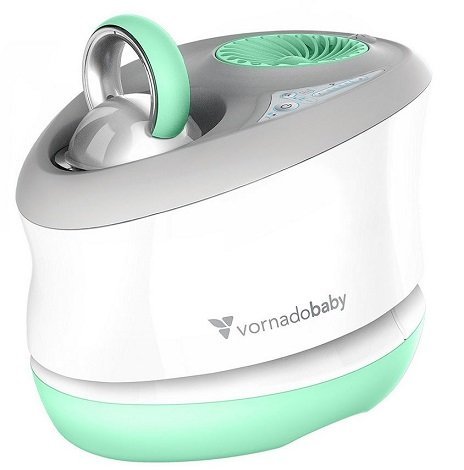 Check Price and Deals at Amazon

Vornadobaby Evaporative Humidifier will only cost you about hundred bucks. It's one of the top-rated humidifiers on the market and for this reason, makes it in the list of our best baby humidifiers. Even though the tank is small (0.25 gallons) the best part, it's easy to clean and refill. The humidifier has a convenient handle that will enable you to pull the reservoir out for refilling.
Instead of a low and high-speed setting, the unit has a humidity adjustment so you can set the desired humidity. The machine also uses a wick filter, so you will need to replace it every few months- that will cost you $7.
Just like any other humidifier, you will need to clean the Vonadobaby Evaporative Humidifier frequently, at least once a week. The only drawbacks about this unit are that the tank is small, so you will not be getting plenty of moisture. Again it's not super quiet compared to the ultrasonic humidifiers.
8. Taotronics Ultrasonic Humidifier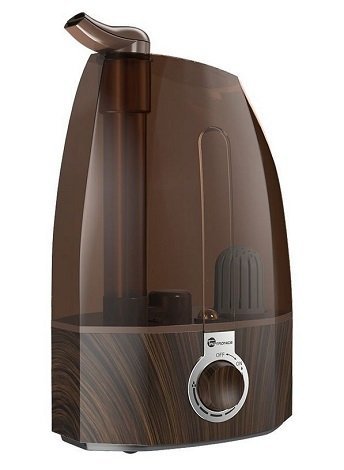 Check Price and Deals at Amazon

Taotronics Ultrasonic Humidifier is another great humidifier in our list of the best baby humidifier in the market today with a capacity of 3.5 liters. The tank capacity is quite big for a cool mist humidifier, and during one of my test, I discovered that it lasted 10 hours while on high-speed settings and 24 hours when on low settings. This means that on high setting, you will be getting 330ml of moisture per hour.
There is a continuous knob to adjust from high to the low-speed setting. Even though you can compare this unit with the large Taotronics units, it's the only humidifier on the list that comes with two nozzles. So you can point them in different directions for optimal humidification.
Unlike Pure, AnyPro and Seneo humidifier, this unit uses ceramic filters that help clean impurities and other bacteria from the water. But this means that you will have to regularly clean the filter and replace it when it wears out.
Overall, this machine is super quiet, easy to clean and reliable. The only drawbacks are that: some customers complained about a bit of noise it developed over time and the need to regularly clean and replace the filters.
9. Ultrasonic Cool Mist Humidifier w/Diffuser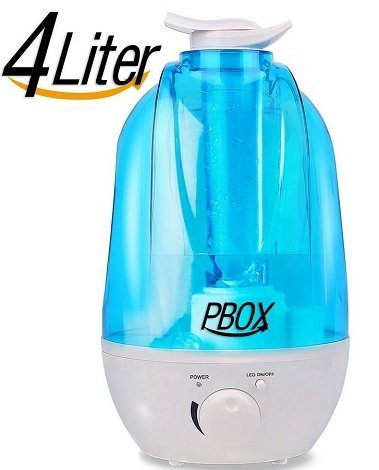 Check Price and Deals at Amazon

Just like the Seneo humidifier in this list, this unit can disperse essential oils and aromas from just a small tray located at the bottom of the unit. Add some soothing chamomile or lavender and make your baby nursery smell amazing.
The humidifier also has a 4-liter water tank, night color glow options, and a big range of speed adjustments. What I loved about the humidifier is the fact that it utilizes a stone filter that the manufacturer claims to get rid of water smells. But even with this stone filter, you will need to clean the tank just like any other humidifier.
Additionally, the company is super responsive to customer queries. The only drawback with this humidifier is that I discovered it's louder compared to Taotronics and Pure humidifiers.
10. Vicks Warm Mist Humidifiers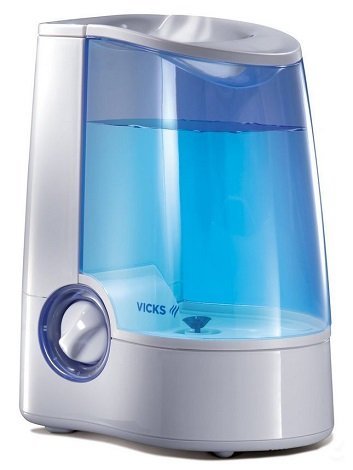 Check Price and Deals at Amazon

If you are dead sure your baby won't get anywhere close to a warm mist humidifier, then Vicks warm mist humidifier is the best choice for you. The tank can hold one gallon of water that will provide your baby's room for up to 24 hours and it automatically shuts down when the water runs out. What even better is that you can insert menthol laced Vicks VapoPads into the unit to fill your child's room with easy breathing scents.
The humidifier uses filters which you will need to clean regularly, and some consumers claim that the menthol scent is too strong for their little ones.
W

hat is the best cool mist humidifier for baby

?
While there are differences between cool and warm humidifiers for babies, they both serve to add moisture to the air. Cool humidifiers force water particles to dissipate into the room without any heat. On the other warm mist will heat the water first and circulate it into the room in the form of moisture. Even though some people prefer warm mist humidifiers over cool mist humidifiers, they are both effective in humidifying your house.
Warm mist humidifiers are also risky to use in a baby's room for they can spill hot water and cause burn if your child gets too close to the steam nozzle.  Additionally, they are more expensive than cool mist humidifiers because of the added heating system and are noisier due to the bubbling and hissing during water heating process.
Why is a humidifier good for the baby?
Since a humidifier (cool mist or warm mist) adds humidity into dry air, it also aids in relieving your of dry skin that can irritate. A baby's skin is often sensitive to dry environments and can develop red patches and chapped lips. Dry airs can also exasperate common skin diseases such as eczema.
Cool mist or warm mist humidifier which is better for my baby?
Steam or hot water from a warm mist humidifier can cause serious burns to your child if he or she gets too close. Humidifiers (warm or cool mist) add moisture to the air which helps in easing congestion or coughing due to cold and are both effective in humidifying the air.
Can I use my diffuser as a humidifier?
Humidifiers are capable of dispersing essential oils into the air, on the other hand, diffusers will only nebulize them into small particles that can be easily inhaled or absorbed by your baby. It's not advisable to use essential oils in a warm air humidifier since heating the oils will cause them to lose their therapeutic properties.
Which will work best when my child has cold a humidifier or a vaporizer?
Steam doesn't attack cold-causing viruses. The only difference between humidifiers and vaporizers is that vaporizers will heat the water to disperse hot steam while humidifiers release cool mist into the air.
Can a humidifier be bad for my baby?
A humidifier helps prevent and also alleviate dry eyes, skins, and nasal passages. However when the humidity is very high, usually over 60% is can provide a good atmosphere for bacteria and viruses and also promote mold growth which can cause allergies to your sensitive babies.
Can a cool mist humidifier make my baby's room cold?
Cool mist humidifiers produce a cool vapor that raises a baby's room humidity but not the temperature. Even though the effects of a cold mist and warm mist humidifiers are equally the same, there are some notable differences to keep in mind.
Can I use tap water in a baby's humidifier?
Only use demineralized or distilled water. Tap water is rich in minerals that can create deposits in your humidifier that promote bacterial growth. When released into the air, the minerals often appear as white dust, and your baby might breathe some minerals released into the air.