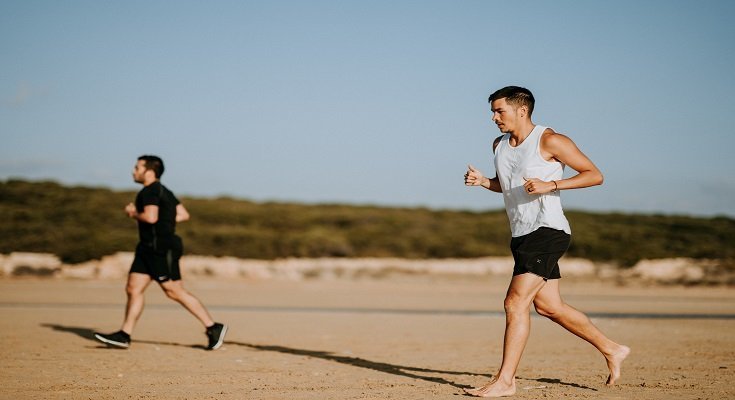 5 Best Baby Stroller for Running in 2019 (Perfect For Tall Parents)
A good jogging stroller makes a big difference between a bumpy ride and a smooth maneuvers in tough terrains. Unlike the traditional umbrella strollers, running strollers have unique features that make the stand out from the crowd.
Jogging strollers are equipped with large wheels, wheel suspension, storage bins, comfortable seat, parking brake, and ergonomic and adjustable handlebars.
Jogging Strollers for Tall Parents Reviews
Being tall has its advantages– especially if you are a parent. You don't have to ask for help when reaching out for an item stashed on the top shelf because you can quickly reach it yourself. But at times- being tall comes with its shortcomings- especially if you're trying to raise your little one.
Many mom and dads would agree with me on this- tall parents often encounter problems when using regular strollers with their babies. Over the years, manufacturers have given little emphasis when it comes to designing strollers for tall parents.
The height of the handlebar differs depending with the manufacturer or between models, and for parents, tall enough (6 feet and above) the handlebars on most strollers are not high enough. As a result, tall parents will often complain about back pain as a result of hunching when jogging and pushing the stroller around.
Another problem that tall moms and dads encounter is the design of the rear side of baby strollers. Tall parents often have longer strides compared to short/medium height parents. The restrictive rear design forces the parent to take short strides- which is tedious and makes them feel uncomfortable.
During my research, I selected ten jogger strollers and came up with a final list of the top five jogging strollers best fit for tall parents.
My overall pick for a jogging stroller for tall parents 2018 is Joovy Zoom 360 Ultralight Jogging Stroller. Check it out.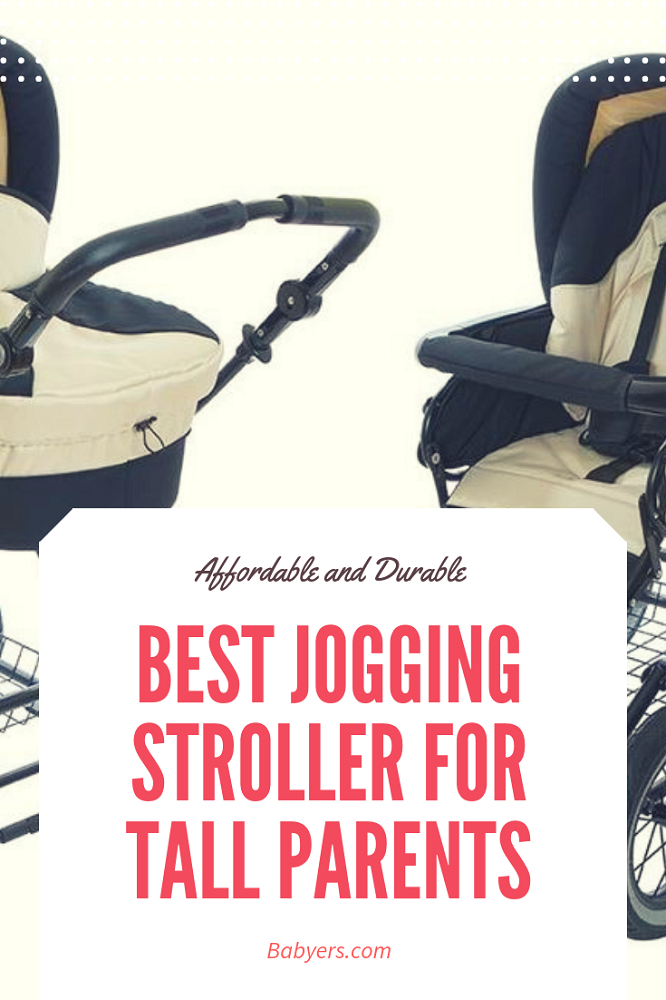 Running stroller for tall parents comparison chart
1. Joovy Zoom 360 Ultralight Jogging Stroller
The Zoom 360 Ultralight is the new addition to the Joovy line of best buggy for tall parents.
This product is made with aircraft grade aluminum, and it's 10% lighter than the previous model; the design is simpler, better looking, very strong so you can jog a few miles along with your baby.
Minimum Child Age: three months and above
Maximum child weight: 75 pounds
Stroller weight: 25.7 pounds
Assembled dimensions: 46″ H x 25″ W x 54″ D
Folded dimensions: 19″ H x 25″ W x 34″ D
Front wheels: 12 inches
Rear wheels: 16 inches
Handlebar: 41 inches
Canopy height: 24."
The rear wheel suspension and the air-filled tires make this buggy capable of handling all terrains and providing a smooth ride at the same time. What moms and dads love most is the maneuverability- you can quickly push the steer with one hand while jogging. The seat gives a deep recline and is suitable for toddlers from 3 months old up to 75 pounds. Additionally, you can also use this stroller from when your child is born with a travel system.
Need to store some baby essentials and probably a reusable bottle of water? Worry no more. The Zoom 360 Ultralight comes with tons of storage including two mesh pockets and a large easy to access basket located underneath the seat.
Key Features:
Design
Performance
Huge basket
Large wheels
Foot brake
Large canopy
Roomy seat
Tall handlebar (for tall parents)
Mesh footrest
Deep recline
Mesh peekaboo window
Design
This buggy design allows for a comfortable ride for your little one and creates plenty of room. The non-adjustable handlebar is 46-inches long making it ideal for tall parents who love jogging with their kid's along.
This stroller comes with car seat adapters that are compatible with many other brands including Click Connect, Graco Classic and Britax B-Safe which are sold separately. From the manual description- it can be used with newborns with a car seat and with 3months olds babies with the stroller's seat fully reclined.
Available colors:
Performance:
You will be surprised by the performance of this jogging stroller. The shock absorbers on the rear wheel and the air filled tires give a smooth ride in all terrains- whether gravel or asphalt. Folding the stroller is quite easy (though you'll need both hands), but it's pretty simple. All the wheels are quick release- so the buggy is compact when folded and can comfortably fit in a car trunk. One problem we noticed is that the folded stroller does not have a strap or handle to pick it up so carrying any real distance will be a hassle.
The Joovy Zoom 360 ultralight stroller comes with a 2-year warranty from the date of original purchase. To read more about the warranty check it out here)
Pros
Plenty of leg room for both tall parents and the baby
Comes with a tire pump- you don't have to worry about a deflated tire anymore
Extra wide canopy
Large size tires offer a very smooth ride
Large storage basket
Cons
The handlebar isn't adjustable- but its long enough for tall parents
Only foot brakes available
Awkward to carry when folded- no straps or carry handle installed
Verdict: if you are a tall dad or mom and would like to avoid hunching when pushing the jogger or avoid kicking the buggy when pushing we highly recommend buying Joovy Zoom 360 Swivel Wheel Jogging Stroller. It won't break your bank account.
2. BOB Revolution PRO Jogging Stroller
Designed and marketed by BOB Gear, the revolution PRO Jogging stroller is an all-terrain jogging stroller for short, medium and tall parents. You can now comfortably go for a long hike and jog without having to worry about your child's safety and the stroller durability.
This is the perfect solution for tall parents who want to roller skate or jog with their baby. It is also one of the best roller skating strollers for parents. It is also good for casual rides on sandy beaches or over bumpy grass. Regardless of the terrain, you find yourself in; BOB Revolution PRO will give your little one a smooth and comfortable ride.
Weighs 30.5 pounds
Frustration-free certified
Made of poly/dobby/fabric
Product dimensions are 44×25.4×43 inches
Warranty included (Check it out here).
Large air filled wheels
Thanks to the large and air-filled tires this stroller is very stable on all terrains whether grass, sand, gravel, or mud. Many average and cheap strollers can't compete with this beast thanks to its versatility.
Why the air-filled tires? Now here's your answer. Large air filled wheels make all the difference when it comes to comfort and maneuverability. The rear wheels have dimensions of 16 inches while the front wheels measure 12.5 inches and the best part they are all quick release.
The front swivel wheel can be locked. The lone front wheel makes it easier to maneuver and navigate in very narrow spaces making it a perfect option for a parent living in the city. It's agile and can be pushed around with one hand. Even though this stroller comes with air filled wheels, it doesn't come with an air pump. But you can always get one at low prices.
Suspension System
Luckily, the suspension system can be fully adjusted according to your baby's weight and terrain. Just above the wheels, you will find the shock adjustments for a smooth ride.  The art suspension technology makes this all-terrain baby jogger roll like a breeze even on the toughest terrains.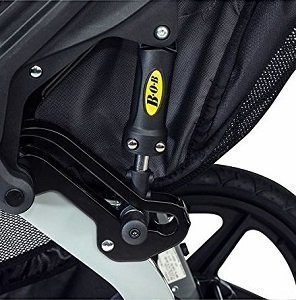 Is the suspension system that important?
Yes. It's very crucial for jogging strollers to have a suspension system. This is because, babies have a very delicate spine, and one bumpy ride can cause serious spine related problems. Should you worry? Of course not, BOB's Revolution Pro stroller got you covered.
Features Overview:
Suspension System
Large air filled wheels
Parking and the Handbrake
5-Point Harness
Recline seat
Adjustable Handle Bar
Parking and the Handbrake
A handbrake is very useful especially if you jog up and downhills. Thanks to the stroller handbrake you can now control the ride speed just like a bicycle.
A parking foot operated brake is also available. It's advised you engage it every time you stop running when you want to catch a breath.
5-Point Harness
If you sincerely care about the safety of your little one, grab this stroller today! The five-point harness is well padded, and the straps are also thick. Additionally, you can easily adjust the straps so that they fit your growing child properly. The five-point harness ensures that your baby stays safely strapped especially if he's a little escape artist.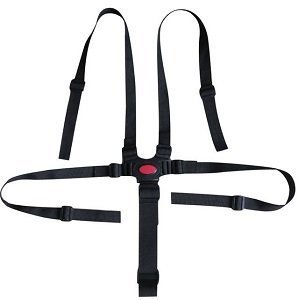 Recline seat
Even though BOB's official website claim that the Revolution Pro Stroller is designed for a baby as young as eight weeks- remember that at such tender age your child doesn't have enough neck and head control. We at Babyers recommend using this mode for babies at least six months old (especially if you intend to go out jogging).
Available colors:
The seat reclines up to 70 degrees from a vertical position, and so your baby can comfortably nap during strolls.
Adjustable Handle Bar
Thanks to the adjustable handlebar the Revolution Pro qualifies in the list of adjustable strollers. If you're a tall parent, the adjustable bar will surely be a lifesaver and save you from the days of unbearable back pain.
The handlebar has nine height settings ranging from 34 to 48 inches above the ground.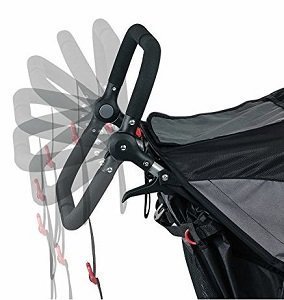 Canopy and Storage Space
The oversize canopy guarantees protection to your baby from all weather conditions. The sunshade can be adjusted to different position and can cover over 50% of the entire seat. A peek-a-boo window is present- so you can keep a watchful eye on your little passenger as you jog.
The basket underneath the seat can comfortably accommodate a diaper bag. For additional storage, this stroller has two mesh pockets.
Compatible with car seats
Easy to fold- a two-fold process
Pros
Good suspension that soaks up all bumps
Adjustable handlebar – good for tall mom and dads
Compatible with different infant car seat
Large wheels and air-filled tires to handle all terrains
Handbrake to control speeds downhill
Comes with a five-point harness and a parking brake- good for the safety of your child
The swivel front wheels allow for maneuverability and when locked gives more stability
Storage space is sufficient- you can store baby essentials
A large canopy and a peekaboo window to keep an eye on your child
Cons
Somehow heavy
No pump included- but you can always spend extra bucks- it won't break the bank
Bulky
3. Mountain Buggy Terrain Premium Jogging Stroller
Mountain Buggy is an all-terrain baby stroller for active parents who love to take their little ones off the road. You can take it to the beach, trail or park jogging thanks to the 16 inches air filled wheels and shock absorbing suspension.
The best things about this Terrain stroller is that it comes with a set of smaller rear wheels (usually 12 inches) so you can quickly switch between the tires. You can switch to smaller wheelset when pushing it across the stress or the large wheels when going upcountry.
Stroller weight 28.5 pounds
Unisex- used for both boys and girls
Frustration-free certified
Dimensions: 46 x 25 x 42 inches
Some of the great features include a large "follow the sun" canopy that offers full protection, adjustable handlebar, deep recline and plenty of storage room to store baby essentials.
Large Canopy
The canopy has two large panels and a mesh sun visor that can easily be tucked away when not needed. The sun visor also converts into a floating canopy that can go all way down to the seat to protect your little one. A peekaboo window ensures that you keep an eye on your toddler.
Roomy Seat
The stroller's seat dimensions are as follows: 12" widex19" seat back and x 23" seat bottom. The seat deep reclines to an almost flat position and hence making this stroller suitable for a newborn.
5 point harness
The mountain buggy terrain stroller comes with a 5 point harness a puzzle piece buckle and tail free ends. With this type of buckle, you have to click every single strap to unbuckle.
Large basket
This product also comes with a large basket located underneath the seat which can hold up to 11 pounds.  The basket can accommodate a large diaper bag and some small baby essentials. The basket has a zippered mesh that protects your belongings from falling when jogging on rough terrains.
Large wheels
The stroller comes with three air-filled tires. The rear wheel measures 16 inches while the front wheel measures 12 inches. The swivel front wheels allow for maneuverability but can be locked. The rear wheel suspension will provide your little one a smooth and non-bumpy ride back home.
Features Overview
Large Canopy
Roomy Seat
5 point harness
Large basket
Large wheels
Braking system
Folding
Conversion
Braking system
A parking brake is installed between the rear wheels and has two pedals linked together. Stepping on the pedal will lock the rear wheels, but unfortunately, it's not flip-flop friendly.
There is a handbrake located on the handlebar designed for that extra security when you need to slow down especially downhill. The run-away strap is an important safety feature that will ensure that you don't lose control of the toddler stroller in case the handlebar slips from your grip.
Folding
The Mountain Buggy terrain stroller one hand fold ensures that you can easily fold the stroller using one hand while holding something with your other hand.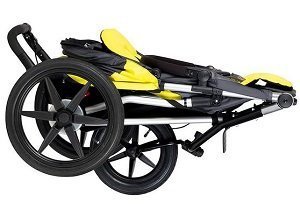 Conversion
You don't have to incur more cost buying a reversible seat stroller or pram thanks to mountain buggy Carrycot Plus Option. The stroller can be easily converted into a pram. The stroller travel system option is compatible with major car seat brands.
Mountain Buggy Terrain stroller comes with a one year warranty from the date of original purchase. (Check warranty information here.)
Available colors:
Pros
Good suspension system
Ideal jogging stroller for tall moms
Cons
Lacks tracking system- many strollers in this price range have an adjustable tracking system.
4. Bumbleride Speed Jogging Stroller
The Bumbleride Speed Jogging Stroller rolls on three air-filled tires that and a suspension system that can handle any terrain. What many tall parents love about this units is the 3-setting front wheel that allows a 360 degrees swivel, 30 degrees swivel, and a locked forward mode.
Stroller weight 24 pounds
Dimensions are 39x25x46 inches
Target gender: Unisex
Handlebar length: 35"-"
Front and rear wheels: 12" and "
Additionally, the stroller features a large basket, a large canopy, deep recline, one-step fold, roomy seat and an adjustable handlebar. The stroller is best for newborns to children weighing 65 pounds.
Storage
You will get a bunch of storage with the Bumbleride Speed jogging stroller. It comes with a small zipper pocket located just behind the back of the canopy. Additionally, there are two mesh pockets located at the back of the seat where you can tuck in water bottles or store some baby snacks.
Roomy Seat
The seat measures 14.5 width and 19inch seatback and 23 inches in height. This is indeed a spacious seat that should accommodate newborns, toddlers and even preschoolers.
The reclining seat system allows the seat to adjust to an almost flat position suitable for newborns. But of course, we wouldn't recommend jogging with your baby until he's at least six months old. There is a mesh attached to the back of the seat that allows air circulation and also prevents the baby from sliding out.
Air-filled wheels & one-step fold
The Bumbleride rides on three large air-filled tires. The rear wheel measures 16 inches and the front wheel 12" inches.
Unlike the previous models, the fold has been redesigned, and it's now super easy. You only need to pull the two levers on the side of the frame and fold the stroller down to the ground. When folded- the dimensions are 33"x25"x15.5".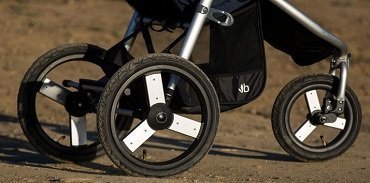 Pros
Comes with a 3-year warranty from the date of original purchase (Check warranty here)
All terrain strollers
Comes with a five-point harness- your baby safety first
Large seat and storage space
Cons
Just like many other joggers, this unit is bulky.
Comes with a non-adjustable legrest
5. Schwinn Interval Jogging Stroller
If you want to take your baby for a run with a jogger, Schwinn Interval Jogging Stroller is designed for that specific task. The stroller boasts a lockable front wheel but easily converts back to a swivel wheel when your run is done.
Stroller weight: 35 pounds
Dimensions: 15.2 inches x 20.1 x 35.2 inches
Schwinn is famously known for its high-quality bicycles, and over the years it continues to produce top-notch bikes and fitness equipment for the whole family. The company has added a range of jogging strollers to its line of products and Schwinn Interval jogger is one of the best from the manufacturer.
This is one of the best affordable jogging strollers for tall parents. It is sturdy, well designed and easy to push along and this allows both the parent and the child to enjoy a smooth ride.
It is packed with great features that will surely be of help to any parent wishing to stay fit while raising their little ones.
Key features
Parent tray
Adjustable handlebars
Cushioned seat
Easy access storage basket
Removable child tray
Large seat
The stroller boasts a large cabin that can comfortably accommodate your child. Additionally, the padded seat ensures that your child stays comfortable even when riding off-road.
The adjustable handlebar is a true lifesaver for tall parents. You can easily adjust the handlebars within seconds. This affordable stroller also comes with a removable child tray with built-in cup holders where you can store sippy cup or child's bottle to help him/her stay hydrated.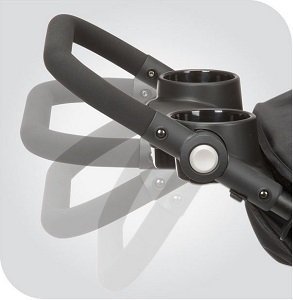 The product also comes with a parent tray with two cup holders, and a compartment for wallet, cellphone, and keys.
What are the safety features?
Do you enjoy off-road rides? Now you can take your little one out in the woods thanks to Schwinn's performance shock absorbers. The shock absorbers will allow you to get through even the toughest terrain.
The stroller comes with a large canopy to help keep the harmful sun rays away. This jogger also features a 5 point padded harness to keep your child securely strapped.
Available colors:
Buying a running stroller for tall parents
We at Babyers recommend every tall parent to consider these factors when buying the best jogging stroller for everyday use.
Handlebar height
Rear design
The distance between rear wheels
Handlebar Height
Many tall parents often complain how the height of the handlebar is poorly designed for most strollers. The design and the height of handlebars in jogging buggies can vary depending with the manufacturer. Some manufacturers design their stroller with adjustable handles, but others design fixed stroller handlebars.
When jogging while pushing a stroller, it's vital that you maintain a straight profile. Arching when running can cause severe back pains. Therefore the handlebar should be long enough to help you keep a straight profile.
Rear Design
How the stroller back is designed? When buying many parents only check on the handlebar and forget to examine the back design of a jogging stroller. The design can make a huge difference especially for tall parents who take very long strides.
On their rear sides, traditional strollers have a horizontal wheel axle and parking breaks. These two features are often a challenge for parents with long strides. Additionally, the positioning of the baby stroller basket can also cause problems for parents with long strides.
The distance between the rear wheels
Jogging buggies with short distances between the back wheels are often narrow. This slender design means that the rear tires are closer than wide baby strollers. Tall parents often complain that they kick the rear wheels with their long strides. Therefore the gar between the rear wheels is a must feature every tall parent should consider before buying a baby jogger.
Also Check Out These Reviews
Best Video Baby Monitor with Longest Range
Best Stroller Fans for Disney in 2018 Reviews
Best Toddler Helmet for Scooter & Buying Guide
Best Breast Pump for Exclusive Pumping
10 Best Baby Humidifiers Reviews 2018
5 Best Breast Pump for Working Moms- Expert Reviews
15 Best Toddler Beds in 2018: Buyer Guide, Review and FAQ