At times you might find yourself on a budget but yet need the best breast pump for the money. While you will get a quality breast pump by spending something over 100 dollars, it doesn't mean that you can't get an affordable breast pump that's durable and of high quality.
Even though you will find plenty of options for cheap online, you should note that not all cheap breast pumps are reliable. To make things much easier for you, I took a step further and spent 36 hours researching on the best pumps worth buying if you're on a budget. Below is my honest review of the best manual and electric breast pumps for the money.
Also Read: Best all-terrain strollers
Breast Pumps for the Money Reviews
While the guiding factor before buying a breast pump when on a budget is the price, other factors should never be ignored especially for electric breast pumps. You shouldn't compromise on quality; noise level, portability and above all the health of your baby (choose a pump with BPA & lead-free materials that come into contact with breast milk.
1. Medela Harmony Manual Breast Pump.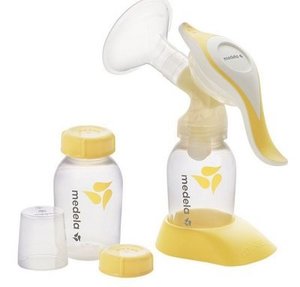 (See Latest Price on Amazon)
Manual breast pumps are cheaper compared to electric breast pumps. They are portable, easy to clean and also portable. You can use a manual pump as a backup for your electric breast pump, especially when away from home.
My recommendation of the best manual breast pump if you're on a budget is the Medela Harmony Manual Breast Pump.
It is lightweight, and its compact design makes it portable. It is a good backup breast pump for occasional use when away from the baby. All the parts that come in contact with milk are BPA free. The 2-Phase Expression technology makes manual pumping comfortable.
2. Signature Pro by Lansinoh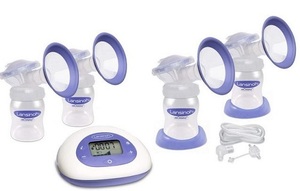 ( Check user reviews online )
If you want an electric breast pump that won't break the bank when on budget and one that will serve you for more years to come- you should get Signature Pro by Lansinoh Double Electric Breast Pump.
Related: Best running stroller
It's a Closed System breast pump; the breast milk does not flow back the tubing or the motor unit. This helps prevent the growth of mold and bacteria which would otherwise pose a serious health threat to your baby.
Designed to improve adjustability, Signature Pro Breast Pump is designed for women who want flexibility, comfort and the convenience of both single and electric breast pumps.
Signature Pro Breast Pump Unique Features
The breast pump offers three pumping styles that will help you express more milk in less time.
The breast pump is equipped with 2-Phase technology – the Stimulation and Expression phases for comfort and smooth milk expression.
There are eight adjustable suction levels. This means that you can easily adjust to that which you're comfortable with. This allows mothers to match the suction according to their baby's natural feeding patterns.
More Reviews: Best cheap umbrella stroller
3. Spectra Baby USA –S2 Plus Hospital Grade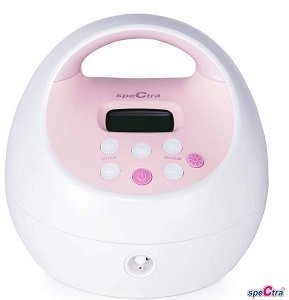 (Buy now on Amazon)
With a regular breast pump, you will only get a limited amount of milk, or sometimes you will get volume below the normal level required for full serving. The best way to avoid this is to get a hospital grade breast pump– which is durable, efficient and at the same time one that won't break the bank if you're on a budget.
There's a hospital grade breast pump that won't break the bank but will give you the full benefits of a hospital grade pump.
Spectra Baby USA –S2 Plus Hospital Grade will only cost you less than 200 dollars. The breast pump is designed for mothers who want to feel confident that they have reliable, efficient and a powerful breast pumps to support the need for regular milk supply. (Check more photos here)
Just like any other breast pump manufactured by Spectra USA, this pump is a closed system- meaning there is a physical barrier between the pump and the breast milk for enhanced motor performance and hygiene.
The pump gives a suction strength of 250mmHg and can be used as a double or single breast pump. The digital controls allow you to set pumping rhythm and the speed according to your preference. The suction strength is adjustable in both expression mode and also the letdown mode.
How to Use a Breast Pump
Conclusion:
There you have it moms- pumps that you can get without breaking the bank. Probably you're confused why I added spectra pump in my list- but here's the point- I reviewed the best affordable pump in different categories- from manual, electric to hospital grade pumps. Share your thoughts in the comment section down below. You can also read this article about power pumping.
If sharing is caring, why not share this blog now?