If you're expecting a new addition or have twins, you are going to need the a stroller that suits your lifestyle, budget, and your family needs.  Getting the best double stroller is never an easy task. It can be quite overwhelming given the fact that you've never used one before.
Fortunately, I've got you covered. I spent time researching in detail 15  strollers and compiled a review to help you choose a good stroller for your baby.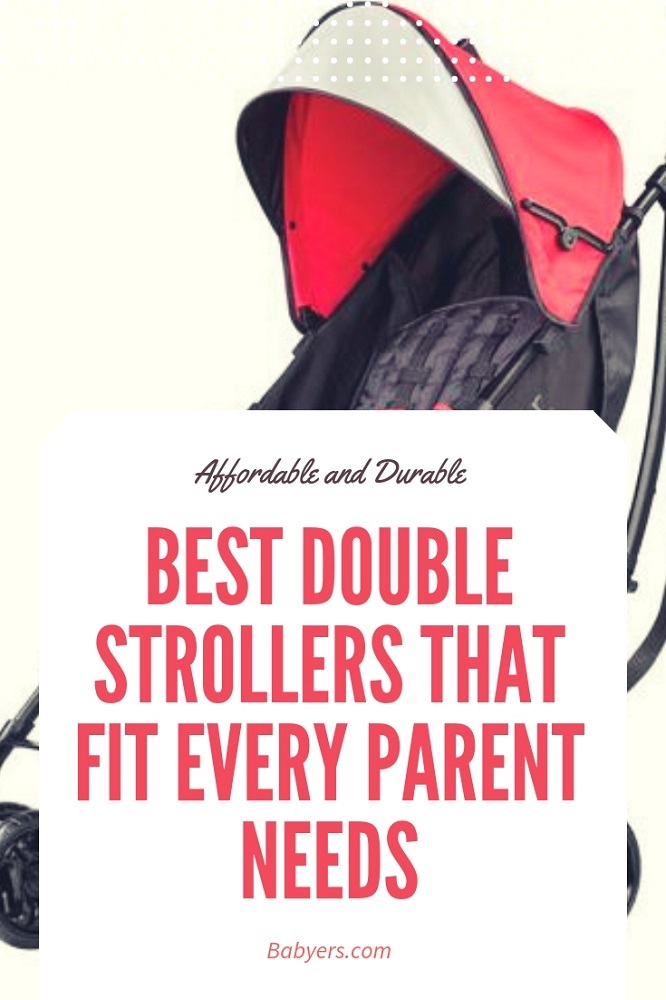 Comparison Chart
Types of Double Strollers
Double strollers are further narrowed down according to the purpose they serve or how they are designed.
Umbrella double
Side by side
Sit and stand
Double jogging
In-line or tandem double
Umbrella double strollers
They have a reputation of being lightweight and highly portable compared to other traditional types. If you want a stroller that's lightweight and also easy to carry along, then a double umbrella buggy is the best choice for you.
Side-by-side
Side by side strollers are a good catch for a family with or expecting twins. They are designed to carry almost equal weight on both side and hence are quite good for babies of almost the same size.
Sit and stand
Is there a considerable age gap in your kids? If that's the case, you should opt for a sit and stand stroller.
Double jogging
If you're an active parent, a double baby stroller is the best choice. You can comfortably push your two little champions as you jog even in the roughest terrains since they are designed to withstand all different terrains.
1. ZOE XLC BEST V2 Double Umbrella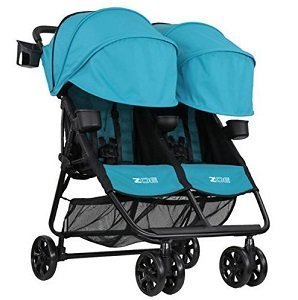 (See latest price on Amazon)
Like aforementioned, umbrella strollers are famously known for their portability and lightweight and it will serve you the best especially if you will frequently be traveling.
If you want a double umbrella jogger that's lightweight and also portable consider buying ZOE XLC BEST V2 Double Umbrella. With an overall 4.3 star rating in over 750 customer reviews- trust me it's a stroller that delivers. It's available in 8 different colors, and so you can easily pick the color that pleases you.
2.Baby Jogger City Mini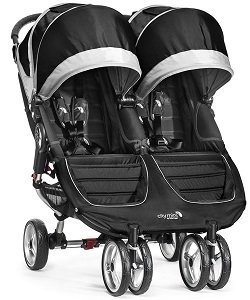 (Check Latest Price & Deals at Amazon)
Side by side buggies have the equal amount of space, and the seats are next to each other. Compared to tandem strollers they are easy to maneuver and turn but are harder to maneuver through narrow spaces.
If you want a side by side buggy, you should buy the Baby Jogger City Mini. It is one of the easiest baby strollers to maneuver and push around and just like any other strollers it offers equal seat space for both kids. It features a deep recline and a larger storage room than a tandem jogger.
3. Joovy Caboose Ultralight Graphite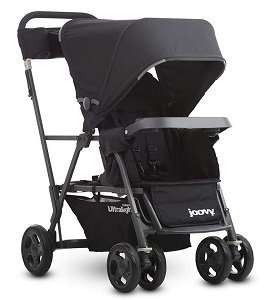 (See user reviews and photos)
If there is a considerable age gap between your kids, you will need a reliable sit and stand double stroller. While your younger child sits tightly secured by a 5 point harness, the older one can stand and explore the surrounding.
Joovy Caboose Ultralight Graphite is compact, lightweight and easy to maneuver stroller that allows your older child to stand while the younger one sits. It comes with a 2-year warranty and includes a Universal Car seat adapter and a Parent Organizer.
The unique design of the stroller makes it more stable without the need for any extra stroller boards that can become hard to navigate.
4. BOB Revolution Flex Duallie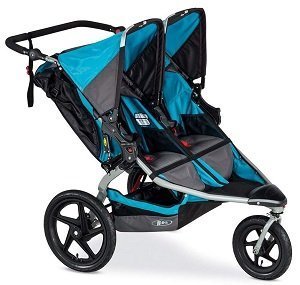 (See user reviews on Amazon)
Active parents will need a sturdy double stroller that will run smoothly on both asphalt and rough terrains. Jogging strollers have specialized features designed to adapt to the everyday activities of an active mom/dad. They are often equipped with large wheels, shock absorbers and have relatively large storage capacities.
Our recommendation for the recommended double jogging stroller is the BOB Revolution Flex Duallie.
The Duallie is lightweight for easy transport and storage and features a two-step folding. The adjustable suspension system will ensure that your little passengers enjoy the smooth ride even when you go off-road.
The reclining seats are ultra-padded for enhanced comfort and have a five-point harness to keep your kids safely secured as you stroll around.
5. Graco DuoGlider Click Connect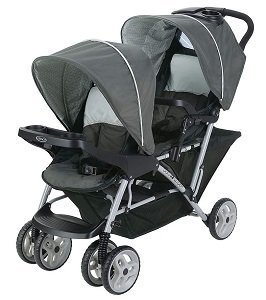 (Buy it now on Amazon)
When it comes to the world of double strollers, tandem strollers offers plenty of options from stadium seating, raised, bench style seats, standing platform to removable second seats. Rated four stars from over 400 reviews on Amazon, Graco DuoGlider Click Connect Stroller is one of its kind.
It is one of the lightest jogging strollers available on the market today. Its sleek design ensures that you fit even through narrow doorways. It boasts a stadium-style seating and so the child in the rear seat is raised for a better view of the world.  To keep your little passengers comfortable the two seats recline and the stroller also features a footrest and a rotating canopy.
Conclusion:
I hope you loved my review double buggies- to help you take your little passenger for a stroll either on a shopping or in the park. Which one do you think is the best one for you? Please let me know in the comment section down. Thank you. You can also read my article on when you should use a stroller for your baby.