It has been well documented that in the United States, the leading cause of child injuries and death are as a result of injuries that are sustained in car crashes. These numbers have risen over the years to worrying levels. But all this can be avoided by parents and guardians merely following the laid down child car safety rules and regulations.
By just placing children in the correct car seats and which have been fitted to the right specifications will go a long way in preventing these incidents. One of the parents' responsibilities is to keep the children safe at all times. In The United States, different states have their own child car safety rules and regulations which must be adhered to at all times.
In our article today, we will have a detailed analysis of Forward-facing car seats, the various types of forwarding facing seats, how to install them and the common questions asked. Forward-facing seats are the second baby car seat level.
Once the child has overgrown using the rear-facing baby car seat, he or she now starts to use the forward-facing seats. These type of seats restrain the child in an upright facing position while traveling. It comfortably accommodates children between 20 and 40 pounds and who are between 26-50 inches tall. An excellent forward-facing seat is one which comes with a fully functioning harness.
TYPES OF FORWARDING- FACING CAR SEATS
Currently, in the market, there are different types of rear-facing seats in the market that you can choose for your child.
Our daughter will be two in December and still rear facing. We knew the importance of buying a car seat that would allow her to rear face as long as possible. Do you know the risk of turning your child too soon? #carseat #carseatsafety pic.twitter.com/kLYZje5R9P

— A Side of Crunchy (@asideofcrunchy) September 21, 2018
Convertible seats
As their name goes, there are convertible. What this means is that you can use them for multiple positions. The seats can be converted to rear-facing seats and vice versa. One classic example is the 3-in-1 seats.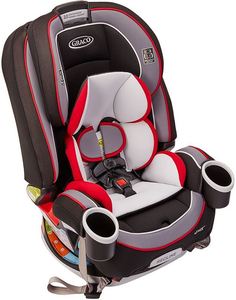 Combination seats with harnesses
These types of seats come with or without the harnesses depending on your child's weight. For children weighing between 40 and 90 pounds, the forward-facing seat can be used with the harness. Those weighing between 80-120 pounds can go without using the harness.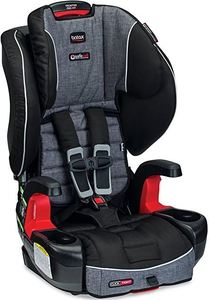 Built-in forward facing seats
Some modern cars now come with in-built forward facing seats. But manufacturers advise that child who is below two years should not use these types of seats.
ISOFIX forward-facing seats
These types of seats do not need seat belts for extra stability since they have mounts built into them that is fitted within the ISOFIX points that are usually made into the car. Most modern cars do have the ISOFIX system pre-fixed. Always check the approval status of your ISOFIX child seat with the car manufacturer before use.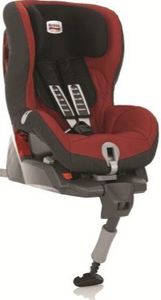 Forward-facing seats with bases
Several modern baby car seats come with a detachable base that is usually fitted in the car's ISOFIX anchorage points. This base makes sit easy for you to install or detach the baby cars seat with ease since the base is permanently fitted in the car. Should you use a safety belt to install the base then follow the route path detailed so that,, it can be anchored safely.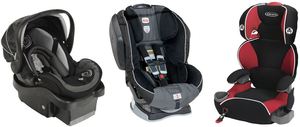 INSTALLING FORWARD FACING SEATS
As a parent, it is always essential for you to still read the seat manual to know how the product works. Before installing go through the manual thoroughly and in case you find something you are not understanding contact the manufacturer for assistance. It is also essential to ensure that the car seat is tightly installed within the car. If your car is among the latest models, then it has the LATCH system which you should use to secure the forward-facing seat.
In case your car does not have the LATCH systems then do not worry you can use the car's safety belt that has locking clips to anchor the seat in place. Go through the car's manual to see how to use the safety belt properly.
A tether strap should then be used to also hold the seat in position. This makes it essential to have a tether anchor in place that allows the tether strap to be fastened onto it. If your car does not have one, check with the manufacturer to have it installed. Ensure to give it a tight fit always by following the instructions on the user manual.
COMMON QUESTIONS ABOUT FORWARD-FACING SEATS
If am driving more children in the car, how do I go about it?
It is best to avoid this practice, but in case you are tied then ensure that all children aged below 13 years should always seat in the back seats. Ensure that the airbag is also deactivated at all times. Also make sure that all occupants of the car tie their safety seat belts.
What if my child is being driven by someone else?
This is crucial because the other person might not be aware of how you place your child in the car. If this is the case ensure that you instruct them properly on how to do it. Also, ensure that in case the car has its baby seats, check to see if it is appropriate for your child. If it is not, you can request to use your baby seat this way you will guarantee your child's safety.
What if the seat has any malfunction?
If you come across any issue with the seat, you have purchased ensure that you immediately contact your manufacturer and ask them for a change. This will be made more accessible if the product had a return policy on it. If it does not have a return policy, then ensure you seek the services of a car seat expert to have, the problem fixed.
Can I use or purchase a second hand a forward-facing baby seat?
Yes, it is possible to buy or use a second-hand seat, but this is highly discouraged. A second-hand seat is considered less valid regarding reliability and crash performances. Should you opt to buy a second-hand seat ensure you check its history, product manual and the functioning of each of the seat's parts.
Other Interesting Articles
A Review of the Best Breast Pump For Small Breasts
A Review of the Best Breast Pumps for Stay at Home Moms