I know that baby health is a major concern to all parents. Babies and their toys are inseparable, and the only way to be safe is by making sure that their toys are clean. Keeping your baby's toys clean is a great way to prevent pick up of germs and illness. Touching and tasting is a baby's habit of exploring their environment, and I bet every toy in the house has found its way to the baby's mouth. Check this article I wrote on toys that can help your baby learn how to stand
How you clean the toys depends on the material from which the toys are made from. Toys are made from many materials such as wood, plastic, metal, and wool. With the high rise of industrial-powered disinfectants, parents are worried about exposing their babies to unsafe chemicals and ingredients.
Worry less and welcome aboard as I show you on the different ways to clean toys naturally. You can also read this article about Small Breast Pump Reviews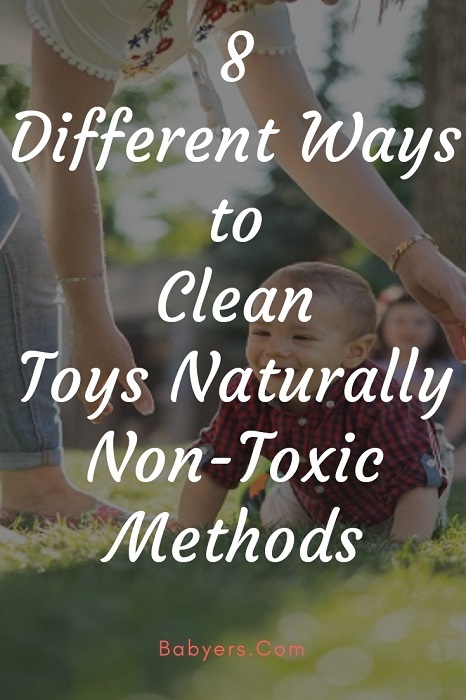 1.    Wash toys in the Washing Machine
I only recommend this for toys made from polyester and cotton only. You can load the toys together with your clothes to make it easier. If the toys have quit a generous amount of dirt sprinkling some baking soda before loading them to the machine will do great.
During the rinse cycle, add a cup full of white vinegar to make sure the toys sparkle more. (See White Vinegar I recommend here).  You probably don't want your kids to come into contact with any of the detergent used in the washing machine. To avoid this, put the toys on an extra rinse cycle to wash away all the detergent. Put your toys in pillowcase lingerie and dry them in a dryer. Also  Best All Terrain Double Stroller
2.    Load the Plastic Toys in the Dishwasher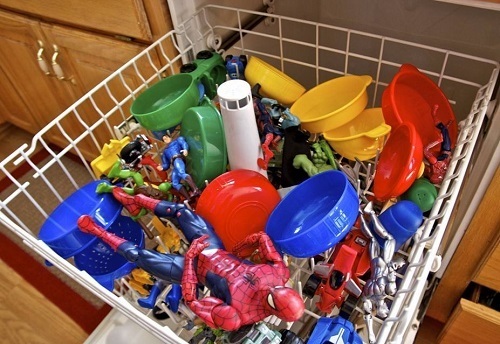 Plastic toys can be washed with hot soapy water. Alternatively, you can load them to the dishwasher if they are completely plastic and dishwasher safe. Avoid loading toys with batteries and buttons that are not watertight in the dishwasher. Your kid might end up getting angry with you for making their toys not function anymore. (Use this soap to clean your baby toys)
Rinse the toys an extra time to ensure all the soap is washed away. To prevent the toys from falling off the rack, load the toys on a lingerie bag or in the silverware holder. Once done give them time to allow air dry before giving them back to your kid. Toys have these crevices a good hiding spot for dirt that the dishwasher may not clean. In that case, you can utilize a toothpick to scrape dirt from these hidden areas. A small brush too will do to scrub some of the regions.
3.    Clean the Woolen Toys by Hand
Wooden toys can be easily cleaned using your hands. With mild soap and a wet clothe you will correctly spot clean the stains on the toys. Use a wool soap to hand washes the extra dirty parts of the toys. Drying wool toys in the drying machine can damage them so; so I would only recommend to air dry wool toys in a warm place.
4.    Sanitize Metal Toys with a Mixture of Bleach and Water
Most metal toys such as trains and trucks are made with rubber wheels.  This means that using a dishwasher to clean them may break down the rubber material because of the heat. The best way to wash metal toys naturally is by sanitizing them with a mixture of bleach and water. A tablespoon of bleach diluted with water will clean the toys perfectly. Allow them to air dry after the cleaning process. Best Breast Pumps for Everyday Use
5.    Wash to Disinfect Toys by Hand
This is the perfect way to clean your toys naturally. It is an old-school way of washing toys with the help of soap and sponge. It is the simplest and best method especially if you are not cleaning a lot of toys.  It is also the best way to lean toys that are not washable in the dishwasher.
For the toys with batteries, make sure to remove the cells before washing them. Do not insert them in water or wash inside. Water will make the toy stop functioning. Let the toys air dry once you are done cleaning them.
6.    Disinfect Toys with Vinegar
A mixture of vinegar and water is an excellent disinfectant for your toys. Mix vinegar with water and spray to the toys until they get wet. Rinse the toys off and let them air-dry. (Use this Vinegar to clean baby toys)
7.    Wipe your Wood Toys with a Clean Wet Cloth
Dipping wooden toys in water may distort their shape, and therefore the best way to clean wood toy is to wipe them with a clean wet cloth. With a 50/50 mixture of white vinegar and mild soap, dip your clean cloth in the mixture and use it to wipe every corner of the toy. For the dirty spots and stains,  you can remove them by rubbing alcohol using a cotton ball. Use a towel damped in plain water to remove soapy residue from the wooden toys. Also read Best Travel Breast Pumps
8.    Herbal Wash the Toys
Some herbal leaves like basil are great disinfectants.  Wash your toys generally with soap and water. Grind your herbal leaves mix them in water. Soak the toys in the water mixture for some time. Remove the toys and wash them normally and let them air-dry. (Check Herbal Wash Varieties on Amazon)
Now that you already know the best ways to clean toys naturally, how often should you wash them? Baby toys should not be cleaned now and then. Give them time to be gummed up with food and saliva. However, the everyday toys that you never lack in your diaper bag should be cleaned weekly. Clean your toys thoroughly when;
You notice dirt in them
Your baby has been sick and is recovering from illness.
Other kids come to visit and plays with your baby's toys
The toy has not been played with in a while
At least once a month
Baby toys are your baby's best friend. They play with them, talk to them, sleep with them and even feed them. To prevent your baby from getting sick by collecting germs from their toys, the best thing is to clean their toys. With this list of the best ways to clean baby toys naturally, cheers to a healthy baby's life.
Ways to Clean Toys Naturally Video Tutorial
Before you wash your kids toys, it is highly advisable to read the specific instructions on the manufacturer's label on how to wash the toy. Some toys will require a special cleaner while others are machine washable.
If you don't have the label, you can easily Google the products name and read the instructions online. Here is a video explaining the different and best ways to naturally clean baby toys.
Conclusion:
That's it moms- you can now naturally clean your baby's toys without having to worry about contaminating them with detergents. Personally, I've used these methods to clean Alice's toys. If you have any question or a suggestion, please let me know in the comment section down below.