Best Toddler Helmet for Scooter & Buying Guide
Scooter riding is not just a hobby; it is a passion and a way of life. If you love cycling around, then chances are that you will want your little one involved as well. Whether you want your toddler to race around or ride along with you, then it's a must for you to buy your toddler a bike helmet.
When used with a bit of common sense and caution of course under adult supervision, scooters, bicycles, skateboards, and roller-blades can be a good way for toddlers to get some great workout and develop motor control. However these riding toys are not without their risks. Some of the possible injuries include bruises, cuts, sprains, broken bones, head injuries, sprains and pinches.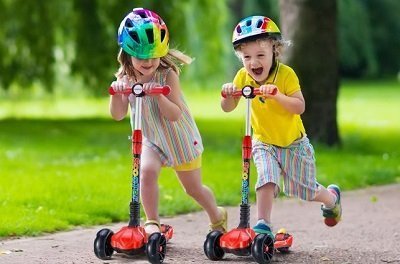 Best Helmet for Toddler Scooter
According to Consumer Product Safety Commission (CPSC) & National Electronic Injury Surveillance System (NEISS) there were over 240, 000 injuries to children under 18 caused by tricycles and bicycles reported in the United States in 2014.
Ensuring your little one is wearing the approved scooter helmet when riding their scooters, even for very short distances is the best way to protect your toddler. It is estimated that ¾ of American children cycle every month but only close to half of those wear safety bicycle helmet.
The American Society for Testing and Materials (ASTM) and CPSC test bicycle helmets to ensure that they comply with the required minimum standards. However the problem with most scooter helmets is that they are designed to fit grown up kids-school aged children. It's obvious that grown up kids have larger heads than toddlers and therefore you will have to dig deeper to find the perfect bicycle helmet for your little one.
In this article, we have compiled a detailed review of the best toddler helmet for scooters plus a buying guide to help you make the right decision.
Best Toddler Helmet for Scooter: Buyer Guide

Every child needs a helmet and the market offer a variety of them that come in different sizes. A large helmet that does not fit your little one well will not offer maximum protection. But there are some bike helmets that have a universal fit ring that will adjust according to the size of your child's head.
Larger helmets are often made with sizing pads but it's not recommended to buy a scooter helmet that's too big. Not only this helmet be very uncomfortable to your child but also be less protective and eventually discourage your child from wearing it.
These days, scooter helmets usually size measurement described in centimeters. So you can measure the size of your child's head and determined whether the helmet is appropriate for them. Additionally some bike helmet manufacturers often design their helmets in large, medium and small sizes. A circumference range f 23-24.2 inches would fit into large size. For small the circumference is something just above 20 inches while medium size ranges between 21-23 inches.
How to tell if a toddler bike helmet is the right size for your little one?
If the toddler scooter helmet is loose and moves around, then it's too big for your baby. The helmet might even cover your child's eyebrows which could be very discomforting. However if the forehead is visible, then that helmet is too small for your child. The ideal scooter helmet size would perfectly fit and allow ventilation. The bike helmet should not fall off even when pulling it a bit and if your child wears spectacles it the helmet should not affect him.
Best toddler helmet for scooter comparison chart