Does your child love scooter riding? Want the best toddler helmet for scooter? My three kids are overly obsessed with riding their scooters just like their dad. My little girl Alice loves riding this scooter and my boy Nicky rides the Flybar Micro Kick Scooter.
Scooter riding is not just a hobby; it is a passion and a way of life. If you love cycling around, then chances are that you will want your little one involved as well. Whether you want your toddler to race around or ride along with you, then it's a must for you to buy your toddler a bike helmet.
When used with a bit of common sense and caution of course under adult supervision, scooters, bicycles, skateboards, and roller-blades can be a good way for toddlers to get some great workout and develop motor control. However these riding toys are not without their risks. Some of the possible injuries include bruises, cuts, sprains, broken bones, head injuries, sprains and pinches.
Best Helmet for Toddler Scooter
According to Consumer Product Safety Commission (CPSC) & National Electronic Injury Surveillance System (NEISS) there were over 240, 000 injuries to children under 18 caused by tricycles and bicycles reported in the United States in 2014.
Ensuring your little one is wearing the approved when riding their scooters, even for very short distances is the best way to protect your toddler. It is estimated that ¾ of American children cycle every month but only close to half of those wear safety bicycle helmet.
The American Society for Testing and Materials (ASTM) and CPSC test bicycle helmets to ensure that they comply with the required minimum standards. However the problem with most scooter helmets is that they are designed to fit grown up kids-school aged children. It's obvious that grown up kids have larger heads than toddlers and therefore you will have to dig deeper to find the perfect bicycle head protector for your little one.
In this article, I have compiled a detailed review plus a buying guide to help you make the right decision.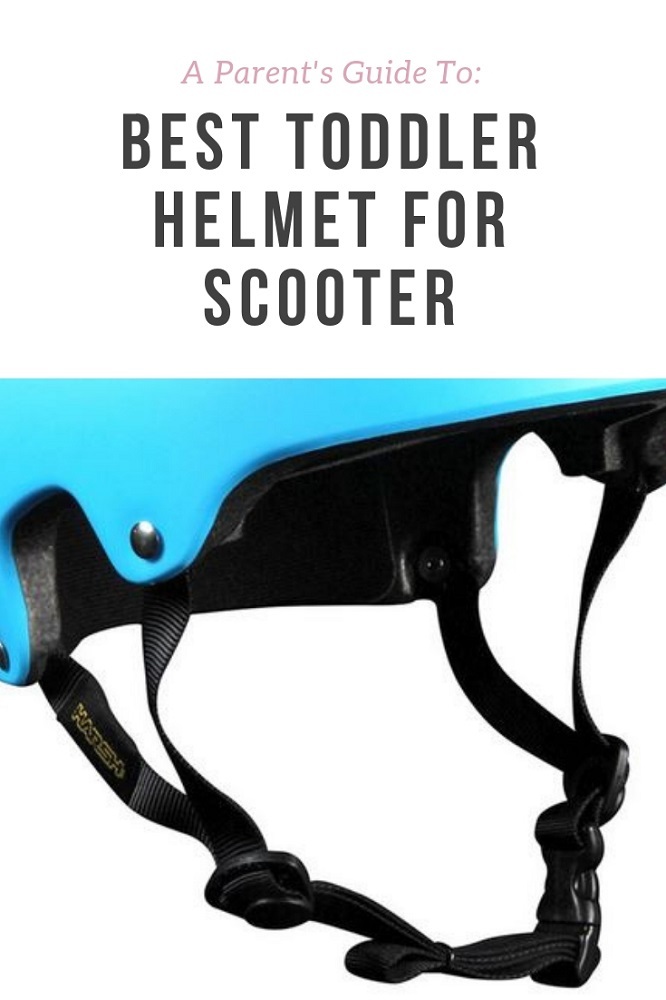 Best Toddler Helmet for Scooter: Buyer Guide
Every child needs a head protector and the market offer a variety of them that come in different sizes. A large one that does not fit your little one well will not offer maximum protection. But there are some bike helmets that have a universal fit ring that will adjust according to the size of your child's head.
Larger head protectors are often made with sizing pads but it's not recommended to buy a scooter helmet that's too big. Not only this helmet be very uncomfortable to your child but also be less protective and eventually discourage your child from wearing it.
If you've already have a toddler helmet scooter for your kid and want to replace helmet pads- these replacement foam helmet pads are the best. I've had first hand experience using them for my kids helmets and they worked just fine.
These days, scooter helmets usually size measurement described in centimeters. So you can measure the size of your child's head and determined whether the helmet is appropriate for them. Additionally some bike helmet manufacturers often design their helmets in large, medium and small sizes. A circumference range f 23-24.2 inches would fit into large size. For small the circumference is something just above 20 inches while medium size ranges between 21-23 inches.
How to tell if a toddler bike helmet is the right size for your little one?
If the toddler scooter helmet is loose and moves around, then it's too big for your baby. The helmet might even cover your child's eyebrows which could be very discomforting. However if the forehead is visible, then that helmet is too small for your child. The ideal  size would perfectly fit and allow ventilation. Additionally it should not fall off even when pulling it a bit and if your child wears spectacles it the helmet should not affect him.
 comparison chart
Best Toddler Helmet for Scooter Reviews 2019
1. Razor V-17 Youth Multi Sport
Now that you've bought the best toddler scooter for your little one, we all know risks associated with cycling and how wearing a helmet can be lifesaving. As you know kids will always be kids, and that's why they need to be protected when riding. Thankfully, this Razor V-17 Youth toddler scooter helmet is designed to offer your child maximum safety.
It comes in a variety of colors from blue, red, satin blue as well as pink ideal for girls. It is made of quality material and meets the minimum safety standards. It is the most affordable bike helmet in this list and nearly as good as the more expensive types.
It has 17 holes to keep your little one head fully ventilated to keep the air flowing and the sweat evaporating. This is the ideal helmet for those hot summer days or in areas where temperatures can extremely get high as it ensures that your child head gets enough air. It is simple to use, fitted with side release to adjust the straps or buckle them.
Specifications
2 year manufacturer warranty
thick outer shell
removable pads- simplifies cleaning process
adjustable strap
2 alternative foam inserts ideal for different head sizes
EPS foam inner liner
1 air vents to allow sufficient airflows to keep your child breezed
2. Lazer P'Nut/Nut'Z
The Lazer P'Nut/Nut'Z is one of the best toddler helmet for scooter. The manufacturer, Lazer has been in the market for decades and it's regarded as one of the world's oldest and most popular manufacturers. The company prides itself for making a brain protection rather than a traditional scooter helmet with a great synergy between comfort, design and technology.
The P'Nut is specifically designed for children who head circumference ranges between 1788 to 19.69 inches while the Nut'z is ideal for children 19.69-21.67 inches and each of these two types are available in two different models, the MIPS and the standard non-MIPS.
Head protectors that integrate Multi-directional Impact Protection System (MIPS) are often the best and safest and studies have shown that they are likely to decrease brain injury by 30%. See the list of scooter helmets with MIPS technology here.
As illustrated in the video below, the normal scooter helmets are only designed to protect the brain from direct impacts while the MIPS types are designed to protect the brain against multi-direction impacts.
The Lazer P'Nut and Nut'z  incorporate the MIPS system. Normally the MIPS types are about $20 more expensive than the non-MIPS types.
To adhere to the set safety standards, Lazer helmets are designed with in-mold construction. Even though the in-mold construction types increases helmet durability, it also exposes the foam core beneath. The manufacturer saw this as an opportunity to improve and hence expanded the plastic shell to cover the exposed foam. Even though the plastic shell does not increase the safety of the helmet, it protects the foam from damages and dents.
3. Nutcase- Toddler Scooter Helmet
While riding, toddlers will crash which can cause serious injuries especially if they lack a scooter helmet. To protect your baby from injuries associated with these crashes, it important to get the best toddler helmet for a scooter.
The reason why I recommend the Nutcase  is because it's filled with protective EPS foam that helps protect your little one from crashes by dispersing energy on impact.  See a list of helmets for kids fitted with EPS foam. Additionally, it's certified for scooting, biking and even skating.
Again it will grow with your little one thanks to the dial fit system that lets you adjust or even remove as your little one grows up. It comes with three different sets of foam pads that you can quickly change for a better fit.
4. KIDS Bike Helmet
One of the reasons we added the KIDS Bike in my list  is the ability to grow with your child right from toddlerhood to youth age.  Additionally, the KIDS Bike is CPSC certified, and it's fitted with EPS foam and designed to reduce the risk of injury when your toddler is scooting around.
The fun aqua design is appealing to young kids especially for boys who will fall in love with the blue shark design while the girls will fancy the pink octopus.
Additionally, this toddler scooter helmet comes with lifetime warranty and 60-day money back no questions asked guarantee.
5. Giro Me2 Infant/Toddler Bike Helmet
For less than $40 dollar you will get one of the safest and best toddler scooter helmet available on the market thanks to Giro, for its established credibility in the bike and bike accessories arena.
Your children will have lots of fun and safe riding with the Giro Me2 for infant and toddlers. It comes with a couple of fancy design including aviator pigs, yellow chicks, red duck & goose and pink bunnies a reason for your toddler to love it even more.
It also feature 20 vents that help keep your toddler's head cool especially in those sunny days. The advanced Giro Mini-Lock system ensures that your child puts on the bike helmet without pinching skin. The soft padding inside helps minimize impact upon crash and a built-in visor gives a bit of shade especially in summer days.
It is adjustable, thus grows with your child right from infanthood to toddlerhood for kids with 18.75 to 20.5 inches in diameter hence one of the best scooting helmet for infants and toddlers.
Finding the right scooter helmet for your child
Every child needs a head protector, and scooter helmets vary according to sizes. A loose scooter helmet is not going to offer your toddler the best protection. The best scooter helmets have a universal fit ring that allows you to adjust according to the size of the head. Even though very large helmets can be fitted with sizing pads, it's however not recommended to buy your child or yourself a helmet that's too big for it will not only make you feel uncomfortable but also be less protective.
Choosing a scooter helmet for your child
Brand
Some brands are popular than others but depending on the quality and how long they've been on the market. Razor and Nutcase are some of the popular brands that manufacture high quality and the safest scooter head protector that are affordable.
Age
Everyone should wear a helmet when scooting. Manufacturers have designed different scooter helmets according to the demands on the market. There are helmets for adult riders and some helmets designed for toddler scooters specifically for children as young as 2 to 3 years old. While age somehow determines the type of scooter helmet you can buy for your toddler, sometimes getting to measure your child's head circumference is the only sure way that you will get the best scooter helmet for them. At times a child might be too big or too small for their age.
Quality
It must have a Consumer Product Safety Commission (CPSC) sticker. The sticker is the only assurance that the helmet has been tested, complied, or exceeded the safety standards. Motorcycle and Bike must be CPSC certified. Other helmets don't necessarily require this certification, but they must be of high quality.
Do not choose style over the safety of your child. Scooter helmets that have non-essential elements such as Mohawks or horn may look appealing, but they might prevent the helmet from sliding after a crash which could result in serious injuries.
Is there a difference between scooter helmets for girls and boys?
No, there is not a difference in the design. The only differences between scooter helmets for boy and girls are the themes and colors.
What is the best brand to buy for my child?
The first priority to finding the best toddler helmet for scooter for your little one is finding a helmet that first their head. You can try several brands reviewed above and find one that fits them well. most importantly pick a scooter helmet for your child without snag points. Also ensure that is it CPSC certified- (find a standard sticker inside)- this is a requirement by the law in the United States since 1999.
The best toddler helmets are light and well ventilated, and with an impact protection. Kids are sometimes sensitive to what they wear around other kids and so it's important to involve them when picking out their scooter helmet for the best acceptance.
Is a cheap one as good as an expensive one?
We at Babyers don't have lab testing data but in our internet research we discovered that price tag doesn't influence the performance of a given bike helmet. Read what we dug out here: Regardless of the price tag, all the scooter helmets and other helmets are required by law to meet CPSC standards.
When should I replace?
You must replace the head protector after a crash. The protective foam is designed for one time use and after your child is involved in a crash it is hence no longer protective as it was before. The plastic shells can hide foam damage but you will notice some scrape marks.
What Size Do I need for my 3 year old toddler?
No more guess works when trying to buy the best scooter helmet for your kiddo. Just measure the circumference of your kid's head for perfect fit. If you are unsure of the size – you can buy kids scooter helmets that are adjustable which have a range of about 2 inches of adjustability.
Common sizes include:
Small: 18-20 ½ inches
Medium: 20 ½ – 22 ½ inches
Large: 22 ½ – 23 ¼ inches
Does my toddler need a helmet?
Yes, the toddler needs one whether riding a bike, skating or riding a scooter. In fact, everyone is required to have a helmet when doing any of the three activities. But it's important to know that toddlers are not fully developed as adults and their necks cannot withstand heavy models. So it's important to one that's lightweight.
It's always recommended to put the helmet yourself before the child goes out to play with their friends. This is because your child might not wear it appropriately or might not wear the helmet at all.
My child doesn't want to wear a helmet, what should I do?
It's a requirement to wear a helmet when biking, skating or scooting around. As mentioned above, children are at times sensitive to what they wear around their peers. The reason as to why your child doesn't want to wear his scooter helmet might be because you never involved them when buying.
Some scooter helmets have branded cartoon characters stickers on them- you can find one that matches the characters your child loves, and this will probably make your child want to wear the helmet when riding.
When should my child not wear a helmet?
Your child should not wear a helmet when playing with his friends on playgrounds or when climbing trees. If your child wears a helmet, the chin might get caught on tree branches or equipment on playgrounds, and this might result to strangulation. Additionally, the helmet might get trapped in small spaces.
When should I replace?
Each manufacturer provides guidance that indicates when you should replace the scooter helmet. However in the absence of the guidance, its advisable to replace the helmet within 5 to 10 years after purchase. But some indicators signal the need to replace the helmet such as crushed foam, loose shell, missing pads, fading of the helmet shell and other parts.
Conclusion:
There you have it parents, my honest review of the different scooter head protectors for your little one. Looking for more articles? You can check out these skiing helmets you can buy for your child or check out these toddler scooters for tods and preschoolers and check these toddler beds for kids.