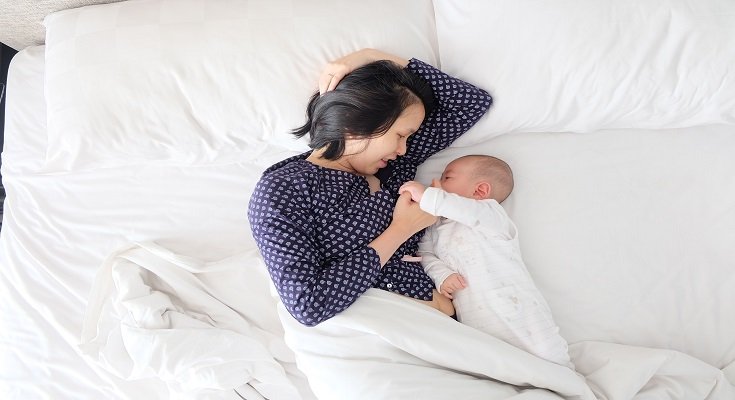 Best Breast Pump For Small Breasts in 2019
I'm a member of several communities and forum helping moms raise their babies. One of the popular questions I've come across is: which is the best breast pump for small breasts? This question has also sparked debates about the relationship between breast size and milk supply.
Do you think that breast size influences milk supply?
No, it doesn't. When it comes to breastfeeding, the size doesn't matter. I have the first-hand experience, and I can testify. The size of your breast is determined by the amount of fatty tissue they contain, and this doesn't affect the quantity of milk.
But your breasts should grow bigger (even during pregnancy) as they prepare for the task ahead. However, the amount of milk that you produce is determined by how your little one nurses. The more he feeds, the more milk you produce. Also read my article on different stroller fans for Disney World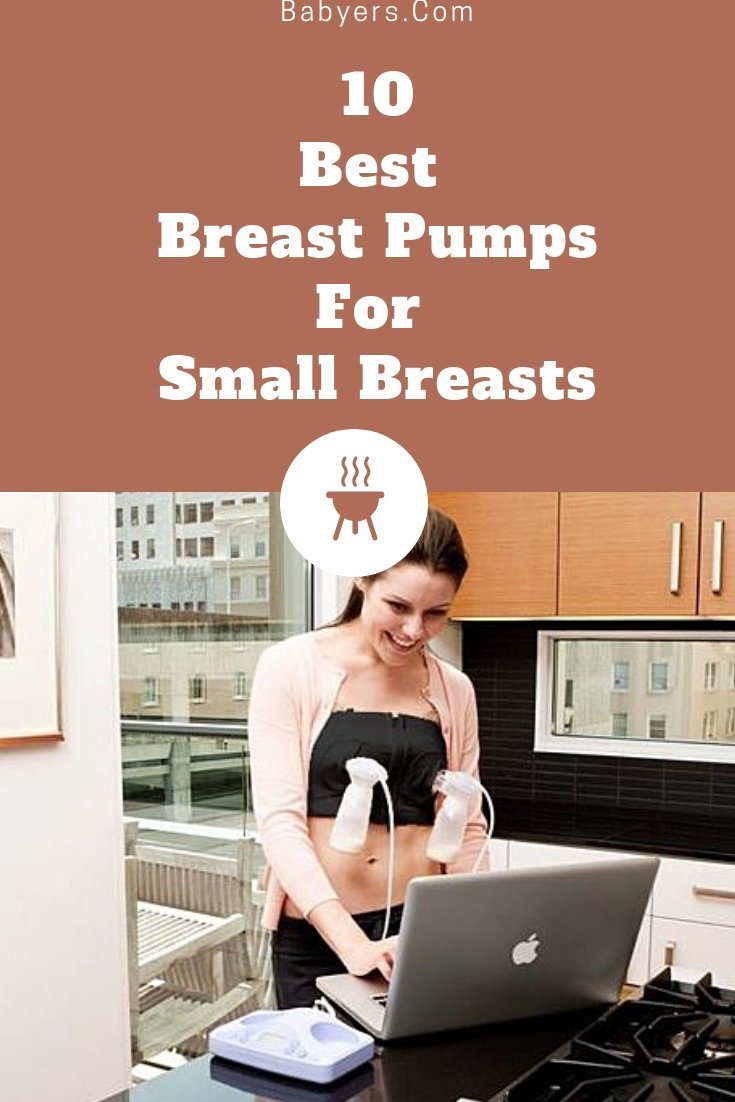 Breast Size and Milk Production
Your breast size does not affect the amount of breast milk you produce. What determines the size of your breasts are the fatty tissues, and these fatty tissues have nothing to do with the amount of breast milk you produce.
Glandular tissue is responsible for making and storing breast milk. Glandular tissue is formed during pregnancy, and it's what determines the amount of milk you produce.
As your bundle of joy suckles, a hormone known as prolactin stimulates secretion of milk. The more the baby feeds, the more the body produces prolactin and hence the more milk you produce if the baby feeds more frequently (Source).
Best breast pump for small breasts reviews
While the regular breast pump should work for small-chested women, I own a Medela Freestyle pump, and my breasts are not big, they're extremely small. All breast pumps have shields that should work fine for any breast size, and they have different sizes for every nipple. When I first gave birth, I used the medium size, and it worked fine though a friend told me the small would have been better.
Any regular breast pump with shields should work fine for moms with small breasts. Without the shields, your entire breast would probably fit under, and there would be no suction.
While any regular pump would work fine, I gathered a list of breast pumps that most moms recommended.
 comparison chart



Best electric pumps for small breasts reviews
1. Medela Pump in Style Advanced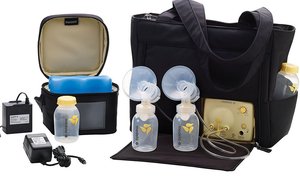 (Check latest price on Amazon)
The Medela Pump in Style Advanced is a pump designed for daily use for mothers who want to pump several times a day. I used this pump for my second born, and I was satisfied thanks to its portability and discreet pumping.
The pump is available in three bag styles: The Metro Bag, On-the-go Tote and Backpack. I must admit that some pumps will look good on paper- but once you use these pumps, you're faced with a series of endless problems. You end up wishing that you'd purchased another breast pump instead.
In this Medela Pump in Style Review, I will help you get a detailed picture of what this pump can do and what it can't and the reason why I think it's the best breast pump for small breasted women.
The Medela Pump in Style gets the work done in no time. Not a single mother would want to spend 30 minutes in a single session trying to express milk. The Pump in Style will pump more milk in just a few minutes, and hence it's a time saver for moms.
What included in the box
(1) Microfiber bag, (4) 5oz/150ml breastmilk bottles & lids, (1) Cooler bag and ice pack, (1) 9-Volt AC adapter, (1) Battery packs (8AA batteries not included), and (1) Double pumping kit with 24mm breast shields
The features of Medela Pump in Style Breast Pump
The pump comes with a Stylish microfiber bag with built-in-pump and built-in-bottle holders to help prevent spills. This makes the pump portable ready to take it with you wherever you go. It's also equipped with a cooler system, contoured ice pack, removable cooler bag and breast milk bottles, just everything you will need for on-the-go pumping.
The pump also comes with a double pumping kit and 24 mm PersonaFit breast shields. Therefore if you're a small or big breasted breast pumping mother, you can also rely on this pump. Different flanges sizes can are sold separately. (Check them here)
Did you know that the best breast pump shouldn't only help you express milk faster, but it should also be safe for both the mother and the baby? That's why the pump in style parts that come in contact with breastmilk are BPA free.
Pros:
It's designed to be used multiple times a day
It's portable and easy to clean
Expresses milk faster
Cons:
Comes with medium size flanges. You will have to purchase either small or large flanges
It's expensive compared to other electric breast pumps on the market
2. Ameda Purely Yours
Ameda Purely Yours is a double electric breast pump boasting a simple design and some fantastic features to make your breast pumping experience a memorable one. It features separate suction and speed control setting and has been known as a major competitor to the well-known Medela breast pumps.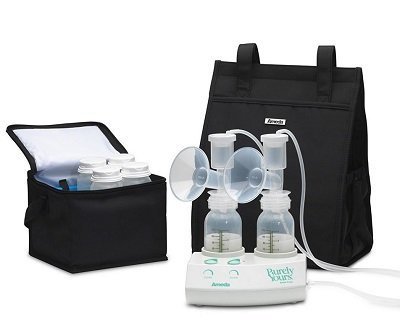 (See user reviews and price)
One of the advantages of Ameda Purely Yours breast pump is the ability to control the suction strength and speed independently. Unlike other common breast pumps that only allows you to adjust the suction level. The only other breast pump that offers independent suction and speed controls is the Spectra S1 electric breast pump.
Dual bottle holders
The pump motor houses two bottle holders which are useful when packing the pump or when setting it up. The bottle holders hold the bottles firms, and so you don't have to worry about the bottle getting knocked over and spill your milk.
Breast shields of all sizes
Like I mentioned above, if you are looking for the best breast pump for small breasts, you should buy one that comes with breast shields.  The Size S contains 22.5 mm insert while Size XL-XXL contains 35mm shields with 32.5 mm inserts while Size M-L contains 30.5mm shields with 28.5mm shields.
Who should use Ameda Purely Yours pump?
This electric pump is compact and lightweight making it ideal for working moms. But if you're a stay at home mom, you can as well get it. The breast shields will accommodate moms with different breast sizes- so it's one of the best breast pumps for big breasts/small breasts.
3. Medela Freestyle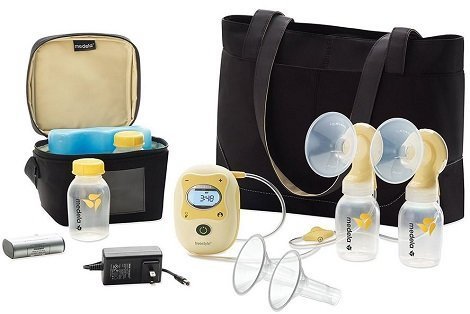 (Buy Now on Amazon)
This is my detailed review of Medela. I have had first-hand experience with this breast pump, and I'd recommend it for anyone looking for a compact and lightweight electric breast pump.
It's a freestyle dual electric pump for daily use with a 2-phase expression technology to yield more milk within the shortest time. It's equipped with a rechargeable battery to ensure that you can pump anywhere anytime. It has a backlit digital display, a memory button and a time to help you personalize and control your pumping sessions.
4. Medela Swing Single Breast Pump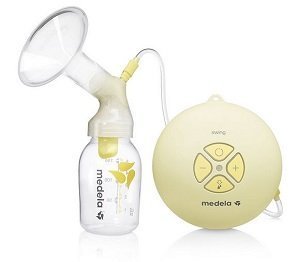 (Check Latest Price)
It is considered as the smallest and lightest Medela electric breast pump. It comes with 2-phase expression technology. This means that the pump starts in "massage" mode to initiate let down and the switches to expression mode for more milk expression.
The pump is also lightweight and compact, and it's equipped with waist strap and neck strap to allowing pumping on the go. It runs smoothly using a battery and power adaptor. I would recommend rechargeable batteries since they'll save you money. (Here is a brand that I use and would recommend it to any mom)
I love the fact that this little compact breast pump features an adjustable suction which can be adjusted for both the expression a let-down modes.
Medela is one of the breast pump brands that support mothers with different breast sizes. For this reason, the Medela Swing comes with custom fit breast shields (21, 24, 27 and 32 mm).
Unlike other cheap brands you'll find on the market, the Swing will pump more milk in less time thanks to the 2-phase expression technology, and it's designed for daily use ideal for mothers who play sport, work, or want to go out for an evening or shopping.
Pros:
Comes with custom-fit (PersonaFit) breast shields
Easy to clean and assemble
Spare parts are readily available
Cons:
One thing I didn't like about the Medela Swing is its open-system. It's possible to have breast milk go to the pump machine which can promote mold growth which can contaminate your breast milk.
It's loud and hence not ideal for discreet pumping.
Manual pumps for small breasts
Manual breast pumps are a good alternative or backup for an electric breast pump. Moms prefer manual pumps over the expensive electric pumps because of these reasons:
They are easy to assemble and disassemble
No power is needed- you can pump anywhere anytime time.
They are affordable unlike electric breast pumps
With a manual pump, you can easily set your own pace
1. Medela Harmony
(Check Latest Price)
Easy to use, efficient, lightweight, affordable, compact, and sleek are some of the terms I can use to describe the Medela Harmony Manual Breast Pump. When you order online, the unit comes assembled, but you will need to sterilize it before using.
The Harmony pump is made of eight pieces- membrane, breast shield, handle, collection bottle, valve, diaphragm, and pump body and component connector.
Because it's a manual breast pump, I wouldn't recommend it for those who need to express milk regularly. However, it is an excellent travel companion or a backup breast pump and for moms who don't need to communicates frequently. The 2-phase expression technology is easy to use.
Unlike electric pumps, manual pumps are not noisy and so is the Medela Harmony. The pump is easy to clean either in the dishwasher or by hand.
Pros:
Ideal pumps for moms on the go
2-phase expression technology delivers more milk in less time
easy to clean and assemble
Compatible with a wide range of breast shield sizes
Cons:
Expensive compared to other manual breast pumps
2. Philips Avent Manual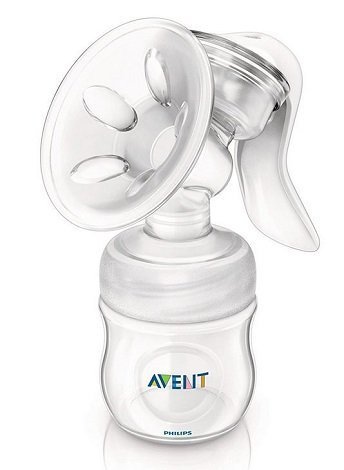 Philip Avent breast pump is designed with comfort in mind and with this manual breast pump there is no need to lean forward when expressing milk. It comes with a massage cushion that gently stimulates milk flow by mimicking your child's suckling action.
It is lightweight and compact meaning that you can easily pump while at home or take it along with you and express on the go. The pump is designed with few parts- (are easy to assemble and easy to clean).
Additionally, the pump comes with a breast shape nipple which mimics the breast hence making the transition to bottle-feeding a breeze.
3. Lansinoh Manual Breast Pump
A manual breast pump is a great choice for moms who pump sporadically or who may want a lightweight and compact breast pump for travel. It is also a good backup option you can easily stash in a glove compartment or purse for emergency use.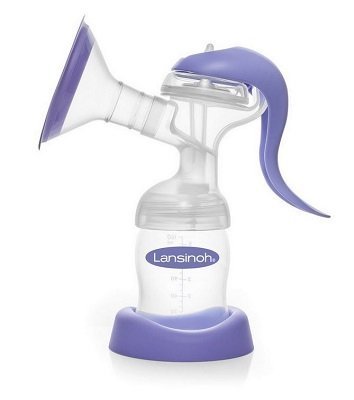 (See more photos and user reviews)
The Lansinoh manual breast pump is an affordable and reliable backup breast pump great for use at work, in the car or airplane. The few components make cleaning and assembly feel like a walk in the park. All the pump parts that come into contact with your precious milk are all BPA and BPS free.
Most of the mamas who have used the Lansinoh Manual Breast Pump have affirmed that they were able to pump without experiencing any discomfort. The pump also comes with a 30.5mm and 25mm Lansinoh ComfortFit Flange (breast shields) that are soft and have a flexible edge making it a good pump for moms with small breasts.
Hospital Grade Breast Pumps
1. Nibble Hospital Grade Pump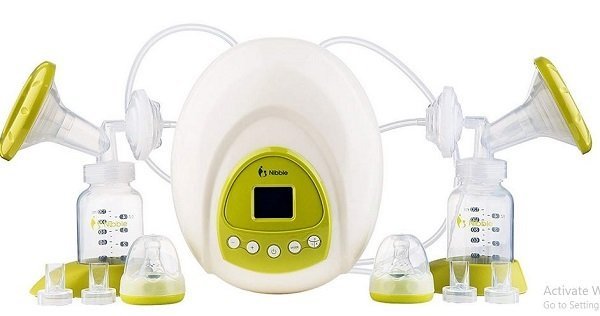 (Check Price on Amazon)
With this breast pump, you get the most advanced features out there. It has a well-fitted rechargeable battery on the go pumping. It uses closed system pumping mechanism to ensure that both the baby and the mother are free from germs. The breast pump has a night light, adjustable program and Letdown mode. The super advanced breasts pump suitable for double pumping and come with hygienic backflow protectors and double collection kit. It has the best designer tote bag for convenient transport and storage.
Nibble Hospital Grade Double Breast Pump is the best medical grade breast pump because it produces milk fast with super and sophisticated silent dual air motors. It provides less or no noise and suction control are available in two sides of the pump and controlled separately. It has the best and large LCD to show the working status at all times. The suction power is simple to use and adjustable. The suction power ranges from 120mbar to 450mbar.
2. Spectra Baby USA Double/Single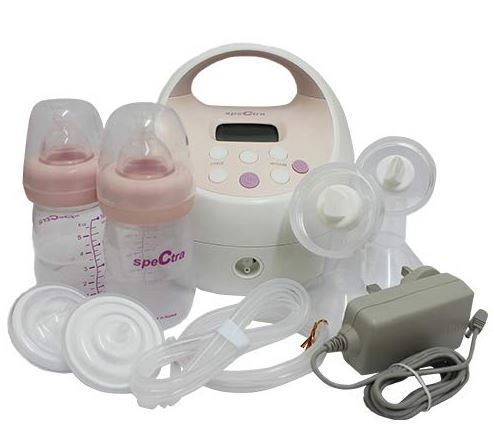 With this breast pump, you can rest assured that you will be safe while pumping breast milk for your infant. It is made from plastic materials that are hygienic for the baby and you. The closed system mechanism is safe for the baby. The breast pump has a night light feature with a timer to help you when the bottles are ready. It is quiet and does not disturb individuals who are around. It comes with a Letdown feature that is adjusted to any body type.
Milky Monday with @destinyhopeplusthree and her S2Plus! "#Every single mom needs this pump! I am seriously in shock how much milk this thing lets me get out!" #nursingmom #repost #pumpingmom #spectramom #milkymonday #mondaymotivation pic.twitter.com/mJs3V57VEM

— Spectra Baby USA (@SpectraBabyUSA) November 12, 2018

What makes it the best medical grade breast pump is the availability of both single and double pumping. It is a powerful and comfortable breast pump. It has everything you need for double pumpings such as AC power adapter, double collection kit with backflow protector, two tubing, two valves, locking rings and 24 mm breast flanges. It is made indeed to meet all your needs and giving you maximum confidence. It is a powerful and effective breast pump that you should own.
3. Medela Symphony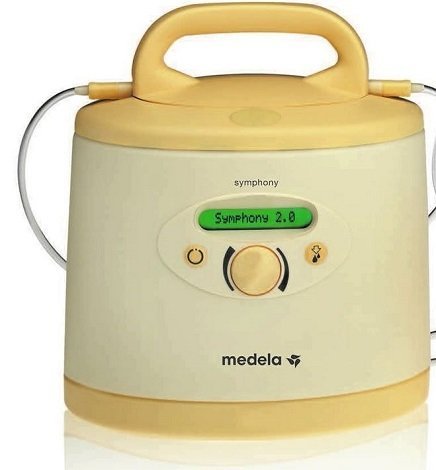 (Check Latest Price)
If you're struggling to express with standard breast pumps or want to express regularly, you'll be surprised by the difference Medela Symphony will make to your life. Based on my research as a fellow mom, I discovered that the Symphony uses 2-phase expression technology like any other Medela breast pump.
The first phase will stimulate let-down and second mode "expression mode" draws out more milk in the shortest time possible.  It's a MUST have a pump for moms with twins or even preemies.
What makes it unique from other Medela pumps is the fact that it comes with the Symphony 2.0 Program Card. The card stores all the information about the pumping program.
What's included in the box:
Symphony breast pump, Quick start card, Symphony 2.0 Program Card, Protector for card/cord, Container stand, Instructions, and  (Bottles and double pumping kit sold separately).
The Standard Program Card comes with Preemie Program that mimics the rapid and irregular sucking pattern of a preemie in the first few days of lactation.
Pros:
Easy to set up and use
Easy to clean
Comfortable
Cons:
It's expensive
It's bulky- not ideal for travel
Choosing Breast Shields for Small Breasts
Pumping should be an exciting experience- it should not hurt. Medela offers up to five breast shield sizes that should fit mothers with different breast sizes. In this guide, I'm going to help you to determine the right size for you through a series of steps.
Use a measuring tape or a ruler to measure the diameter of your at the nipple base and measure in Millimeters). Do not include areola when taking the measurements. Based on the measurements you obtain, you can now determine the right breast shield from the picture below.

For example, if the nipple size measure 17mm, the best Medela breast size is 21 and if the nipple measures 22mm the recommended breast shield size is 27mm. (Source)

How to Use a Medela Breast Pump
While can say that there are other popular options out there, I must admit that Medela breast pumps are among the popular and mostly used breast pumps here in the States. Below is a simple guide on how to use a Medela breast pump.
Find a comfortable space where you can relax and pump without distractions.
Thoroughly wash your hands.
Position the flanges such that your nipples are centered. Improper positioning can cause damage.
Turn the pump on. The machine will begin in the stimulation phase
After you see or feel milk ejection, it's time to press the expression button. However, if you don't switch to the expression mode- the pump will automatically switch after two minutes.
Use the speed nob to adjust to a level you're comfortable
After pumping session, remove the tubing
Cap the breast milk bottles and store the expressed milk
Disassemble the pump and clean
Final thoughts on breast pumps for small breasts:
To sum up, I would like to reassure you that the size of your breast does not influence milk production. In fact, a study conducted suggested that moms with small breast are likely to produce more milk than their counterparts. If you're looking for the best breast pump for small breasts- the above pumps are worth the money. You can also check out these seven foods that will increase your milk supply and these tips for power pumping.