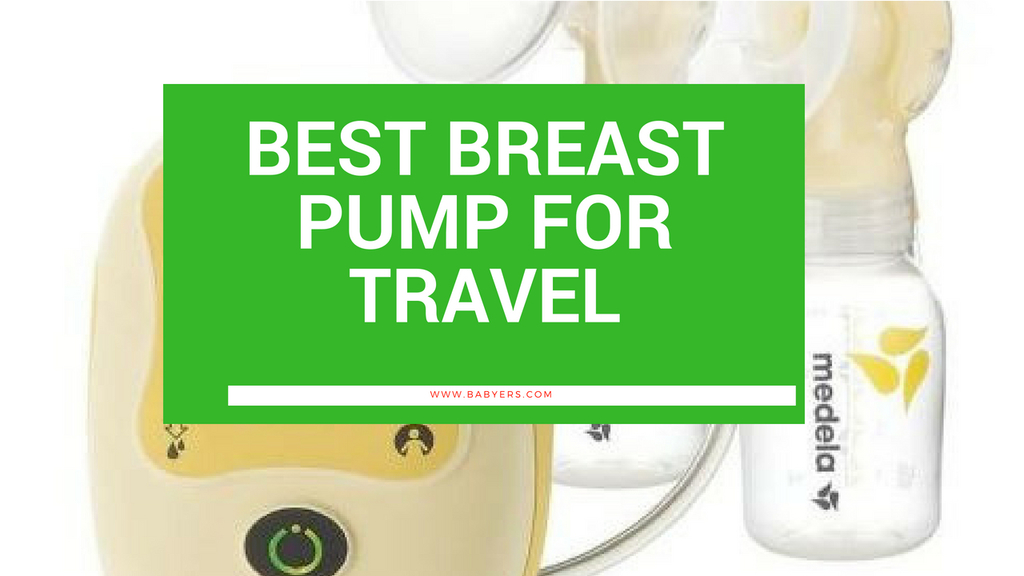 Best Breast Pump for Travel in 2018
Are you are breastfeeding mom planning going on a vacation or a holiday with your little toddler? You are probably going to need the best breast pump for travel to cater for your baby feeding needs. Between the travel up and downs, regulation, milk storage and the need to carry all the travel breast pump parts, the whole prospect of traveling can become quite overwhelming.
If you're planning to breast pump while traveling there is no need to panic anymore. In this write up we have compiled everything you need to know while traveling with your baby.
Best portable breast pump for travel reviews
1.   Best Electric Breast Pump for Travel
Most lactation consultants and hospital will recommend you to use an electric pump due to their ease of use and the ability to draw out milk. The advantage of using an electric breast pump on your travels is their fast operation. You will also have a free hand that you would otherwise be using when expressing milk using a manual breast pump.

Medela Swing Single Electric Breast Pump
Number one on our list of the best breast pump for travel is Medela Swing Single Electric Breast Pump. The 2-phase expression technology fitted on this electric breast pump makes accounts for its efficiency, and hence you won't miss your flight trying to pump.
Also Read: Disney World Stroller Reviews
The Medela Swing is also an excellent example of a breast pump for everyday use. This means that the breast pump is popular amongst moms who will want to use a breast pump every day. It is also a good breast pump for working moms, perfect for mothers who are active in sports, who want to go out for shopping or a dinner date. If you hate spending your whole life pumping (most of your time) then Medela swing electric breast pump is the best electric breast pump for you.
2.   Best Manual Breast Pump for Travel
Manual breast pumps are affordable, unlike their counterpart- electric breast pumps. Mothers prefer the use of manual breast pumps due to the easy setup, the price value (best affordable breast pumps), you can quickly set your own pace. Manual breast pumps are also a great backup option for the electric breast pumps.

Medela Harmony Manual Breast Pump
The Medela Harmony is one of the best manual breast pump designed for your occasional time away from the baby. The reason why the Medela Harmony is an excellent travel breast pump is the lightweight design, portability, and discreetness. It is an excellent alternative to the Medela double-electric breast pump.
Included in the delivery package is:
Manual pump
5 oz bottles with lids
Bottle stand
Cap
Membranes
Nipple with collar
3.   Best compact breast pump for travel
If you're planning on spending a couple of days away from home with your baby, you probably want to prepare all the necessary accessories. You'll probably want a breast pump that is compact and not bulky. You'll also need a breast pump that will get the job done within minutes, one that won't spoil in the event when milk accidentally spills.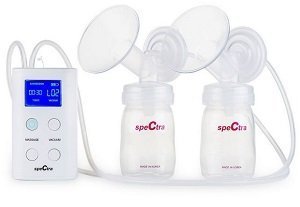 Spectra Baby USA – 9 Plus Portable and Rechargeable Electric Breast Pump
The reasons why the Spectra Baby USA- 9 Plus would make a great travel companion include:
Portable
Rechargeable battery
Backflow protector
Mom owned
One of the most compact electric breast pumps, Spectra Baby USA boasts a lightweight, slimline double kit that allows for complete portability and flexibility for travel moms.
The in-built rechargeable battery will ensure that you can pump everywhere anywhere- even when out camping. The breast pump also comes with a touch adjustable suction/cycle, advanced massage, display timer, and advanced expression technology. The Back-Flow Protector will protect your milk from harmful bacteria.
Read More: Best Child Scooter Helmet
Overall, Spectra 9 Plus Advanced breast pump is designed for moms who want complete portability and flexibility so that they can pump however they like, when they like and where they like.
How to choose the best breast pump for travel
Choose the right breast pump
To ensure that you get the best breast pump for your travel you will need to evaluate the travel conditions in advance. Evaluate your accommodation spots and the final destination. Ensure that you choose a breast pump that suits your lifestyle and also meets all your needs.
Evaluate your milk storage
Your biggest threat to breast pumping is milk contamination or spoilage. Therefore it's important to find the best milk storage option. Find a breast pump with back-flow protector to protect your milk from harmful bacteria.
Research
To ensure that everything goes as per your plans, it's essential to do some research. First, call your destination to check whether they have a refrigerator available. Also, check with the airline and confirm whether they allow breast pump as a "medical device." Also, confirm with a human relation representative of the office you will be visiting to check if they have a mother's room where you can pump discreetly.
You need a pumping plan
Irregular pumping can affect your milk supply, and so it's important to ensure that you have a pumping plan and stick to it. You can schedule alarms on your smartphones that will remind you when to pump.
Regularly clean your breast pump
After every pumping, its recommended you clean your breast pump before storing it for next use. However, if you're not in a position to wash it, probably because you're traveling by plane, bus where you have no access to soap and sink, you can alternatively use a breast pump sanitizing wipe and clean all the breast pump parts that have been exposed to milk.
Alternatively, if you have access to a refrigerator, you can place the breast pump parts in the refrigerator together with your milk. By doing this, all the milk residue on the breast pump will remain fresh just like your milk hence preventing the growth of harmful bacteria.