Are you are breastfeeding mom planning going on a vacation or a holiday with your little toddler? You are probably going to need the best breast pump for travel to cater for your baby feeding needs. Between the travel up and downs, regulation, milk storage and the need to carry all the travel pump parts, the whole prospect of traveling can become quite overwhelming.
If you're planning to pump while traveling there is no need to panic anymore. In this write up we have compiled everything you need to know while traveling with your baby.
How To Choose The Best  Travel Breast Pump
Breast pump choice
A manual pump would be just the right for travel. They're compact, affordable, easy to clean and lightweight. But if you're going to get a manual pump, be ready for some pretty tired hands. A good alternative is an electric pump- but they're often heavier and expensive.
Not all electric pumps you will find on the market are ideal for travel. A good electric pump for travel must meet the following criteria:
Should be lightweight
Battery operated
Just in case you don't find electrical outlets, a battery electric breast pump will just work fine. You can even carry along some rechargeable AA batteries for backup.
To ensure that you get the best breast pump for your travel you will need also to evaluate the travel conditions in advance. Evaluate your accommodation spots and the final destination. Ensure that you choose a one that suits your lifestyle and also meets all your needs.
Evaluate your milk storage
Your biggest threat to breast pumping is milk contamination or spoilage. Therefore it's important to find the best milk storage option. Find a pump with back-flow protector to protect your milk from harmful bacteria.
Research
To ensure that everything goes as per your plans, it's vital to do some research. First, call your destination to check whether they have a refrigerator available. Also, check with the airline and confirm whether they allow pump as a "medical device." Also, confirm with a human relation representative of the office you will be visiting to check if they have a mother's room where you can express discreetly.
You need a pumping plan
Irregular pumping can affect your milk supply, and so it's important to ensure that you have a pumping plan and stick to it. You can schedule alarms on your smartphones that will remind you .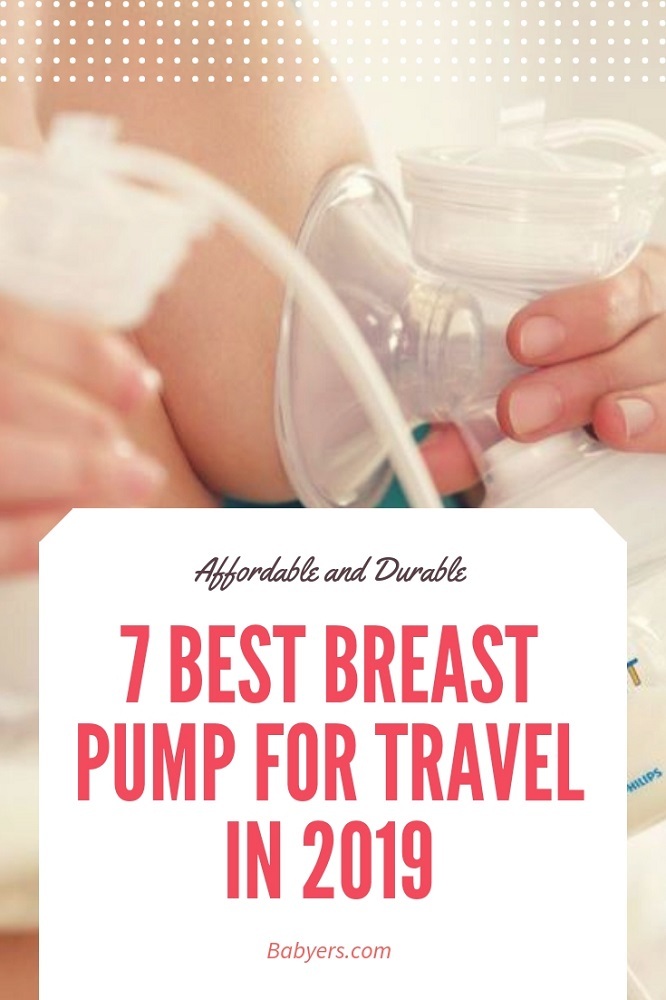 How to Travel With Breast Milk
Your baby's nutritional needs and your need to empty your "full breasts" don't come to a stop simply because you're going out of town. Travelling with breastmilk requires a bit of preparation than your typical trip especially if you're not going to take your baby along.
What to Carry
If you're not going to take your baby along, you will need a breast pump to express milk. Pumping will help prevent engorgement and maintain a steady milk supply when away from your baby. I would recommend a good electric one but also a manual pump is a good option especially when you don't have access to electrical outlets.
Additionally, you also need storage bags or bottles that seal tightly. Keep in mind that these storage bags could rupture when poorly handled. You should also consider bringing cooler bags and ice packs to keep the milk cool especially if you're planning to bring it home. You should also consider carrying breast shields, cover-up especially if you're going pump in public areas.
Best Breast Pump For Travel Reviews
1. Philips Avent Comfort
Manual pumps are affordable, unlike their counterpart- electric pumps. Mothers prefer the use of manual breast pumps due to the easy setup, the price value (best affordable pumps), you can quickly set your own pace. Manual pumps are also a great backup option for the electric pumps.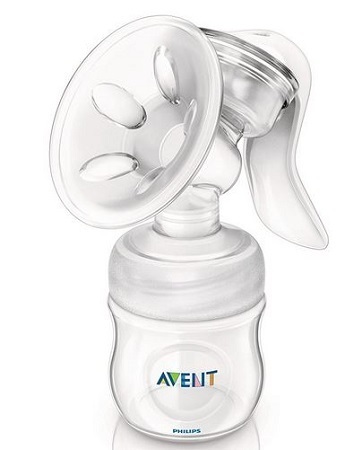 (Check Latest Price at Amazon)
A manual breast pump is ideal for use as a backup breast pump or as a travel breast pump. If you're looking to buy a manual pump for travel, Philips Avent is a great option as it boasts all the features any mom would want in a breast pump for travel.
One of the factors that you should always look out for when buying a pump for travel is weight. Pretty much like the Medela Harmony, Philips Avent only weighs 14.1 ounces. You can carry it with just one hand. It's lightweight and portable designed expressing on the go.
It's also designed to let you sit up straight- so you can express when traveling in a car or on a plane. It's too easy to assemble, use and clean- so you can quickly assemble it, pack in your favorite breast pump bag and still run errands or catch your flight.
The pump is designed with very few parts, and this makes it easy to disassemble, clean and assemble. It comes with a natural bottle with a wide breast-shaped nipple which makes it easy to combine bottle and breastfeeding and make the transition smooth as possible.
Pros:
The pump is portable and comes with everything you need to feed your little one.
It's super quiet
It's affordable compared to electric breast pumps
It's easy to assemble and disassemble
The pump handle is ergonomically designed which makes it easier to pump
Cons:
The massage cushion that comes with the pump can be too small for some women. Bigger breasted women will need to order bigger massage cushion separately.
It's a good pump for occasional use, but it should not be used as a replacement for an electric pump.
2. Medela Harmony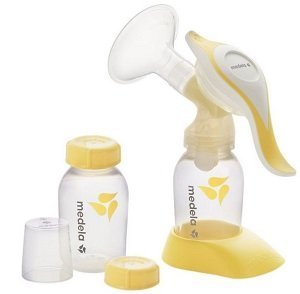 (See Latest Price at Amazon)
The Medela Harmony is one of the best manual breast pump designed for your occasional time away from the baby. The reason why the Medela Harmony is an excellent travel breast pump is the lightweight design, portability, and discreetness. It is an excellent alternative to the Medela double-electric breast pump.
Included in the delivery package is:
Manual pump
5 oz bottles with lids
Bottle stand
Cap
Membranes
Nipple with collar
If you're planning on spending a couple of days away from home with your baby, you probably want to prepare all the necessary accessories. You'll probably want a breast pump that is compact and not bulky. You'll also need a breast pump that will get the job done within minutes, one that won't spoil in the event when milk accidentally spills.
3.Medela Swing
Most lactation consultants and hospital will recommend you to use an electric pump due to their ease of use and the ability to draw out milk. The advantage of using an electric pump on your travels is their fast operation. You will also have a free hand that you would otherwise be using when expressing milk using a manual breast pump.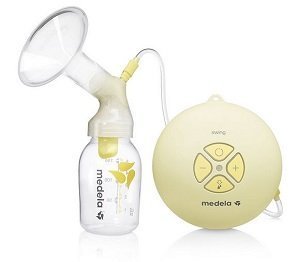 (See latest price at Amazon)
Number one on our list of the best breast pump for travel is Medela Swing Single Electric Breast Pump. The 2-phase expression technology fitted on this electric breast pump makes accounts for its efficiency, and hence you won't miss your flight trying to pump.
The Medela Swing is also an excellent example of a breast pump for everyday use. This means that the breast pump is popular amongst moms who will want to use a breast pump every day. It is also a good breast pump for working moms, perfect for mothers who are active in sports, who want to go out for shopping or a dinner date. If you hate spending your whole life pumping (most of your time) then Medela swing electric breast pump is the best electric breast pump for you.
4. Spectra Baby USA – 9 Plus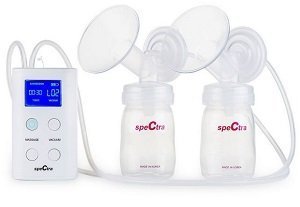 (Check Latest Price at Amazon)
The reasons why the Spectra Baby USA- 9 Plus would make a great travel companion include:
Portable
Rechargeable battery
Backflow protector
Mom owned
One of the most compact electric breast pumps, Spectra Baby USA boasts a lightweight, slimline double kit that allows for complete portability and flexibility for travel moms.
The in-built rechargeable battery will ensure that you can pump everywhere anywhere- even when out camping. The pump also comes with a touch adjustable suction/cycle, advanced massage, display timer, and advanced expression technology. The Back-Flow Protector will protect your milk from harmful bacteria.
Overall, Spectra 9 Plus Advanced breast pump is designed for moms who want complete portability and flexibility so that they can pump however they like, when they like and where they like.
5. Signature Pro by Lansinoh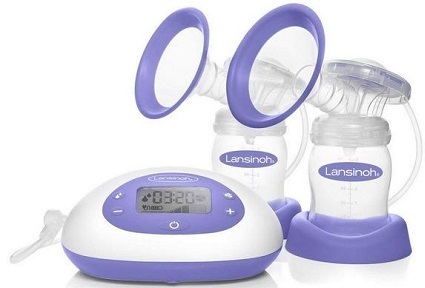 (Check price and user reviews)
If you're looking for a budget-friendly travel breast pump to combine both breastfeeding and bottle feeding, I would recommend Signature Pro by Lansinoh. It's the only breast pump that comes with 3 pumping styles and 8 suction levels which can be adjusted according to the user preference.
The Signature Pro is a closed system and compact designed for daily use and the mom on-the-go.
I love the fact that the it gives moms control over their pumping thanks to the different suction levels and pumping styles. It's easy to use, clean and assembles. A manual guide is included to help moms understand how to set up their unit in a snap. Weighing only 6.95 pounds, the Signature Pro is one of the lightest double electric pumps for travel. It comes with a tote bag for easy transporting. It packs up nicely, and it's easy to use when away from home.
6. BabySteps Independent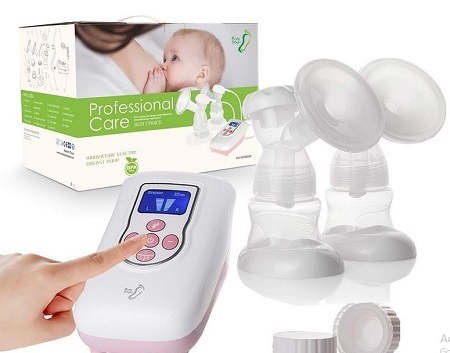 (See user reviews and photos)
I consider BabySteps Independent an affordable for travel. Despite going for less than 60 dollars, this unit surprised me in many ways. It's also lightweight making it an ideal pump for pumping on the go.
I received a freebie from BabySteps to test the product and help me write a review for moms in need of a breast pump. I was surprised to find that the BabySteps Independent is such an affordable.
It is a closed-system , and all the parts that come in contact with your breast milk are all BPA free. The suction strength is strong and can be compared to the suction strength of a Medela swing breast . With this product, you get a letdown mode and an adjustable suction with nine distinct suction levels and can be controlled independently on either breast.
You can purchase a universal car charger separately if you need to express in the car. See my recommendations here. It's equipped with 2-phase expression technology to help mothers express more milk in less time. The first phase is the stimulation mode- this mode is a bit faster but gives lighter suction that mimics the feeding pattern of a hungry baby. But the expression mode is a bit slow but gives stronger suction that mimics how your newborn nurses once let-down is established.
7. Gland Rechargeable Breastfeeding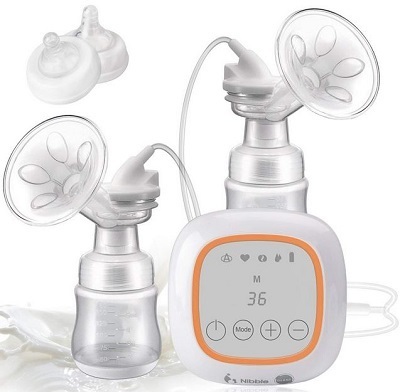 (Check latest price on Amazon)
If you want an electric breast pump made of hospital grade parts and capable of switching from single to double pump, I would recommend Gland Rechargeable Breastfeeding . It only weighs 2.6 pounds and can express either plugged into the socket or using 1 Lithium Polymer batteries (Sold separately).
All the materials that make up this pump are all BPA free. Unlike most of the electric models, you'll find on the market today; Gland Rechargeable features four pumping modes. First, there' the Automatic Mode with strength levels from 1-18 and ideal for new moms.  Then there's the Stimulation Mode (suction strength 1-18) ideal for new moms with milk supply issues. The Massage Mode is ideal for mothers who cannot express milk efficiently and need to massage the breast first. The Expression Mode is best for moms on the go who can express breast milk effortlessly.
How To Keep Breast Milk Fresh When Travelling
After you've expressed milk, the next step would be to figure out what to do with the milk. Breast milk shelf life is eight days when in the refrigerator and therefore keeping your breast milk cool will help prevent spoilage. There are several techniques that you could use to keep your breast milk cool when travelling.
Don't Ice it> It might sound weird, but the truth is breastmilk is stable and can stay fresh for a couple of hours at room temperature. Pumping at work at 4 pm? That's fine; you can keep the milk at room temperature as you commute home and stash it into the fridge when you get home.
Ship it home> If an active duty military mom can ship their milk home, it's gonna work for you as well. I've had a wonderful experience shipping my expressed milk back home thanks to this company- Milk Stork. But you can also ship it in dry ice or cooler with ice packs via USPS, UPS, or FedEx. Whatever method works for you, make sure your milk gets home "safely".
Get a cooler with freezer packs> your breast milk will stay fresh in a cooler for 24hours at a temperature range of 5-39 degrees Fahrenheit. A cooler with freezer pack is a good option especially if you're travelling by air.
Pumping On International Flight
Pumping when travelling by air can be complicated. You will need to carry the unit as a personal item in your bag, or you can store it under the seat right in front of you.
If you're taking short flights, I would recommend pumping before boarding the flight and after. Some airports have nursing rooms where you can discreetly express milk. For longer trips, you might have to express when aboard the plane but remember to use a nursing cover-up.
Additionally, if you'll carry your expressed milk, consider removing it from the carry-on bag at security checkpoints. The TSA officers may inspect/test it for drugs or explosives. Some security checkpoints will require you to open the storage bag. This shouldn't worry you either- because they'll only wave a test paper over the storage lid-which can't contaminate your breast milk.
Travelling With Breast Milk by Car
Pumping when travelling by car is much easier compared to pumping on a plane. You will be pumping in the privacy of your vehicle. You can use a cooler and some ice to keep milk cold until you get home or reach your destination. You will also enjoy added benefits- for instance; you can use a car adapter to the unit without having to stop and find electrical outlets.
Pumping on a cruise
If you'll be pumping on a cruise ship, I would recommend booking a cabin with a refrigerator where you can store pumped milk easily. Remember that mini-fridges are not ideal for storing breast milk long-term. But in my recent travels, I discovered that some cruises that have medical fridges that keep milk cold enough.
How to Clean a Breast Pump When Travelling
After every pumping, its recommended you clean the unit before storing it for next use. However, if you're not in a position to wash it, probably because you're traveling by plane, bus where you have no access to soap and sink, you can alternatively use a breast pump sanitizing wipe and clean all the  parts that have been exposed to milk.
Alternatively, if you have access to a refrigerator, you can place the  parts in the refrigerator together with your milk. By doing this, all the milk residue on the unit will remain fresh just like your milk hence preventing the growth of harmful bacteria.
Conclusion:
Travelling without your baby can be a daunting task- you will need the a breast pump that doesn't dissapoint- in terms of efficiency and ease of cleaning. If you will be traveling with your baby- you can read my review on different strollers ideal for travel and this one about different toys you can get for your little one when traveling. You will probably need a diaper bag- so check these diaper backpack in this article.