I know why you landed on this page. You are looking for the best electric breast pump for daily use, right? The hunt for the best electric pump is never an easy task- I'm a mom, and I can assure you- the search is never easy and at times it can be overwhelming.
Though I had problems finding a good electric breast pump online, I wouldn't want you to go through the same. That's why I took a week's break from my usual daily routine to research and wrote up this detailed review to help you in choosing a good breast pump to express milk daily.


What to consider before buying a pump for daily use
You've probably had some experience using a breast pump right? What are the factors that you took into considerations before buying? (Give a suggestion in the comment box).
But did you know that an electric breast pump is not your normal breast pump, and there are factors that you should consider before buying one? In this section, I will discuss the key factors you should consider before buying the best electric breast pump.
Double or Single pumping?
Double electric breast pumps are good for working moms or those who need to pump regularly. They allow a user to express both breasts at a go- therefore yielding more milk within a short span. With a double pump, you can complete a pumping session within 10-15 minutes.
On the other hand, if you've got some more time to spare, you can go for a single breast pump. Using this pump, you will be able to express one breast at a time.
Batteries and adapter
If you will be pumping on the road or lack access to a pumping room at work, it's better to opt for a breast pump that runs on battery or that comes with an adapter you can easily attach to your vehicle's cigarette lighter.
Carrier bag
If you will regularly commuting, you will need a breast pump with a professional looking backpack or shoulder bag. In most cases pumps (other than hospital grade ones) come in a microfiber case with a shoulder strap. See my article on different hospital grade breast pumps that fit every mom's need.
Other models feature a removable pump motor and cooling compartment so you can easily lighten up the load.
Weight
Even a 4-pound electric breast pump can seem heavy especially if you have to take it along with you to work every day. So if you will frequently be traveling and got some luggage, it's important to the lightest electric breast pump.
Warranty
If you are going to use the breast pump daily or a couple of times in a week, I'd recommend that you look for a breast pump that comes with an at least 1-year warranty on the pump motor. A good warranty is a good indicator of both quality and durability. A good pump should have all the above mentioned features– to give full satisfaction.
Comparison Chart
1. Philips AVENT  Breast Pump
If you will be pumping sporadically, a simple single electric breast pump is likely what you need. You can even opt for a manual breast pump, but a single electric pump is more efficient than a manual pump. There are not as many single pumps on the market today as manual and doubles.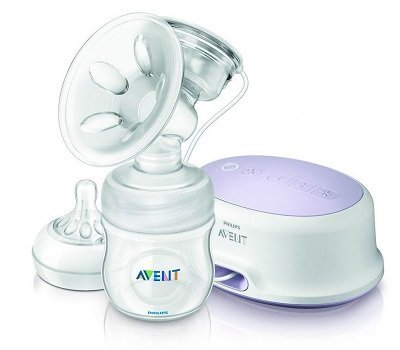 (See latest price and user reviews)
The Philips AVENT pump is designed to be the world's most comfortable pump. It is an excellent choice for mothers looking for a durable, effective and affordable electric pump. Additionally, it's compact, lightweight and comfortable. It comes with a massage cushion that stimulates milk flow by giving a warm feel to your skin and by mimicking a baby's suckling for a natural letdown.
2. Medela Pump in Style
You probably are going to need the best double electric breast pump if you want to express more milk within the shortest time. If you are a busy mom, working an 8-5 job with a few minutes, break in between- buying a double electric pump will get the job done within 10-15 minutes.
Here are some of the benefits of double pumping:
Double pumping increases milk output
Saves time
It produces milk with a higher energy content
It gives an extra milk ejection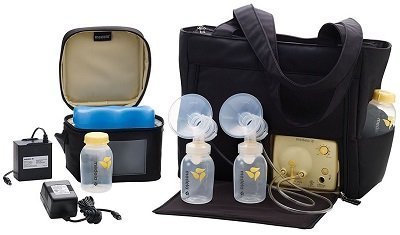 (Buy it now on Amazon)
This double electric breast pump is designed for moms who need to pump a couple of times in a day. Just like any other Medela breast pump, the pump in style is designed to last longer and make breastfeeding your baby much easier.
The pump boasts a couple of powerful features including a 2-phase expression technology that gives more milk, unlike single electric pumps. It comes with an on-the-go tote and a backpack with a built-in pump for portability and discreet pumping. All the parts that come into contact with breast milk are all BPA free.
3. Medela Freestyle
As mentioned above, even a 4-pound electric breast pump can feel heavy especially when you have to carry it along with you frequently. Therefore, if you will be commuting or traveling often, you will need a lightweight breast pump.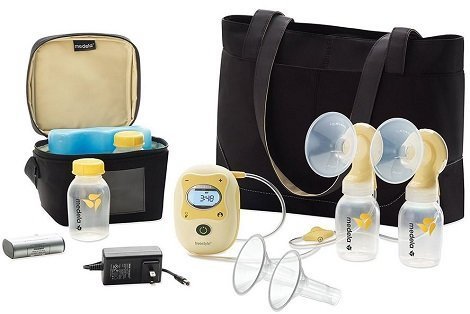 (Check latest price)
Medela Freestyle Mobile Double electric breast pump is one of the lightest and most compact breast pumps designed for those who need to express several times a day. It is fitted with adjustable speed and vacuum combinations so that you can set your desired pace. The memory buttons remembers your comfortable pumping pace, and so you don't have to set it each time you need to pump.
The pump comes with a rechargeable Lithium-ion battery (and a charger) can last up to 3 hours.
Conclusion
If you want the best alternative to a manual breast pump, an electric breast pump will get the job done. As you can see, I have classified the above electric breast pumps into different categories to help you choose one that specifically suits your needs. Buying the breast pump for daily use has never been easy- but with the above review, its simply super easy now. Here are some more articles for you- inducing lactation using breast pumps and power pumping to increase milk supply.