So, your baby is hitting the standing stage already? I know this can exciting for you and the baby too.  Supporting this milestone by helping your baby stand is the best thing you can do for them at this stage. Standing isn't easy as it seems mainly for babies who are testing out their legs for the first time. If so, a baby walker should be your next item to purchase. Some toys such as baby walkers are a proven way of helping your baby on those first standing steps on their own.
There are a variety of toys to help your baby learn how to stand for long and eventually walk. Below is a list of the best toys for babies learning to stand. Here is my recommended toy I've used for my three kids and I love it.
Related: Best Breast Pumps for Everyday Use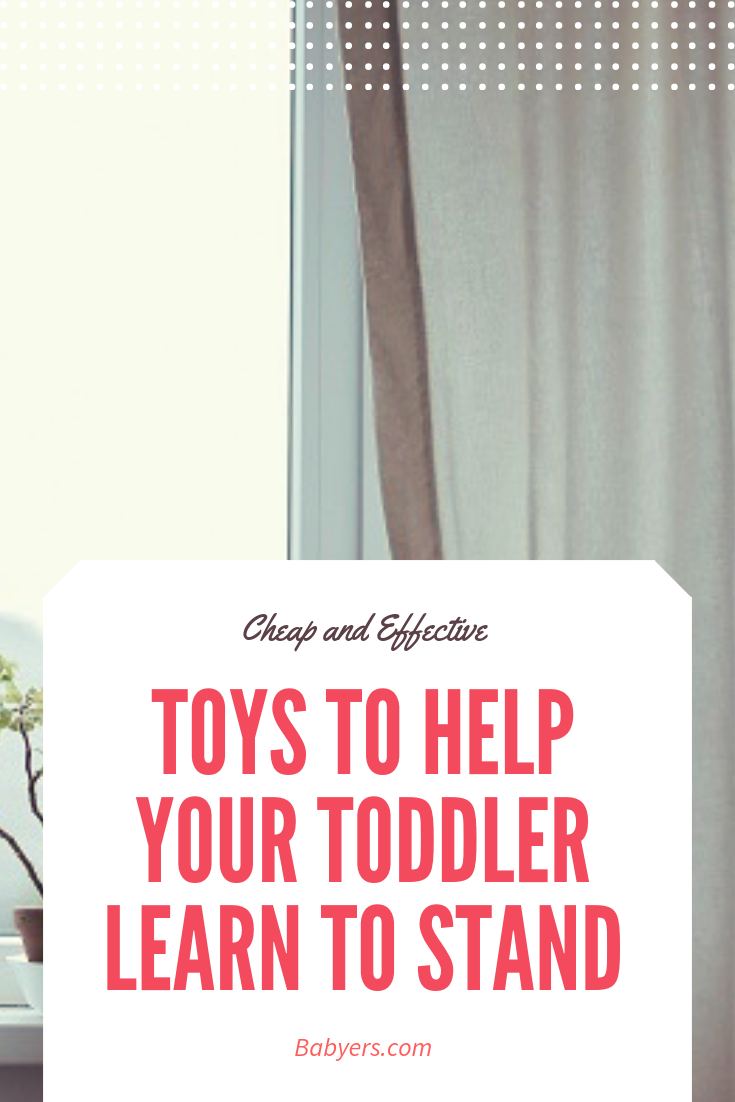 Best Toys for Babies Learning To Stand Chart
Best Baby Push Walker
VTech Sit-to-Stand Learning Walker is your baby's ultimate walker. It is one of the best toys for babies learning to stand. The walker comes with tons of features that provide a wide range of activities to entertain your baby and help them hold for long. The walker is equipped with a wide variety of toys that offers an interactive learning process other than helping your baby stand and walk alone. VTech Sit-to-Stand Learning Walker comes with Light up buttons with various shapes, a piano, a telephone, shape sorters and rollers for your baby to play with. Check latest Price on Amazon
This will keep your baby busy and having fun at the same time as they are learning how to walk and develop motor skills. The walker has a handle too that your baby can easily drag it around. Equipped with a controlled setting, you can regulate the volume of the sounds produced. This sit to stand walker is one of the best toys for babies learning to stand because; it is easily adjustable, easy to assemble and detach, very infant friendly because it is credibly entertaining and loaded with volume control.
Best Baby Walker for Hardwood Floors
Melissa Push Toy and Activity Walker (See more pictures here) is a wooden walker that offers engaging activities for babies who are learning to stand and move. One of the most outstanding features of the Melisa Push Toy Activity Walker is that it has three alligators that click and clack when the toy is pushed. This is very entertaining for your kid, and it encourages the kid to keep pushing the toy to hear it click once more. This makes your kid stand for more extended time and walk even further. If you are looking for a safe and durable toy, look no further. It is made from strong wooden materials making it last longer. It comes with large wheels that provide stability as your kid push the toy and designed in a way that it can't topple backward. It has bright colors that will attract your kids, and it is fitted with a comfortable handle for your kid to grasp and push along comfortably. Safety is also guaranteed because it has high safety features with wheels that can't skid in all surfaces. Check its Price and Reviews Online
Related: Best All Terrain Double Stroller
Best Affordable Baby Walker
You probably don't want to be buying toys every stage of your kids' life. Kolcraft Tiny Step 2-in-1 Activity Walker is a unique walker that is easily converted from a seated walker to a push behind walker as your baby grows. This walker is a penny saver as it grows with your kid. It comes with an adjustable seat to suit the height of your baby. The walker is equipped with a lot of toys for entertaining your kid. A bead bar, a mirror toy, and a spinning toy are some of the toys to make this walker fun for your baby. The base of the walker has friction pads to prevent the toy from sliding and thus ensuring safety for your kid. If you are looking to save some storage space, this is your ideal Walker as it easily folds flat to reduce space and can also be carried around. The walker also has a seat pad that is easily removable and washable with a machine. Read more reviews from moms here.
Best Walker for Short Babies
With the Bright Starts safari baby walker just as its name, will send your baby to go on a safari inside your home.  If you are looking for a multipurpose walker that will keep your baby busy both whiles seated and playing on the floor and also while walking, Safari walk walker got you covered. The good thing about it is that the toy station can be removed and used on the floor for playtime when your baby isn't roaming. The walker is loaded with lights, sound, and toys all which make it fun for the baby. It is easily adjustable to three heights meaning it grows with your baby. The walker comes with different play modes that will keep the kid entertained. Compare prices on Amazon.
Related: Best Travel Breast Pumps
Best Sit to Stand Walker
This is one of the best toys for babies learning to stand. The walker helps to steady the baby's first steps as they are learning to stand. It has all these exciting features with lights, sounds, and songs that will really excite your kid. The 3-in-1 smart car starts as a baby walker, and as your baby grows, it becomes a stationary and later a sit-on ride car. This means that it grows with your baby in every stage. An easy to grasp hand is fitted at the back of the toy that provides support for your baby's first steps. The car talks have a horn and a phone that will help your baby to learn communication as they learn how to stand and walk independently. It has an interactive dashboard that will keep your kid busy all through. As it serves three purposes, this toy will be your baby's buddy for an extended period. Check Latest Price here.
Baby Walker for Carpet
This is the perfect walker for your baby before they take their first steps. The toy provides a sturdy platform for your baby to explore the world on their two feet. It is among the top toys for kids learning how to walk because of its fancy features.  Check its price on Amazon now. It has a toys station which can be removed and used as a fun toy for floor play. The walker has classical melodies and a bead chaser to keep your kid entertained. The walker comes with a piano, and by pressing the keys, it activates the light and sounds a very entertaining thing for kids. It has a sturdy quiet bed frame providing support for your baby. Its seat back provides comfort for your baby and is made of a material that is machine washable.
Final Verdict
There you have it fellow parents. Purchasing a baby walker is something that is vital and beneficial to your baby. Toys can help your babies learn how to stand as they give confidence and prevent the baby from falling back. This encourages them to hold for a little longer, and soon they start now walking. With the flooded markets, choosing the best toys for helping your baby stand can be challenging. It is always good to consider the safety, durability, comfort, and the weight of the toy before purchasing.   If you are planning on going to Disney Land read this review I wrote a while back.Best Stroller Fan Reviews.
What walker are you planning to buy for your kiddo now? Let me know in the comment section down below. If you've got any question, shoot a message and I'll be glad to help. Thank you.