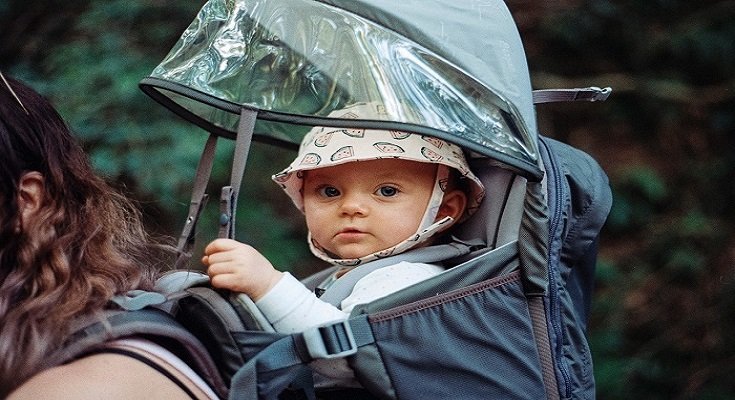 10 Safest Baby Carriers for Newborns in 2019
According to statistics, there are over 600 different baby carriers here in the United States with more than 50 brands  introduced in the past couple of months. Some of these wraps models are from trusted and well-known brands such as LILLE Baby, Ergobaby, Baby Bjorn, and Boba while others are what I would call "run off the mill" products with poor quality and designs.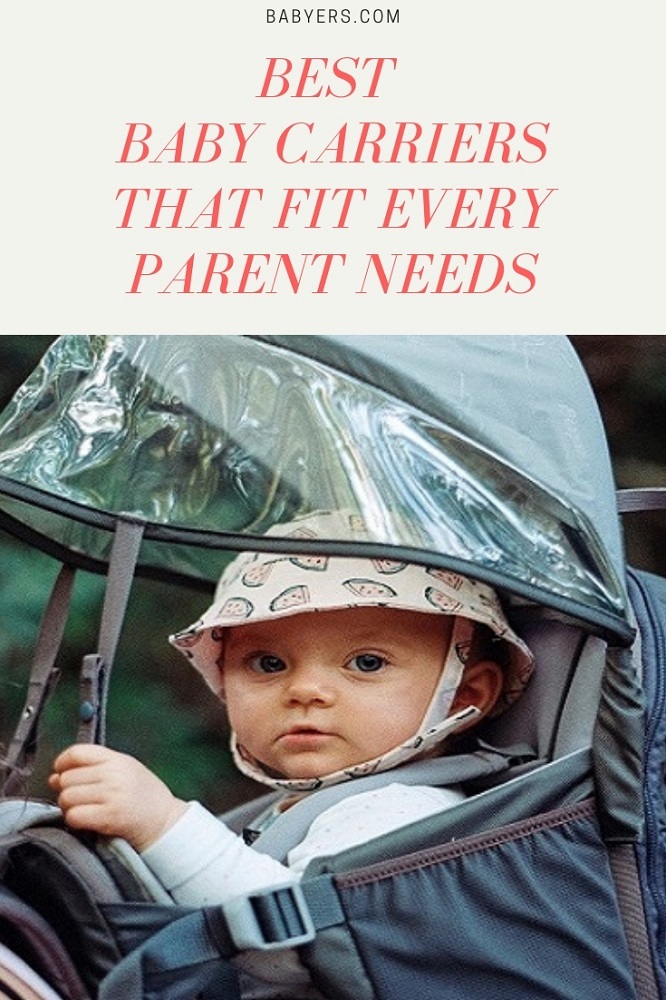 Does a newborn need a carrier?
Most new moms often ask this question but here is my answer- (it's my opinion)- it isn't a necessity. You can use a baby stroller instead or you could use a swing at home or a bouncy seat.
What makes a carrier unique is the fact that it's the only gadget among the above mentioned that can be used hands-free letting you do other activities while your child relaxes against you.
It's an excellent substitute for a stroller and many parents would agree with me. If your little one gets upset when he/she can't see you or if you want to navigate in crowded spaces like stadiums or airports, then I would recommend it over a stroller. If you love hiking, as I do, I would recommend a carrier over an all-terrain baby stroller.
 Baby carrier for newborn comparison chart
1. Clevr Cross Country  Hiking Carrier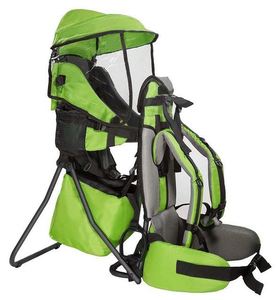 You have probably spent most of your life "in the woods," and now you're wondering and asking- how the heck am I going to hike with my toddler? Is this even possible?
The answer is YES- you can take your whole family outdoors just like you used to before. You will only need to find a good carrier  designed for hiking and fortunate enough, I have done research and found one for hiking moms and dads.
A hiking carrier should offer the convenience that every hiker needs and also give your bundle of joy a chance to enjoy the nature.
I recommend for any parent willing to explore Mother Nature with their little ones to use  Clevr Cross Country Baby Backpack Hiking Carrier. It is made of durable and yet lightweight metal frame. It is equipped with padded shoulder pads, multiple pockets, two side water bottle holders and padded waist strap. It is also equipped with a large back pocket where you can stash diapers and other items.
2. Boba 4G Carrier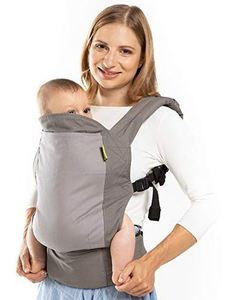 Back pain is a common health problem facing parents today. However, what option do you have when you have a bad back, and you need a carrier?
During my weeklong research and testing, I discovered that many carriers are designed to keep your little one safe and don't take into account the physical stress the carriers have on the person wearing it.
A carrier designed for bad back should not put unnecessary pressure on the back and shoulders of the person wearing the carrier. It should be designed in such a way that it evenly distributes all the child's weight through your shoulders, back, and hips.
Boba 4G Carrier is ideal for people with bad back worth every single penny. It offers maximum comfort and convenience for both the child and parent and its ideal for kids from 7-45 pounds.
The only problem is that it's relatively hard to wear the child on the back compared on front.
3. Baby K'tan Original Carrier
(See more photos and user reviews)
It's unfortunate that not all baby carriers allow for easy and comfortable breastfeeding. If you want wrap that will allow you to comfortably breastfeed your little one, I highly recommend Baby K'tan baby carrier. It is made of 100% cotton and ideal for a baby right from birth up to 35 pounds.
Your baby can discreetly breastfeed, and you'll also be able to bond with your child through skin-to-skin care. It's an excellent carrier for breastfeeding in public.
Some of the reasons why you'll love Ktan baby carrier is the fact that it's easy to use and the material is soft, comfortable and also breathable.
The only problem is that you can easily miscalculate the right sizing. However, if you're not sure of the right size, you can always reach out to their customer care, and they might offer assistance.
4. Tula Ergonomic Carrier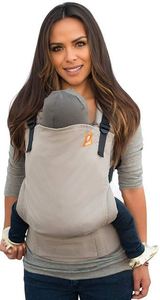 If you want to purchase a carrier for a newborn, it's important to understand that newborns have special needs, unlike toddlers.
Baby Tula Standard Baby Carrier is among the best for a newborn. Its ergonomic soft style allows you to carry the baby both on front and at the back. The carrier is designed to offer maximum comfort for you and your newborn right from birth to toddlerhood.
The fabric is 100% cotton; it's soft and can withstand machine washing. The only challenge I noticed  is that it lacks 2-way adjustable straps and it's fitted with small pockets.
5. LILLE baby All Seasons Baby Carrier
During my weeklong research, I discovered that nearly every carrier you can find on the market today is designed for moms. Lots of frills, colors, flowers, and lace, but what the best carrier for dads?
I spent time talking with dads, and I was able to find one that's right for dads. It was recommended by almost every dad and will serve any dad right- LILLE baby All Seasons Baby Carrier.
It includes everything from unique lumbar support, sleeping hood for support and UV protection, adjustable straps, zippered pockets, generous paddingand six ways to carry your baby. The adjustable 6-in-1 seat grows with your child right from birth to toddlerhood.
It's fitted with the unique lumbar support that relieves lower back pressure and provides stability for a more comfortable ride.
6. LILLE baby All Seasons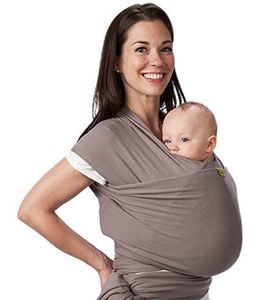 It is true that the best baby carrier for petite moms will vary between wearers. In the recent years, I have noticed that small moms love and prefer ring slings over a baby carrier because ring slings can adjust according to the wearer's size.
As a mother, I highly recommend Boba Baby Wrap Original Child and Newborn Sling. I have a friend who is a petite mom (Only 5 foot and weighed 87lbs before pregnancy) with five kids, and she has used the same sling for all of them.
If baby slings are not your thing, then here is my recommendation for the best baby wrap for petite moms- Baby K'tan Original Baby Carrier. It's made of 100% soft cotton, and it's an ideal blend of a wrap, sling and a carrier hence providing the full benefits of the three options.
7. Ergobaby Original Multi-Position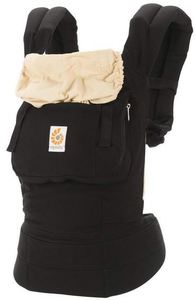 If you want the best baby carrier for plus size moms, Ergobaby Original Multi-Position will serve you the best. The shoulder and waist belt is padded for extra comfort, and it can fit wearers from larger to petite body types. The shoulder strap adjusts from 28-47 inches and the waist belt from 26-52 inches.
It is a great model that you, your partner and the baby can use for hours whether traveling, running errands, hiking or spending your time at home. Cleaning it is simple, only cold water, drip dry and mild detergent needed, but spot cleaning is most recommended.
8. BabySteps Ergonomic Carrier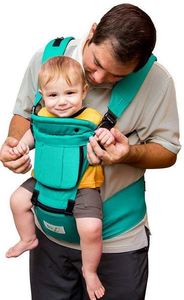 (See more photo and user reviews)
One of the best ways to wear your kid around is by using a wrap. If you are looking for one for big and tall dads, you are in luck. I have researched and found out that BabySteps Ergonomic  is a good carrier for plus size dads.
It is designed with both big dad and mom in mind- and it can be adjusted to fit the wearer's size. You can wear your little one on your back, facing in or out and this flexibility will allow you to find the perfect and sweet spot.
The only problem I noticed  (which might be a safety concern) is that the straps are only fastened with a buckle and not a clip like in many other carriers. Curious older kids might be able to open the straps.
It is ideal for big and tall parents due to its large and padded straps. However, if you plan on buying this carrier, I would recommend you keep your eyes on your child to prevent them from unbuckling the straps. Alternatively, you can buy another option once your child is older or curious enough of the buckles.
9. Mission critical men's carrier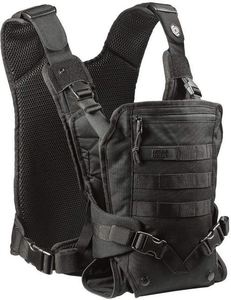 (Check latest price on Amazon)
A tactical baby carrier features many features of a military baby carrier. The only difference between the two  is that a tactical one features a more urban and gender-neutral style but lack military-inspired features like Molle webbing straps.
It can be used for everyday babywearing or when outdoor. With it, you can benefit from a wide range of seating position and movement that will grow with your child. It has a simple but innovative design for the safety of the child and the comfort of the wearer. It's equipped with a removable and washable liner and a hidden sun shield to protect your child from the harmful sun rays. It is available in three colors including gray, black and coyote.
Final thoughts on carriers for newborns:
What are you waiting for now that you know the different types of baby carriers you can buy according to your needs? It's important to choose according to your specific needs to avoid any health problems such as backache from arising. Looking for more articles? read these articles Best Diaper Backpack That Fit Every Parent Needs and What To Pack in a Diaper Bag for the Hospital