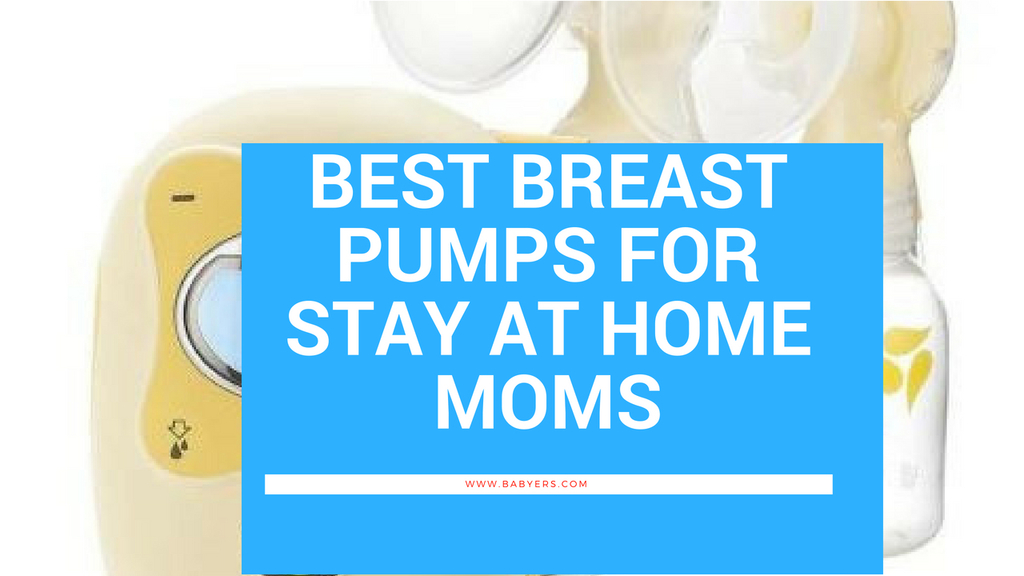 Best Breast Pumps For Stay At Home Moms
From my email: Hello Tanya, which is the best breast pump for stay at home moms? I received this from Alice Kowalski a stay at home mom expecting her firstborn sometime later this year.

I responded privately via email, but I thought it would be better if I wrote an article on the same.
So in this write-up, I'm going to exclusively review some of the moms recommended electric and manual breast pumps for stay at home mothers.
Also Read: Best toddler helmet
Choosing a breast pump for stay at home mothers
If you're a stay at home mother, there are several factors that you should consider before buying a breast pump. Some of the factors include:
How often will you need to pump milk?
How much are you willing to spend on a breast pump?
How fast do you want to express milk?
Every jay elle #breastpumpbag has a pump-access flap so you can keep your #breastpump in the bag while pumping. #withyoueveryounce #breastpumpbag #breastfeeding #breastpumping #workingmom pic.twitter.com/MsnQQGMBgL

— jay elle (@jayelle_byJLC) November 7, 2018

If you're not going to need often to use the breast pump, a simple manual pump is all that you will need. On the other hand, if you will need to express milk several times in a day, you might need the best electric breast pump.
Also Read: Best strollers for tall parents
Spending extra bucks on a breast pump can make a big difference when it comes to quality. But this doesn't mean that you can't get a quality breast pump for cheap. In fact, you will be able to find an affordable breast pump that's durable and of high quality just like the high-end models.
The rate at which you'll want to express milk will also influence the type of breast pump to buy. Manual breast pumps are cheap but express milk at a lower rate than electric breast pump which are relatively expensive.
In this review, I took a step further to classify various breast pump into different categories for easy selection. (Just in case of any clarification, leave a comment, and I'll get back to you).
Breast Pumps for Stay at Home Moms Comparison Chart
Best Manual Breast Pump for Stay at Home Moms
Medela Harmony Manual Pump
If you are a stay at home mother who'll not be breast pumping regularly, you will need a simple manual breast pump. It's small, quiet giving you the convenience every new mom wants. One of the features I love about Medela Harmony is the fact that you can assemble it easily in less than 5 minutes.
You can easily convert the manual breast pump into an electric breast pump thanks to the Symphony conversion kit which you can purchase separately on Amazon. Ideally, it means that you can buy the Medela Harmony and once you get a day job, upgrade it to a manual pump thank to the conversion kit.
You will also love the two modes, an expression mode for regular pumping and a stimulation mode which encourages let down. Once you purchase it on Amazon, inside the package is a breast pump unit, two storage containers, lids, a breastfeeding information guide, an instruction manual and a stand for the pump.
What I love and hate
The Medela Harmony is a manual breast pump, its cheap, and affordable, BPA free, and compatible with Medela accessories and breast pumps. However, if you fancy "breast pumping" or you find it extremely difficult to breast pump manually, this is not the pump for you.
Haakaa Silicone Breastfeeding Manual Breast Pump
While I've never had firsthand experience using the Haakaa Breast pumps, I've seen moms in forums and Facebook group swear by it. I've encountered more than 20 forum moms claiming that Haakaa manual breast pump helped them express more milk than with any other breast pump.
However, is that true?
To answer that question, I gathered information and asked some of my friends who've used the breast pump before and compiled the following review.
During my two day research, I discovered the following-
Haakaa manual pump is a once piece breast pump; it's easy to clean- a reason why moms love it. As a stay at home mother, I understand how busy life can be- I've been there, and I know it- especially if you got other kids to take care of. One chore leads to another, and I know you don't want to spend the rest of your day trying to figure out where to start or how to clean your breast pump.
With more chores waiting, you will want a breast pump that's easy to maintain, one which expresses milk within the shortest time, and one with no complicated settings. You'll find all these features in a Haakaa pump.
What my friends love and hate:
I paid a visit to my friend Caroline living in the Bay area and here is what she had to say about this pump. "Haakaa is a simple and easy to use pump. It compact- I can pump at home or stash it in my purse when I'm on the road."
What she didn't like?
"I find the ounce marking somehow deceiving," she said. "Sometimes shows 3 ounces but upon transfer, I only get 2 ounces of milk."  She added.
Another complaint is that- the pump can easily tumble down because of its narrow base.
Are there any quick fixes?
Upon further research, I discovered that you could quickly fix these two problems.
First, you'll need to purchase the newer version of the manual pump with a 5-ounce capacity and a wide suction base.
Secondly, you can buy Haakaa flower stopper to cover the unit if you don't plan to transfer milk immediately after pumping.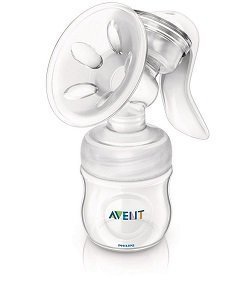 If you don't intend on expressing breast milk now and then- a simple manual breast pump is all that you will ever need.
You will need a simple pump that will allow you to express milk anywhere in your home. One of the best manual breast pump that has served me right over the years as a mom is Philips Avent Manual . It's not only an affordable breast pump but also efficient, durable and straightforward.
Also Read: Best all terrain strollers
I feel that the unit has been designed with comfort in mind. I noticed that you don't have to lean forward when expressing milk- a common trend in other manual breast pumps.
It is lightweight and compact; it's also easy to clean and comes with a soft massage cushion and a natural bottle that allows you to combine breastfeeding and bottle-feeding.
Best Double Electric Breast Pump for Stay at Home Moms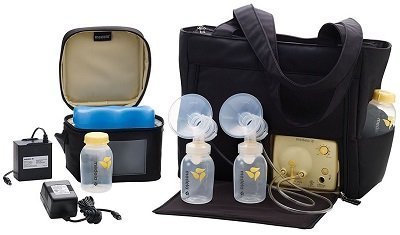 Medela Pump in Style
You will only need an electric pump if you plan on breast pumping several times in a day.
An electric breast pump will save you thousands of hours that you would otherwise spend if you were to buy a manual breast pump. Some of the factors you should consider before buying an electric pump include ease of cleaning and noise level.
Even though there are plenty of options to choose from when it comes to buying an electric breast pump, here is my top recommendation of the best pump if you're a stay at home mother is Medela Pump in Style Advanced Double Electric Breast Pump.
For decades Medela has established itself as a leading and also bestselling manufacturer of breastfeeding baby items.
Pump in Style  is designed for daily use, for stay at home mothers who would like to pump several times a day.
It's portable; hence you can easily transport it from the bedroom to the baby nursery or any part of the house. The breast pump boasts two-phase expression technology that lets you express more milk in less time.
Lansinoh Smartpump
If you're a stay at home mom or working mom looking for an affordable electric breast pumping that connects to a smartphone app for seamless pumping session tracking, then Lansinoh Smartpump is the ideal pump for you.
You'll appreciate the two-phase technology (expression and letdown phases), its discreet and connects to Lansing Baby app for tracking off feeding, pumping, and baby growth.
What moms love and hate:
You can easily synchronize the pump with a smartphone app and keep track of your pumping history and trends. The pump also tracks the date, time and the duration of each pumping session.
The smartphone app comes with an extra information resource, pumping reminders, tracking for bottle feeding, diapers and breastfeeding, encouragement and much more.
Despite the all the positives above, from my research, I found some users complaining that the breast pump doesn't come with a stand where moms can place the bottles, and it's also loud.
Baby Steps Independent
If you're a stay at home mom and wants an electric pump that gets the work done within the shortest time possible, Baby Step Double Electric Pump is the right choice for you. You will love the two-phase expression modes capable of mimicking your baby's natural suckling. Each expression mode can be adjusted up to 9 different suction modes giving your comfort and efficient pumping.
The anti-backflow protection prevents milk from flowing back and separates the milk and air hence maximizing the pump performance.
The pump only weighs 0.9 pounds hence making it the perfect stay at home moms who love traveling.
Once you purchase on Amazon, inside the package is:
2*disposable nursing pads
2*milk bottles with teats and lids
User manual (English)
2*bottle adapters
6 Volt AC / DC adapter (100-240 V ~ 50/60 Hz)
2*milk bottles with teats and lids
Double electronic pumping kit, with 24mm breast shields
What I love and hate:
The BabySteps electric pump is small in size, discreet and readily affordable. I found that some of the users complaining that the pump has too many components. This can be time-consuming when it comes to disassembling, cleaning and sterilizing.
Best Hospital Grade Breast Pump for Stay at home moms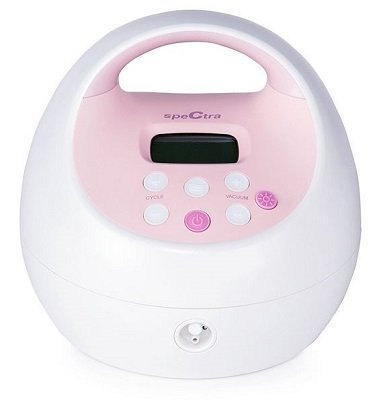 Spectra Baby USA-S2
If you want a hospital grade pump without having to break the bank- today is your lucky day. Spectra Baby USA- S2 Plus Hospital Grade Pump is designed to meet the needs of moms who want to feel more confident that they've got a powerful and efficient pumping unit.
Related Review: Best electric breast pump for working moms
Just like any other breast pump manufactured by Spectra, the S2 pump is a closed system. This means that milk doesn't come into contact with the pump thus enhancing hygiene and overall motor performance.
The pump boasts a suction strength of approximately 250mmHg and can be used either as a single or double  pump. The suction rate can be adjusted in both expression and let-down mode.
Best Single Electric Breast Pump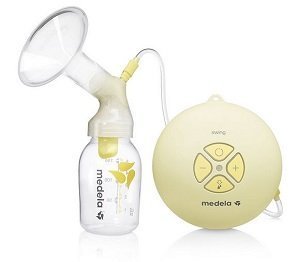 Medela Swing Single Electric Pump
With a single electric pump, you will only be able to express milk one breast at a time. You will, therefore, need the number one Physician Recommended Pump in the United States, Medela Swing Single Electric Breast Pump.
So back at it with my bestest friend!!! 🍼💛 @Medela_US pic.twitter.com/1kgfPIbPni

— Mary 🌹 (@maryknots) June 28, 2017

The pump comes with one Medium PersonaFit Breast Shield and boasts 2-Phase Expression Technology for faster expression in fewer minutes. It is an excellent choice for stay at home moms who want to express milk every day. Additionally, if you're a busy mom who loves sport, or wants to go out for an evening or shopping, this is the perfect pump for you.