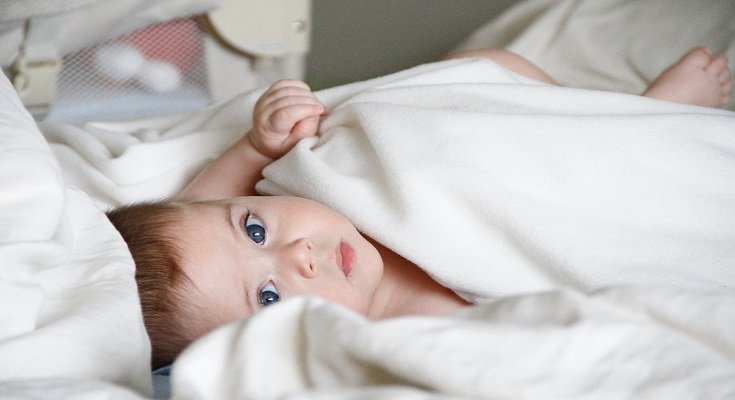 Best Breast Pumps For Stay At Home Moms
From my email: Hello Tanya, which is the best breast pump for stay at home moms? I received this from Alice Kowalski a stay at home mom expecting her firstborn sometime later this year.

I responded privately via email, but I thought it would be better if I wrote an article on the same.
So in this write-up, I'm going to exclusively review some of the moms recommended electric and manual breast pumps for stay at home mothers. Also Read: Best toddler helmet
Choosing a breast pump for stay at home moms
If you're a stay at home mother, there are several factors that you should consider before buying a breast pump. Some of the factors include:
How often will you need to pump milk?
How much are you willing to spend on a breast pump?
How fast do you want to express milk?
Every jay elle #breastpumpbag has a pump-access flap so you can keep your #breastpump in the bag while pumping. #withyoueveryounce #breastpumpbag #breastfeeding #breastpumping #workingmom pic.twitter.com/MsnQQGMBgL

— jay elle (@jayelle_byJLC) November 7, 2018

If you're not going to need often to use the breast pump, a simple manual pump is all that you will need. On the other hand, if you will need to express milk several times in a day, you might need the best electric breast pump. Also Read: Best strollers for tall parents
Spending extra bucks on a breast pump can make a big difference when it comes to quality. But this doesn't mean that you can't get a quality breast pump for cheap. In fact, you will be able to find an affordable breast pump that's durable and of high quality just like the high-end models.
The rate at which you'll want to express milk will also influence the type of breast pump to buy. Manual breast pumps are cheap but express milk at a lower rate than electric breast pump which are relatively expensive.
In this review, I took a step further to classify various breast pump into different categories for easy selection. (Just in case of any clarification, leave a comment, and I'll get back to you).
Why Stay At Home Should Pump
I know you might be thinking, Why Should I pump when I am staying at home with my little one? Here are some reasons why I think stay at home moms should pump.
1. Medical Emergencies
Kristine Kovach, a certified lactation consultant with more than 20 years' experience, advises mothers to introduce a bottle to their little ones by one and a half months in case of an emergency. On a grocery run, you could get into an accident- and this can be dangerous especially if your baby doesn't know how to feed from the bottle.
When my best friend Caroline was in the ICU, she was grateful that she had a stash of milk in the freezer. Her baby could be bottle-fed not only when in the ICU but also after she had morphine running in her blood.
2. Mummy needs a break
Beyond the hospital emergencies, pumping will give you a break, to exercise, sleep or even go on a date or give time to her relationship. Without a stash of milk in the freezer, it would be impossible for any nursing mother to accomplish some of the simplest activities in her life.
3. Physical Benefits
Pumping not only helps you build up more milk in the freezer for your baby, but it can help unclog milk ducts and relieve mastitis pain. Additionally, if you experience low milk supply, pumping regularly can help increase milk supply.
Consider power pumping if you have milk supply issues- it's a technique that can help you increase milk supply in less than a week. You can also nurse your baby from one side and pump on the other to maintain a steady milk supply until your baby can nurse from either.
4. Help other moms
Did you there are millions of babies across the world in desperate need of the health benefits of a mother's breast milk? You can donate it to a milk bank or privately to help other babies out there in need of breast milk.
Ever heard of Mother's Milk Cooperative? Last time I checked, they paid their milk donor's up to $1 per ounces.
 Comparison Chart
Manual Breast Pumps

1. Medela Harmony Manual Pump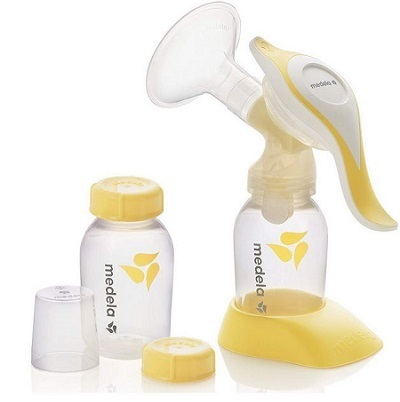 (See latest price on Amazon)
If you are a stay at home mother who'll not be breast pumping regularly, you will need a simple manual breast pump. It's small, quiet giving you the convenience every new mom wants. One of the features I love about Medela Harmony is the fact that you can assemble it easily in less than 5 minutes.
You can easily convert the manual breast pump into an electric breast pump thanks to the Symphony conversion kit which you can purchase separately on Amazon. Ideally, it means that you can buy the Medela Harmony and once you get a day job, upgrade it to a manual pump thank to the conversion kit.
You will also love the two modes, an expression mode for regular pumping and a stimulation mode which encourages let down. Once you purchase it on Amazon, inside the package is a breast pump unit, two storage containers, lids, a breastfeeding information guide, an instruction manual and a stand for the pump.
What I love and hate
The Medela Harmony is a manual breast pump, its cheap, and affordable, BPA free, and compatible with Medela accessories and breast pumps. However, if you fancy "breast pumping" or you find it extremely difficult to breast pump manually, this is not the pump for you.
2. Haakaa Silicone Breastfeeding Pump
(Check real user reviews)
While I've never had firsthand experience using the Haakaa Breast pumps, I've seen moms in forums and Facebook group swear by it. I've encountered more than 20 forum moms claiming that Haakaa manual breast pump helped them express more milk than with any other breast pump.
However, is that true?
To answer that question, I gathered information and asked some of my friends who've used the breast pump before and compiled the following review.
During my two day research, I discovered the following-
Haakaa manual pump is a one piece breast pump; it's easy to clean- a reason why moms love it. As a stay at home mother, I understand how busy life can be- I've been there, and I know it- especially if you got other kids to take care of. One chore leads to another, and I know you don't want to spend the rest of your day trying to figure out where to start or how to clean your breast pump.
With more chores waiting, you will want a breast pump that's easy to maintain, one which expresses milk within the shortest time, and one with no complicated settings. You'll find all these features in a Haakaa pump.
What my friends love and hate:
I paid a visit to my friend Caroline living in the Bay area and here is what she had to say about this pump. "Haakaa is a simple and easy to use pump. It compact- I can pump at home or stash it in my purse when I'm on the road."
What she didn't like?
"I find the ounce marking somehow deceiving," she said. "Sometimes shows 3 ounces but upon transfer, I only get 2 ounces of milk."  She added.
Another complaint is that- the pump can easily tumble down because of its narrow base.
Are there any quick fixes?
Upon further research, I discovered that you could quickly fix these two problems.
First, you'll need to purchase the newer version of the manual pump with a 5-ounce capacity and a wide suction base.
Secondly, you can buy Haakaa flower stopper to cover the unit if you don't plan to transfer milk immediately after pumping.
3. Philips Avent Manual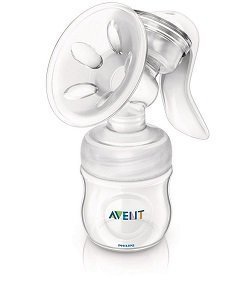 If you don't intend on expressing breast milk now and then- a simple manual breast pump is all that you will ever need.
You will need a simple pump that will allow you to express milk anywhere in your home. One of the best manual breast pump that has served me right over the years as a mom is Philips Avent Manual . It's not only an affordable breast pump but also efficient, durable and straightforward. Also read: Best all terrain strollers
I feel that the unit has been designed with comfort in mind. I noticed that you don't have to lean forward when expressing milk- a common trend in other manual breast pumps.
It is lightweight and compact; it's also easy to clean and comes with a soft massage cushion and a natural bottle that allows you to combine breastfeeding and bottle-feeding.
4. Lansinoh manual pump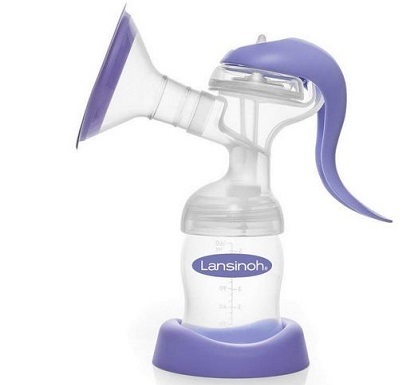 (Check latest price and deals)
If you want a compact manual breast pump for discreet pumping, I would recommend the Lansinoh manual pump. If you consider a breast pump a mum's ticket to a comfortable and restful night, then Lansinoh manual pump is a VIP pass.
All manual pumps are designed for those breastfeeding mothers who would like to pump once or twice a week. If you need a pump for regular pumping, an electric one would be the best for you.
Like the Medela Harmony, this Lansinoh boasts a 2-phase expression technology which starts with a stimulation mode and then let-down mode.
What to watch out for
A manual breast pump is never going to give an expressing power of an electric breast pump. Before you buy, prepare for tired hand especially if you'll use it a lot. However, the pump works well if you pump slowly without rushing.
You should reassemble tightly for suction to work
The unit should be cleaned after each use
5. NatureBond Silicone Pump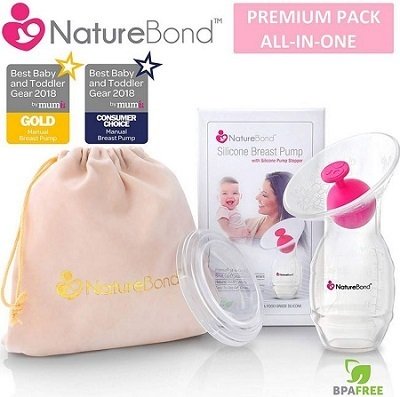 (Check price and deals here)
NatureBond Silicone is a manual breast pump that allows you to collect milk hands-free through natural suction pressure. The soft silicone design enhances comfort for breastfeeding moms. This pump will cost you less than 20 dollars and boast some of the best features you'll find in a breast pump.
It's air-tight sealed and made of high-quality silicone material to ensure to keep breast milk fresh and provide comfort for your breast respectively. Additionally, its FDA approved and certified free of PVC, BPA, Lead and Phthalate. Other unique features include a breast pump silicone stopper which can be fitted into the breast pump to prevent milk spillage or leakage.
If you want a pump that will collect every last drop and doesn't get a single drop to waste, NatureBond Silicone is the pump for you. If you're a pregnant mom, I would advise you to get this pump as soon as your little bundle of joy is born. The pump will collect every last drop of the let down during the first few weeks until your milk supply regulates.
6. Medela Pump in Style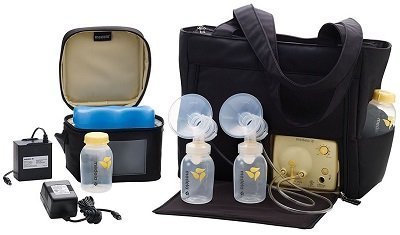 (Check latest price on Amazon)
You will only need an electric pump if you plan on breast pumping several times in a day.
An electric breast pump will save you thousands of hours that you would otherwise spend if you were to buy a manual breast pump. Some of the factors you should consider before buying an electric pump include ease of cleaning and noise level.
Even though there are plenty of options to choose from when it comes to buying an electric breast pump, here is my top recommendation of the best pump if you're a stay at home mother is Medela Pump in Style Advanced Double Electric Breast Pump.
For decades Medela has established itself as a leading and also bestselling manufacturer of breastfeeding baby items.
Pump in Style  is designed for daily use, for stay at home mothers who would like to pump several times a day.
It's portable; hence you can easily transport it from the bedroom to the baby nursery or any part of the house. The breast pump boasts two-phase expression technology that lets you express more milk in less time.
7. Lansinoh Smartpump
If you're a stay at home mom or working mom looking for an affordable electric breast pumping that connects to a smartphone app for seamless pumping session tracking, then Lansinoh Smartpump is the ideal pump for you.
You'll appreciate the two-phase technology (expression and letdown phases), its discreet and connects to Lansing Baby app for tracking off feeding, pumping, and baby growth.
What moms love and hate:
You can easily synchronize the pump with a smartphone app and keep track of your pumping history and trends. The pump also tracks the date, time and the duration of each pumping session.
The smartphone app comes with an extra information resource, pumping reminders, tracking for bottle feeding, diapers and breastfeeding, encouragement and much more.
Despite the all the positives above, from my research, I found some users complaining that the breast pump doesn't come with a stand where moms can place the bottles, and it's also loud.
8. Baby Steps Independent
(See real users reviews)
If you're a stay at home mom and wants an electric pump that gets the work done within the shortest time possible, Baby Step Double Electric Pump is the right choice for you. You will love the two-phase expression modes capable of mimicking your baby's natural suckling. Each expression mode can be adjusted up to 9 different suction modes giving your comfort and efficient pumping.
The anti-backflow protection prevents milk from flowing back and separates the milk and air hence maximizing the pump performance.
The pump only weighs 0.9 pounds hence making it the perfect stay at home moms who love traveling.
Once you purchase on Amazon, inside the package is:
2*disposable nursing pads
2*milk bottles with teats and lids
User manual (English)
2*bottle adapters
6 Volt AC / DC adapter (100-240 V ~ 50/60 Hz)
2*milk bottles with teats and lids
Double electronic pumping kit, with 24mm breast shields
What I love and hate:
The BabySteps electric pump is small in size, discreet and readily affordable. I found that some of the users complaining that the pump has too many components. This can be time-consuming when it comes to disassembling, cleaning and sterilizing.
9. Medela Freestyle Pump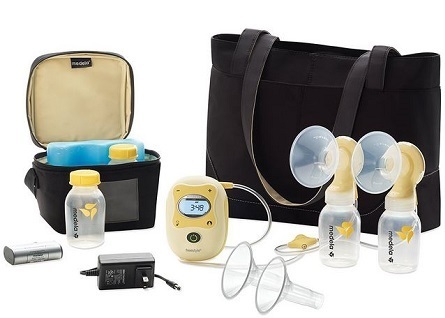 (Buy it on Amazon)
If you're a stay at home mom and your newborn is having breastfeeding issues, I would recommend a double electric breast pump. Here's what one mom in my popular forum had to say.
"I bought an electric double one 2 weeks after my first was born. I pumped for 6 months. I really wanted him to have breastmilk and was having issues, so this was a GREAT way for me to go."
The Medela Freestyle is a double breast pump- and as its name suggests- it's a pump that will let you have a life even when pumping. It's designed for multiple pumping sessions a day. Its lightweight (can use it at work as well) and can pump both or one breast at a time.
What's included in the box
Inside the box you'll find   1 – AC adaptor/charger, 1 – Freestyle pump, 1 – Lithium-ion battery – rechargeable, 1 – AC adaptor/charger, 2 – Shield bodies, membranes and back caps, 1 – Set of tubing, 1 – Set of 24mm and 27mm PersonalFit breast shields, 4 – 5oz/150mL breastmilk bottles and lids, 1 – Microfiber carry bag, 1 – Medela cooler system including cooling element and Instructions manual.
Unlike the Medela Pump in Style Advanced which comes with a motor attached inside the bag, the Freestyle Pump is not and hence you can put it in any bag you prefer- Here's my recommended breast pump bags).
The pump comes with a belt clip- allowing you to pump while doing other house chores or dressing up your baby. It's equipped with a rechargeable Lithium-ion battery which lasts up to three hours. I was a bit disappointed to discover that the Medela Freestyle is not a closed system but rather an open system breast pump. But as long as you assemble all the parts correctly, it's less likely to get the milk in the tubing.
Pros:
2-phase expression technology with adjustable suctions
Can be used for double or single pumping
Features digital display that allows the user to save pumping sessions
LED display that shows battery indicator, suction level and timer
Cons:
It's not cheap
Hands-free straps are difficult to use
It's loud, but not the loudest pump on the market
10. Evenflo Double Electric Pump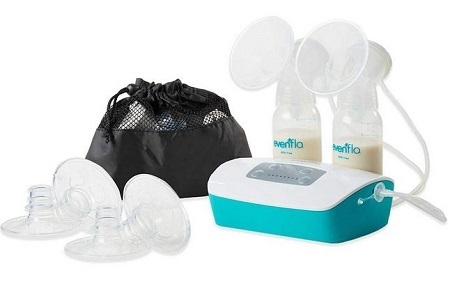 (Check user reviews and deals)
There's something strangely comforting about breast pumping. Probably it's just me, but since pumping became a daily norm in my life a couple of years back, it's become an important part of my daily life. The Evenflo is designed for stay at home moms or for pumping on the go.
The pump comes with two 28mm soft flange inserts, two 30.5mm flange kits, and two 24.5mm soft flange inserts to fit moms with different breast sizes. (See my reviews of the best breast for small boobs). The motor unit is not as powerful as in Spectra S1 or Medela Pump in Style Advanced but will just work fine for a breast pump in this price range.
The PerfectlyPure design ensures that there's no milk backup thus keeping milk fresh as intended. All the parts that come in contact with breast milk are dishwasher safe. So you can clean it in the dishwasher or by hand. I wouldn't say that this is the most silent pump you'll find on the market today- it does make some noise when pumping but it's not so loud such that your neighbors might mistake it with a rocket launch.
You can always find a room to pump discreetly away from your partner who's watching the television and your baby.
Pros:
It's a closed system
It's portable
Accessories and spare parts are readily available
Cons:
11. Ameda Purely Yours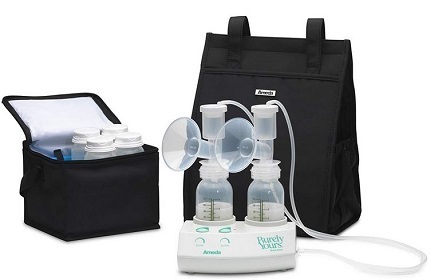 (Check user reviews)
The Ameda Purely Yours is a double pump that has a minimalistic design, but with some of the best features, you would want in an electric pump. It's one of the biggest rivals to Medela Pump in Style performance wise.
It features an adjustable suction and speed so every mom out there can find a setting that works best for them. Most breast pumps you'll find today have limited functionality- they only allow us to adjust the suction and the speed is auto-adjusted depending on the suction strength which can be uncomfortable.
One of the most powerful features of the Ameda Purely Yours is the ability to control cycle speed and suction strength independently. See in the picture below. There are two knobs to adjust these two features. So far the only pumps that offer this feature are the Spectra S1 and Ameda Purely Yours.
Ameda breast pump is a closed system; this means that the milk doesn't get into contact with the motor and the tubing. It's also lightweight and portable making it an ideal pump for travel- whether pump at home or travelling, you won't need a big bag to carry around.
Did you know that this pump is FDA approved? It assures me that it's a product I can trust. The motor unit houses two bottle holders where you can put your bottles and never worry about accidentally knocking and spilling your precious milk.
In addition to the standard flanges (25mm)- you can choose breast shields according to your nipple size thanks to the custom-fit breast shields offered by Ameda.
Cons:
No pump is perfect, and so is the Purely Yours. Here are some of the major concerns I have with this pump.
The cycle speeds are not easily distinguishable
No let-down button
Spare parts are hard to find
12. Signature Pro Double Electric Breast Pump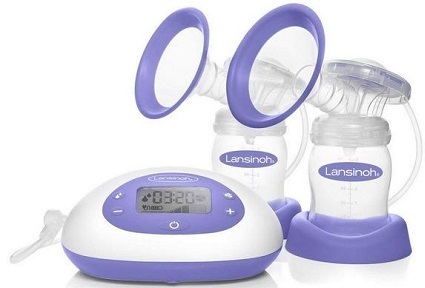 (Check latest price here)
Signature Pro is a budget-friendly pump for stay at home moms looking to invest in a double electric breast pump. It's a pump that gives moms control over their pumping experience thanks to its three pumping styles each with adjustable suction levels, and this allows for comfortable pumping.
Like most pumps on the market today, Signature Pro features a two-phase technology. There's the stimulation mode to initiate milk flow and the expression phase to maximize milk flow. You can plug the pump into the wall or use rechargeable AA batteries. See my recommended rechargeable batteries option below.
Additionally, the pump can be used as a single or double pump thanks to the tubing which allows you to close one side and pump with the other. You can pump and nurse your baby simultaneously.  The pump is also compatible with Simple Wishes Hands-Free pumping bra.
13. Bellababy Double Electric Pump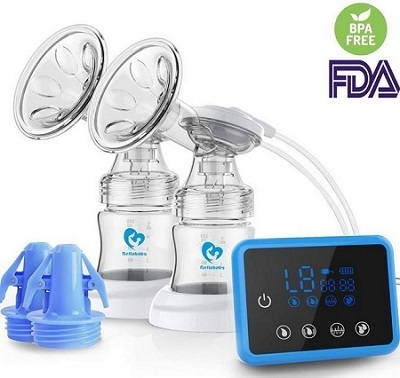 (Check latest price here)
The Bellababy is a double pump designed for working and stay at home mothers who need to express several times a day.
What's inside the box: Come with storage bag adapters, 4 modes and 9 levels of suction, built-in battery for outdoor use, pain-free and comfortable, fast USB rechargeable, anti-backflow design and an emergency power bank.
Some of the unique features of the Bellababy is the adjustable suction with 4 suction modes and 9 levels. It's equipped with a soft massage cushion that imitates baby's sucking motion and gives a pain-free pumping experience. The pump also comes with a built-in battery, and power bank which makes it ideal for stay at home moms/working moms who love outdoor activities.
Pros:
Lightweight
Small
Multiple settings way
Enough power
USB charging
Cons:
It's loud
It comes with one breast shield size- but you can always get other sizes separately
14. Spectra Baby USA-S2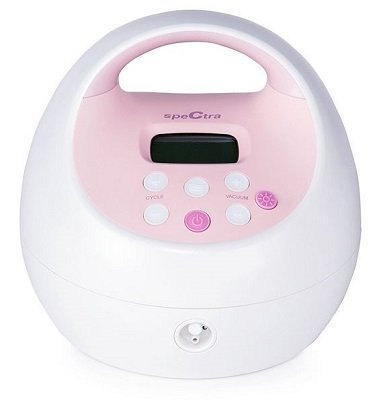 If you want a hospital grade pump without having to break the bank- today is your lucky day. Spectra Baby USA- S2 Plus Hospital Grade Pump is designed to meet the needs of moms who want to feel more confident that they've got a powerful and efficient pumping unit. Related Review: Best electric breast pump for working moms
Just like any other breast pump manufactured by Spectra, the S2 pump is a closed system. This means that milk doesn't come into contact with the pump thus enhancing hygiene and overall motor performance.
The pump boasts a suction strength of approximately 250mmHg and can be used either as a single or double  pump. The suction rate can be adjusted in both expression and let-down mode.
15. Medela Swing Single Electric Pump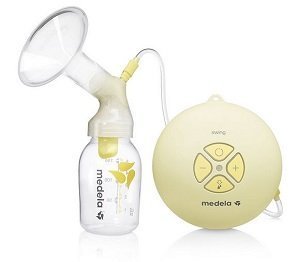 (Check latest price and deals at Amazon)
With a single electric pump, you will only be able to express milk one breast at a time. You will, therefore, need the number one Physician Recommended Pump in the United States, Medela Swing Single Electric Breast Pump.
So back at it with my bestest friend!!! 🍼💛 @Medela_US pic.twitter.com/1kgfPIbPni

— Mary 🌹 (@maryknots) June 28, 2017

The pump comes with one Medium PersonaFit Breast Shield and boasts 2-Phase Expression Technology for faster expression in fewer minutes. It is an excellent choice for stay at home moms who want to express milk every day. Additionally, if you're a busy mom who loves sport, or wants to go out for an evening or shopping, this is the perfect pump for you.
Benefits of Breastfeeding vs Pumping
Whether you're breastfeeding or pumping, or both, you shouldn't worry because the baby is getting the full benefits of breast milk. While some mothers will opt to pump so, they can return to work others have no choice, and they'll have to pump exclusively.
Below are some of the benefits of breastfeeding versus pumping and the downsides that every mom should know.
Benefits of Breastfeeding
Breastfeeding strengthens the bond between the mother and the baby.
No bottles involved hence you save both time and water
Saves you money because you don't have to invest in any breast pumps
Nothing to pack when leaving your house
Benefits of Using a Breast Pump
It takes less time compared to breastfeeding
You can measure the amount your baby is feeding
It's less painful
You can get others involved
Accommodate emergencies
Conclusion
Pumping at home shouldn't be a hassle anymore. You can now use either of the above breast pumps to express milk for you baby. You can also check out these 7 foods that will increase your milk production and this article on how power pumping helped me increase milk supply in 5 days.