If you are currently have a baby or soon to be a parent, then you will likely need the best video baby monitor with longest range. You probably have a very big house where many other baby monitors won't work for longer distances. Finding the right video monitor with a long range can be a little exhausting, but don't worry I did the leg work to make the work easier for you. But below we dive into my reviews, let me give you the answers to some questions new parents have regarding baby video monitors.
Are long range baby monitors safe?
Trust me, just in case you are worried about the long range digital baby monitors being susceptible to people snooping- here is my  advice as a fellow mom, there is no need to be. Long range baby monitors are specifically designed secure and often have a lock to a single display unit- so you are sure that you are the only one using it.
Are video monitors necessary?
Are video baby monitors necessary? This is a debatable question, and like many baby products, it all depends on a mom's preferences. For some, a baby monitor is of great importance, but for others, it's not a necessity.
Baby monitors make it easy to keep an eye on your baby as they sleep even when away from home. You can get a monitor when your baby moves to their rooms but here is my advice to any mother looking to answer the question of whether they should buy or not.
The size of your home can determine whether you should get this product. If live in a small home, you may not need a monitor because most of the times you'll find hearing your little one stir in the night. But if you can get this baby monitor which works best for small and medium sized homes. But if you live in a big house and there's a considerable distance between you and the baby, a monitor can be helpful.
A monitor can help you distinguish different baby cries without having to go in your child room. You can easily distinguish a hungry cry, whether your baby is groaning or if the child hasn't woken up.
Below are the top 5 of the best long range video monitors and everything you need to know about them.
Video Baby Monitor Comparison Chart
Best Video Baby Monitor with Longest Range Reviews
1. Motorola MBP36
This baby video monitor unit is ideal for parents with larger home. The unit has a 2.4 GHz fhss wireless tech that amplifies the connection between the parent unit and the camera. The Motorola MBP36 has been tested for distances of up to 650 ft. and offers remarkably high quality images.
The baby video monitor boasts a 3.5 inch LCD screen and a remote camera adjustment system which is quite helpful in exploring your little one surroundings. The camera adjustment system will enable you to get a clear view of the surrounding, tilt and zoom screen for a better view of your baby's nursery bed.
The unit has a very powerful microphone such that you will still hear your baby cry even when on low volume settings. The microphone also makes it easy for two way communication. Great audio will help you keep connected with your baby at all volume settings.
What you will love the most with the Motorola video monitor is the infrared capabilities. You can still check on your baby even when in the dark and the infrared quality is still great as daytime. The unit has five polyphonic lullabies which is a great way to pacify your little one.
2. Infant Optics DXR-8
If you are looking for a long range video baby monitor with interchangeable lens technology, then Infant Optics DXR-8 is the perfect unit for you. You will get a real-time stream of your baby's surrounding through a 3.5 inch LCD monitor that provides crystal clear images. Additionally, the unit is fitted with a reliable and long lasting battery that can last up to 12 hours in power save mode and for 8 hours when the display in constantly on. Unlike the internet camera's Infant Optics video baby monitor features a secure 2.4GHz FHSS wireless connection that provides 100% privacy with delay free audio and video playback.
Features
Two-way talk
Screen Off, Audio Only Mode (saves 50% battery)
Invisible IR night vision
Expandable up to 4 cameras
Scan mode requires add-on cameras
Remote pan/tilt/zoom
Alarm function
Remote temperature display
Sleek compact design for portability
Interchangeable Lens System
The interchangeable lens system allows you to customize the baby monitor camera performance by switching on the various lenses on the camera in just seconds. You can choose the most suitable viewing angle and focal length for a given environment, just like a professional camera system.
In other words, the camera is an investment that grows with your child. For intimate vision of your little one, you can use the close-up lens or you can switch for a panoramic lens when you child becomes mobile in order to get a full view of your child's activity.
Infant Optics DXR-8 includes a retractable antenna with a temperature indicator and a sound-activated LED display. The product has outperformed all other baby monitors brands in baby monitor videos.
3. Philips Avent DECT with Temperature Sensor and Night Mode
( Learn more about these great features here)
For more than three decades, Philips Avent has built its reputation thanks to its high quality and reliable products. I'm sure the company has been learning, listening, and constantly innovating to provide you with the best quality baby products and that's why mothers around the world recommend Philips Avent.
Philips Avent products range from bottle-feeding, breastfeeding, toddler feeding products as well as newborn gifts, monitors and many others.
Features
1.   Sound activated lights & temperature sensor
The lights will activate to indicate the level of sounds in your infant's room even when the Parent Unit is muted. With the temperature sensor, you will be able to monitor your baby's room. The customized temperature sensor will alert you through a digital display on the parent unit just in case your baby's room environment changes.
2.   Zero interference and Crystal clear sound
The DECT technology assures zero interference from any other transmitting products such as cordless phones, baby monitors, and cell phones. The secure data encryption provides a private and secure transmission so you can be sure that you are the only one watching your baby.
The DECT technology ensures that you hear gurgle, hiccup or gurgle with perfect clarity.
3.   Range
The Philips Avent DECT Video monitor has indoor ranges of up to 50 meters 164feet or 330meters/ 984 feet. However it is important to note that the operating range of the monitor can vary depending on the surrounding and the factors that can cause interference.
4.   Lullabies and talk back
The baby monitor has five relaxing lullabies to calm your restless little baby. Sometimes all your little one needs to relax is your soothing voice. With one click of the talk back feature, you can connect with your little one from anywhere, anytime. (Read real customer reviews here)
4. AXVUE E612 Video Baby Monitor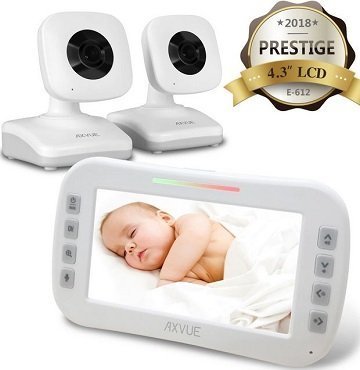 With a 4.3 inch LCD screen, this video monitor has ranges of up to 800feet along with a set of two LCD monitor to allow you to have a view of the different areas of your home. The video and sound quality is second to none, and this is one of the factors that make this product a bestseller on Amazon.
I've been using this monitor and I like the fact that I don't have to regularly visit my little one nursery, thanks to the two way audio system that enables you to speak directly with your little one even when several meters from your house.
What makes it unique and stand out from the standard monitor is the fact that the lights are sound activated and you can expand the view of this unit to as many as four cameras. This is particularly important especially when your little one starts crawling. (Buy it here at a discount)
5. Graco Direct Connect with 2 Parent Units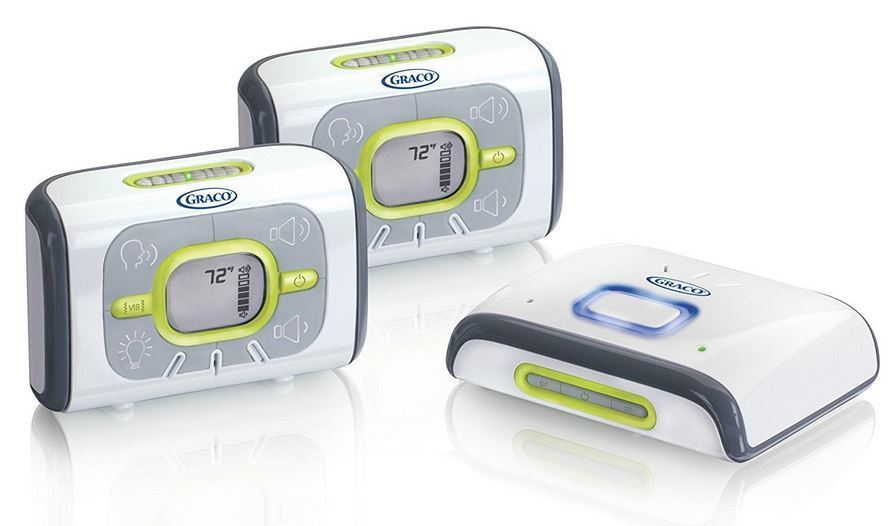 ( See it's full capacity range here)
When it comes to remotely connecting with your child, Graco Direct Connect is a great choice for you. The connectivity, performance and privacy of this monitor are the top reasons why Graco is our top pick and a top pick of every parent out there.
The unit is capable of transmitting to distances of up to 2000 ft. which makes it easy to monitor your kid even when roaming around your home. Set at 900MHz, this product is not affected by interference from other electronics such as phones or other video monitors.
The talk back feature allows you to communicate with your child , sooth him when he's awake. The nightlight setting even makes the sleep of your baby even more comfortable. ( Check its price and reviews)
https://www.youtube.com/watch?v=psvqG95S3Y8
What to Consider Before Buying a Monitor
I discovered that when it comes to buying a video baby monitor, many of my mommy friends pick one well priced and hope for the best. But a couple of months down the line, I hear them complain how they're dissatisfied with the product they purchased online. Below are some of the factors you should consider before buying a long range video monitor. Related: Best Travel Breast Pumps
Monitor Range
Most video monitors have a shorter range compared to audio-only monitors. This is one of the most ignored factors. Expect to find video monitors with a range of between 400-1000 feet, and that's enough to cover even the biggest mansions. However, it's important to note that the stated range on the product is the range in an open field and so you will lose some range when installed in your house.
Frequency
Standard monitors, you'll find on the market today use 49 megahertz (MHz). If you want a long range video monitor, consider ones with 900MHz- one downside with the long-range monitors is that they're subject to interference from phones with the same frequency.
But to address this problem, many manufacturers have shifted to 2.4 GHz. But this hasn't solved the problem since most of the cordless phones and WI-FI systems have also shifted to the same frequency. To minimize interference from other units, I would recommend video monitors that use digital enhanced cordless technology (DECT).
Pan, Tilt & Zoom
All monitors have some mechanism that allows the user to adjust the direction of the camera- the only difference is how you make the adjustment. A monitor with a static camera will only need to be positioned once and changing the camera angle is done manually- by moving the camera to your desired position. This type of monitor is inexpensive, but they're less convenient. Some mid-priced monitors have a manual pan/tilt feature which only requires the user to move a hinge to change the camera view. The disadvantage with this monitor is that you can wake the child since you have to go to his nursery to make the adjustments.
Then there's the top priced video monitor which remotely zoom, tilt and pan. You can adjust the camera angle using a parent unit without going to your baby's room.
Parent Unit Controls
The basic controls you will need on a parent unit include brightness, volume, and video on/off. The capability to turn on and off the video feed will improve battery life. The capability to adjusts brightness will ensure you get a good night sleep since it can be hard to sleep at night when with a bright screen at your face.
Some monitor parent units allow the user to control camera tilt, pan and zoom so that the user can get a glimpse of more than one spot in the nursery. It's important to check how these controls are laid out and their convenience.
Are the controls easy to use? Can you find the button you need with the lights off? Is the parent unit parent-friendly? Is the menu easy to navigate? These are but some of the question you should ask before buying a long range video monitor.
Expandability
If you plan to a second child or have a twin, consider an expandable video monitor. You should look for a monitor that will make possible to monitor the nursery and the playroom at the same time. There are plenty of options on the market that can accommodate up to 4 cameras. However, you will need to buy these cameras separately.
Security
Security depends on the type of monitor you have. There are two types of video monitors- analog versus digital. Analog models are cheap but less secure. Anyone in range can eavesdrop to the signal. However digital models are expensive but more secure because they encrypt their audio transmission.
How To Mount Motorola Baby Monitor
Mounting a baby monitor can be an overwhelming task especially for first-time parents. When I ordered a baby monitor on Amazon for my first born child, I didn't know how I could mount it- but a simple search on YouTube made the whole process much easy for me. Below is a YouTube tutorial on how to install a Motorola Baby Monitor.
Conclusion:
There you have it guy, some of the long range video monitors you can get on the market today. Looking for more video monitors articles?  see this monitors that monitors baby vitals or these monitors that help prevent SIDS, monitors with a camera or monitors with multiple cameras.