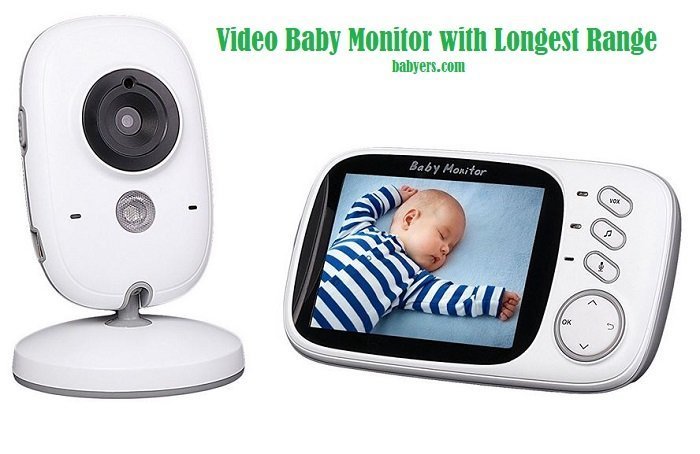 Best Video Baby Monitor with Longest Range
If you are currently have a baby or soon to be a parent, then you will likely need the best video baby monitor with longest range. You probably have a very big house where many other baby monitors won't work for longer distances. Finding the right baby monitor with a long range can be a little exhausting, but don't worry that's what we are here for.
Below are the top 5 of the best long range video baby monitors and everything you need to know about them.
Are long range baby monitors safe?
Just in case you are worried about the long range digital baby monitors being susceptible to people snooping- here is our advice, there is no need to be. Long range baby monitors are specifically designed secure and often have a lock to a single display unit- so you are sure that you are the only one using it.
Best Video Baby Monitor Comparison Chart
Reviews of the Best Video Baby Monitor with Longest Range in 2018
This baby video monitor unit is ideal for parents with larger home. The unit has a 2.4 GHz fhss wireless tech that amplifies the connection between the parent unit and the camera. The Motorola MBP36 has been tested for distances of up to 650 ft. and offers remarkably high quality images.
The baby video monitor boasts a 3.5 inch LCD screen and a remote camera adjustment system which is quite helpful in exploring your little one surroundings. The camera adjustment system will enable you to get a clear view of the surrounding, tilt and zoom screen for a better view of your baby's nursery bed.
The unit has a very powerful microphone such that you will still hear your baby cry even when on low volume settings. The microphone also makes it easy for two way communication. Great audio will help you keep connected with your baby at all volume settings.
What you will love the most with the Motorola video baby monitor is the infrared capabilities. You can still check on your baby even when in the dark and the infrared quality is still great as daytime. The unit has five polyphonic lullabies which is a great way to pacify your little one.
If you are looking for a long range video baby monitor with interchangeable lens technology, then Infant Optics DXR-8 is the perfect unit for you. You will get a real-time stream of your baby's surrounding through a 3.5 inch LCD monitor that provides crystal clear images. Additionally, the unit is fitted with a reliable and long lasting battery that can last up to 12 hours in power save mode and for 8 hours when the display in constantly on. Unlike the internet camera's Infant Optics video baby monitor features a secure 2.4GHz FHSS wireless connection that provides 100% privacy with delay free audio and video playback.
Features of Infant Optics DXR-8 baby monitor
Two-way talk

Screen Off, Audio Only Mode (saves 50% battery)

Invisible IR night vision

Expandable up to 4 cameras

Scan mode requires add-on cameras

Remote pan/tilt/zoom

Alarm function

Remote temperature display

Sleek compact design for portability
Interchangeable Lens System
The interchangeable lens system allows you to customize the baby monitor camera performance by switching on the various lenses on the camera in just seconds. You can choose the most suitable viewing angle and focal length for a given environment, just like a professional camera system.
In other words, the camera is an investment that grows with your child. For intimate vision of your little one, you can use the close-up lens or you can switch for a panoramic lens when you child becomes mobile in order to get a full view of your child's activity.
Infant Optics DXR-8 includes a retractable antenna with a temperature indicator and a sound-activated LED display. The product has outperformed all other baby monitors brands in baby monitor videos.
For more than three decades, Philips Avent has built its reputation thanks to its high quality and reliable products. The company has been learning, listening, and constantly innovating to provide you with the best quality baby products and that's why mothers around the world recommend Philips Avent.
Philips Avent products range from bottle-feeding, breastfeeding, toddler feeding products as well as newborn gifts, baby monitors and many others.
Features of Philips Avent DECT Video Baby Monitor
1.   Sound activated lights & temperature sensor
The lights will activate to indicate the level of sounds in your infant's room even when the Parent Unit is muted. With the temperature sensor, you will be able to monitor your baby's room. The customized temperature sensor will alert you through a digital display on the parent unit just in case your baby's room environment changes.
2.   Zero interference and Crystal clear sound
The DECT technology assures zero interference from any other transmitting products such as cordless phones, baby monitors, and cell phones. The secure data encryption provides a private and secure transmission so you can be sure that you are the only one watching your baby.
The DECT technology ensures that you hear gurgle, hiccup or gurgle with perfect clarity.
3.   Range
The Philips Avent DECT Video baby monitor has indoor ranges of up to 50 meters 164feet or 330meters/ 984 feet. However it is important to note that the operating range of the baby monitor can vary depending on the surrounding and the factors that can cause interference.
4.   Lullabies and talk back
The baby monitor has five relaxing lullabies to calm your restless little baby. Sometimes all your little one needs to relax is your soothing voice. With one click of the talk back feature, you can connect with your little one from anywhere, anytime.
With a 4.3 inch LCD screen, this baby monitor has ranges of up to 800feet along with a set of two LCD monitor to allow you to have a view of the different areas of your home. The video and sound quality is second to none, and this is one of the factors that make this product a bestseller on Amazon.
You don't have to regularly visit your little one nursery, thanks to the two way audio system that enables you to speak directly with your baby even when several meters from your house.
What makes it unique and stand out from the standard baby monitor is the fact that the lights are sound activated and you can expand the view of this unit to as many as four cameras. This is particularly important especially when your little one starts crawling.
When it comes to remotely connecting with your baby, Graco Direct Connect is a great choice for you. The connectivity, performance and privacy of this baby monitor are the top reasons why Graco is our top pick and a top pick of every parent out there.
The unit is capable of transmitting to distances of up to 2000 ft. which makes it easy to monitor your baby even when roaming around your home. Set at 900MHz, this product is not affected by interference from other electronics such as phones or other baby monitors.
The talk back feature allows you to communicate with your baby, sooth him when he's awake. The nightlight setting even makes the sleep of your baby even more comfortable.