How much milk should I be pumping? This is a common question new moms frequently ask. Some readers have approached me- all asking the same question over and over again- the amount of breast milk they should pump.
Most are usually anxious about the amount of milk they can pump.
Some of the questions I get are:
I'm only able to pump (this amount) per day- is this good for me?
Can I pump two bottles of milk in a day?
I know you are curious to know the same or probably you got a question related to the amount of milk you should be the pump. Today, I'm going to answer the question- how much you should be pumping (I will present you with scientific researches, facts and combine with my five years experiences as a mother.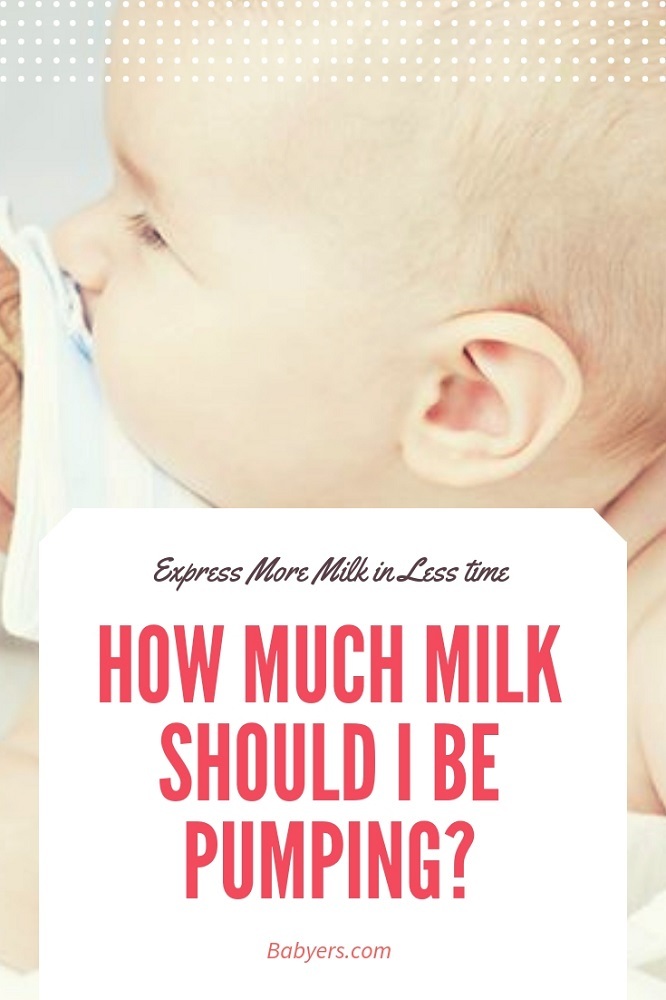 How much milk should you be pumping?
There are several suggestions on how much milk you should pump because each baby has his/her personality and feeding habits. The rule of thumb on how much you should pump in 24 hours is 2.5oz/pound of your baby's weight until he attains 10 pounds.
So if your baby weighs 7 pounds- you will need to pump at least 17.5 ounces for 24 hours. But once your child is drinking 25oz per day- this amount wouldn't significantly change as most babies drink 25-35 ounces in a single day.
As your baby grows and starts eating solid foods, the amount of milk that he/she drinks may go down significantly. The amount of milk that you pump will also depend on what your mommy life is like. Are you a working mother or do you stay at home with your baby?
If you are a working mom- you should pump for the many feedings you are missing on the other hand if you're a stay home mom a small stash of milk in the freezer is more than enough.
From my experience as a mother- I feel that these numbers should only act as guidelines and if your baby needs more milk, it's vital to adjust your pumping sessions to meet his needs.
What You Should Know
Milk production should significantly increase from approximately 30mL/ one ounce from day one to around 900mL/ 30 ounces per day in day 40. Remember that draining your breasts sufficiently will increase milk production during the early weeks. But you should expect to pump less milk at this time than you will later.
What are the factors that affect milk yield?
After a couple of days using your breast pump and everything seem working fine, these factors can, however, affect your milk yield.
Your emotional state
Pump quality
Your child's age
Time elapsed since your last pumping or breastfeeding
Exclusive breastfeeding or not
Time of the day
1. Emotional state
Physical and mental stress has a direct impact on a mother breast milk production. Stress is one of the causes of lifestyle diseases and in lactating mothers; it is a time bomb that could have devastating effects.
Stress has a direct impact on milk production. We all know that a mothers breast milk is vital for the baby development. It contains nutrients vital for baby's growth and also contains antibodies that protect the baby until the baby has developed a strong immune system.
What are the leading causes of emotional stress in lactating mothers?
The first cause of emotional and physical stress in moms is scrutiny by family members over every aspect of the new mother's life. Separation of the mother and the baby can also lead to emotional stress resulting in low milk production.
When you're stressed, angry or upset, your body releases adrenaline into the bloodstream, and this inhibits your milk flow. If you feel stressed and notice that you're pumping way too little, it's important to take a break and pump when you're feeling more relaxed.
2. The pump quality
Electric double breast pumps that generate 40-60 suction and release cycles in minutes are the best breast pumps at expressing milk. (See the breast pump I recommend here)
Buying a quality pump is very important because the type of pump you buy will affect comfort and milk flow. A good pump fit allows some space around your nipples for comfortable pumping.
3. Time of the day
Most moms produce plenty of milk in the morning than any other time of the day. This is because breast milk production varies depending on the time of the day.
A good time you should pump is thirty to one hour after the first-morning breastfeeding. A common trend is that most mothers will pump more milk in the morning than any other time of the day.
Regardless of the time of the day you pump, you can pump on one side while your baby is nursing on the other and take advantage of the baby-induced let-down.
Conclusion:
Now you know the amount of milk you should be pumping to ensure that your baby's growth and development. If you will be exclusively pumping, I would recommend you to read this article you can also learn how to improve your milk supply using these tips you can also learn how you should feed your less than 3 months old baby.