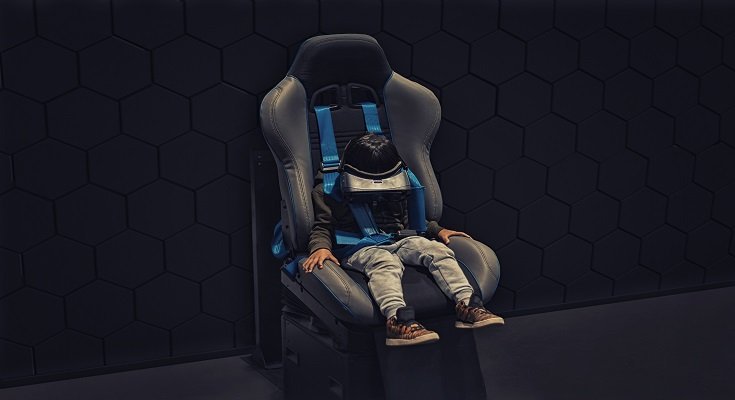 Best Car Seats For Small Cars Reviews
I know it's true that if you drive something with oceans of head and leg room and a big, wide back seat, then you never have to worry whether a car seat will fit in your car.
Therefore you can buy any car seat according to your taste, and you'll be guaranteed that your vehicle will hold it.
However, if you have a small vehicle like me, you will have limited options when it comes to choosing the type of car seat. (Check the seat I bought for Alex when she was 2years) For example, the Dodge Grand Caravan boasts approximately 63 inches of room in its rear seat while Honda Fit comes with just under 50 inches of backseat spacing.
Most convertible and infant car seats are 23 to 18 inches wide. You can also read my guide on the Best Infant Car Seats For Your Baby  I wrote the other week.
Benefits of Compact Car Seats for Small Cars
There are lots of benefits you gain by purchasing a compact car seat if you have a medium sized or small car.
A small car seat does not occupy large space in your car meaning you can have enough space for your shopping, your grocery or anything else you need to carry in your car on a regular basis.
The best convertible small car seats leave big space for your partner or any other passengers. Small car seats leave big legroom thus ensuring that your passengers are comfortable.
Small car seats are compact and lightweight thus making it easier to carry them around. This is ideal especially if you more around often from one car to another.
With small car seats, you can fit more car seats into the backseat, making it easy to carry two or three children safely.
Best car seats for small cars reviews
Buying a compact car seat as compact as your car is very important, but again it is easier said than done. Have you ever discovered that finding the right dimensions regarding weight and height can be very challenging?
Most car seat manufacturers provide these dimensions (weight/height) limit online or on the delivery box, but finding exactly how tall or wide these seats are is another challenge.
Add all these to the installation challenges you can run into with any given vehicle, and the right installation angle and what you have here is a complex puzzle that makes you want to pull your hair out.
I cannot tell you exactly what you should buy, but in this article, I offer you with the detailed information on the best car seats ideal your small car.
Top Pick: Best Car Seat in 2019
Of all the small car seats for small car reviewed in this piece of article, Britax G1.1 (See photos here) takes the first place.
Its compact design makes it simpler to fit in any small car and above all offer maximum safety and comfort to your child.
Installing Britax G1.1 is easy, and the seat can be carried around thanks to its weight. It is FAA Approved.
Given its unique features and the price tag, Britax is the best car seat for your small or medium sized car.
Best Convertible Car Seat
Graco has an excellent reputation in manufacturing car seats that meet the safety standards stipulated in the traffic laws of every county here in the United States.
Graco 4Ever features the dimensions for an all in one car seat sitting on a 20 inches wide base, 21.5 inches front-to-back and 24 inches tall and the best part; it doesn't take up plenty of front seat leg room when you install it rear facing.
It is an all in one seat rated for children weighing from 4-120 pounds, performs in four modes, front-and-rear-facing. Check Graco Seat Price on Amazon.
Pros:
Comes equipped with an EPS energy-absorbing liner that protects your child from serious injuries during a crash.
With the integrated harness, you won't need those annoying belts and straps again when using the seat in the booster mode.
Broad weight limits, from 4 pounds to 120 pounds. So if you're a preemie, mom/dad, this is the best car seat for your compact car.
Cons:
Available in only two colors.
Even though small, it is heavy due to its frame steel.
Best toddler car seat
The Maxi-Cosi Pria measures 19.5 inches wide, 26 inches tall and is also small front-to-back at 21 inches and perfectly fits in the small car very nicely especially when installing at upright angles for older kids.
However if you have a newborn and some more leg room, then the Tiny Fit padding system (that will cost you $40 extra) is worth it even parents of premature babies, and small babies are happy about how well the Tiny Fit padding system works perfectly for them. Click here to see price and reviews.
Pros:
Despite its weight and size, it is the very secure seat and one of the best car seats for small cars.
It's equipped with a LATCH system for ease of installation.
It's a good car seat for small cars and one of the most affordable car seats for the features it provides.
Uses Flextech Construction that releases kinetic energy during a car crash thus providing maximum safety to your child.
Cons:
Unlike other baby car seats, Maxi Cosi cannot be used as a booster seat.
A fast-growing child might outgrow this car seat pretty fast.
Compact car seat for travel
This is one of the smallest car sea and one of the best car seats for compact cars. It has been designed for a small car; it is small in size, lightweight and yet maintains highest safety standards and the quality that can only be compared to the 1st range of car seats.
The safety 1st Guide 65 measures 18 inches wide, 20 inches front to back and 24 inches tall and the weight and height limits are much higher than the Coccoro: 40 inches and 40 pounds rear facing.
Even though some of the verified amazon buyers claim that the Safety 1st is not the easiest baby car seat to install especially when rear facing, you have to admit that the car seat is worth the price tag. Buy it now on Amazon.
Pros:
The sports version of the Safety 1st Guide is well padded thus guarantying comfort and safety to your baby.
You can keep your child in rear facing and forward facing for long as the car seat can comfortably accommodate weights from 5 pounds to 52 pounds.
Ideal for small cars, thanks to its compact design.
The three buckle positions, anti-rebound bolsters, and the five position harness provides greater safety.
Being a small car seat, Safety 1st Guide 65 can fit three across your car back seat with little interference with the recline of the front seats.
Cons:
Installation can be tricky especially on old cars but quite easy on newer cars that come with a LATCH.
Best infant car seat for small cars
Grace SnugRide is one of the best infant convertible car seats for small cars you can find in the market.
What makes this car seat so popular is the fact that it is ultra-light and can fit nicely in the rear seat of most small and medium-size cars.
Additionally, the SnugRide is one of the best car seats for your newborn baby you can find in the market. It is easier to install and comes with a LATCH which offers maximum protection and safety.
Read more reviews from parents here.
Pros:
It's lightweight, so you can easily carry from one car to another, from your house to your car or from your car to a baby stroller.
It's made by Graco, one of the most trusted companies when it comes to designing and producing car seats.
Fitted with a click connect technology, so you can rest assured its safely and securely installed in your car or the baby stroller.
It easily attaches to all Graco strollers
Cons:
It's noisy especially when adjusting the sunshade.
No body pillows available but you can always buy them even though you do not really need them.
The maximum weight allowed for this car seat is 35 pounds, therefore if you want your child to be in the seat for long, you'd better buy another seat that takes more weight.
Best forward facing car seat
The Britax Clicktight has made a reputation for itself here in the United States as one of the safest and best car seats for small cars.
Clicktight is a small car seat that you can use in both forward and rear-facing mode. Given a large amount of space rear-facing car seats consume, the Britax is one of the best compact car seats that leave a large leg room even when installed in the rear-facing mode.
Front legroom can even be increased with the adjustment of the seat recline. See it on Amazon
Pros:
It comes with a Clicktight and safe cell system for enhanced safety and ease of installation.
The angle recline bubble and safe snug harness indicator ensure that you install the seat in the most comfortable and safest position as possible.
Combines a steel frame and an impact absorbing base for enhanced protection of your child.
Boasts 14 different adjust positions; therefore your kid can ride in both forward facing and rear facing modes for a very long time.
Cons:
Somehow expensive compared to other similar car seats.
If you are not familiar with the LATCH system, you might find it challenging when installing.
What to consider before buying car seat for small cars

Age of the Child
Ensure to check on this one very carefully. One baby car seat will be right for one child and not for the other. Babies grow and what one baby will use now will not be perfect for another.
Rear-facing seats or a forward-facing seat are suitable for babies under the age of six months. Rear-facing seats or a forward facing restraint seat will be perfect for babies' ages between 6 months and four years.
Forward facing restraint or a booster seat will be ideal for children between the ages of 4 years and seven years. Are you planning on going to Disney Land, see my recommendations here Stroller Fans for Disney World
The height of the baby
You will also need to ensure that you check your baby's height before purchasing a car seat for him or her. Most current baby car seats come with a feature known as shoulder height maker.
This feature allows you to determine your baby's ideal position.
To ensure you are using the function correctly, the child must remain in a rear-facing seat or position until their shoulders become in-line or above the height maker facing forward.
Harness and straps
This is an essential feature in baby's car seat. One needs to accurately know how to adjust the tackles and the straps in position.
This will ensure that your child is safe and secure at all times while driving. Ensure you properly test the harnesses and traps before your purchase the seat. Check out for this feature keenly at all times.
Safety tests and Manual Instructions
Another important feature you should keenly check is if the baby car seat you are purchasing has been sufficiently tested. In the event of an accident, babies are using very vulnerable, so you need to ensure that the seat you are buying is suited for such an event.
In some countries it is illegal to purchase a car seat that has not undergone the necessary safety checks. In addition, the baby's car seat should have a detailed manual of how to use the product. A good baby car seat should have a well documented return policy should it not work or please you.
Installation
Always go for a baby's car seat that is easy to install and fit. For instance, infant car seats are easy to fit in the car.
They can use the LATCH system or the car's seat belts to offer maximum stability. Some seats will be easy to fit will other will be hard to fit depending on the method one is using.
Ease of use and cleaning
A baby's car seat requires being fitted in proper position to guarantee protection to the baby. So for it to be a safe car seat to use it needs to have secure harnesses and straps. But what is important is that they need to be easy to adjust at any given point.
The harness and straps should be made in such a manner that the baby cannot undo them but easy for the parent to use without much hassle.
The baby's car seats are made from different materials with different textures and colors. It is always important to clean the seats after use so that the chances of the baby getting an infection are less.
So check out for the material used. Is it washable by just wiping? Or it requires thorough washing with detergent and water?
Seats that are made of absorbent fabric will be hard to wipe clean compared to those made of smooth materials. For washing instructions always read the manual keenly to know how to wash the baby car seats.
Type of car and canopy design
Not all vehicles are the same and not all baby car seats will be perfect for your car. So you need to purchase the correct one that matches your needs and that of your car's specifications.
So its there are a lot that comes in before you set out to choose for your baby the perfect car seat. The above should offer you an excellent guide to making an ideal choice.
It is always imperative to go for a product that meets your needs and is within your budget.
Canopy offers protection from the sun, so this is an extra feature you need to check out for before purchasing. You need to check if the canopy is strong enough to withstand the tugging f small feet and hands.
Related Review: Best Breast Pump For Small Breasts in 2018
There you have it guys- the best car seats for small cars to help you and your kids arrive home safely. I hope you liked my review. If you've got any question- even if it's not related to this review, please ask it in the comment section below and I will be glad to help.