Heading to have some fun with your child this summer? If your answer is yes, you are probably looking forward to the sand, surf, and sun. Beach trips are one of the best things to do in the summer. At times baby strollers with large storage space will do the trick when moving your kids and their stuff from point A to B.
However, when it comes to going to the park or beach for a couple of hours, a beach wagon will hold more stuff than an all-terrain stroller.
Types of the wagon for baby
There are two main styles of beach wagons for baby. The first type is the traditional type which you pull behind you and the second type of kid's wagon is the new model that you push like a baby stroller.
Now that you plan on going to the beach this summer, purchasing a wagon for baby is the first step in preparing. I know it can be overwhelming deciding on the best beach wagon for baby- whether you're looking for the traditional wagon or new model wagons for baby- I have compiled a detailed review of the best beach wagon for baby.
Best Wagon for Baby Comparison Chart
Best Wagon for Beach Sand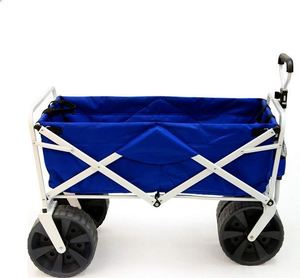 The best wagon for beach sand should have all the features of a good wagon including extra-large wheels, durable metal frame, and an easy to clean fabric. The kid's wagon should also accommodate your child's weight and have large storage space.
Mac Sports Collapsible Folding All Terrain Beach Wagon Cart from MAC Sports boasts all the feature of a beach wagon.
The collapsible baby wagon folds to its full size within seconds with no assembly required. The interior capacity measures 36.2"x 21.4"x 24.6" allowing you to haul the baby and luggage with ease. The beach wagon is designed using durable 600 Denier fabric allowing you to haul up to 150 pounds.
Not only does the Mac beach wagon feature a large interior space but it also folds up to small size (9.7 inches).
The only shortcoming I've discovered with the beach wagon is that- it's too loud in gravel and somehow hard to pull on beach sand (but this depends on the weight of your luggage).
Best wagon for two toddlers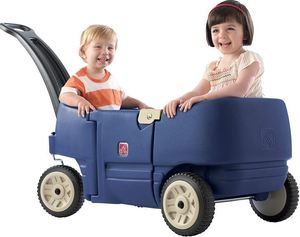 Wagon for Two Plus is the best wagon for two toddlers and preschoolers. The unique and durable design of this kid riding toy offers kids with comfort and room to play. Your kids will store their stuffed animals and toys as you haul them across the beach.
Additionally, Wagon for Two Plus can also be used as an outdoor utility wagon to carry supplies for various activities such as camping.
If you live in areas where the sun can be extreme like in Florida, I would recommend getting yourself one with a canopy to help protect your little passengers from the scorching sun rays. You can store water bottles in the cup holders and some sunscreen, sunglasses or snacks or hats in the storage seat.
Best Wagon for Travel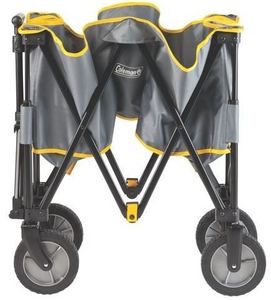 When traveling, you will want to save as much space as possible. If you own a small car, you know the importance of space. When looking for the best wagon for travel, you'll want to choose the option that will help you save space.
The best wagon for travel should be easy to fold and unfold. A collapsible folding wagon should be easy to set up when you want to use and fold when not in use. Additionally, the size of the wagon when folded down also determines whether a wagon is good for travel. Some models are compact and will take less space in your car's trunk.
I would recommend Coleman Camp Wagon for travel and other activities such as grocery shopping, camping, and visiting the park or beach. Its design makes it easy to store when not in use and can accommodate weight up to 150 pounds.
Best wagon for sandy beach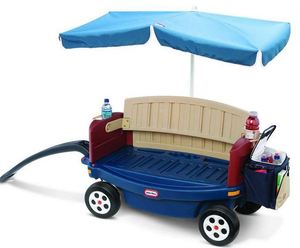 It's easier to get your kids supplies to the seaside thanks to Little Tikes Deluxe Ride and Relax Wagon with Umbrella. The versatility of the kid wagon makes it perfect for the whole family. The sturdy body with red accents makes it ideal for all activities- perfect for a tailgate party, gardening, park and beach visits.
You'll love that the wagon converts to a bench so that both kids and adults can have some good time under its shade. The umbrella attaches to the wagon to protect the kid from UV light from the sun.
Little Tikes Deluxe wagon is equipped with safety and storage features. The seatbelts and large storage areas let you take your essentials along with you.
Best radio flyer wagon for beach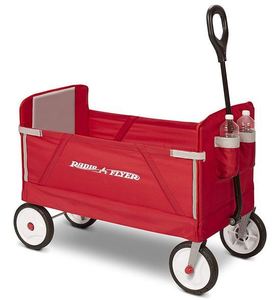 Radio Flyer is an American toy company the official maker of Radio Flyer 3-in-1 EZ Folding Wagon. It is designed as a full-sized wagon for children and comes in 3 different modes: flatbed hauling, two kids riding and bench sitting.
It features an easy one-hand fold, compactly folds and can be stored anywhere. The seat backs are padded to ensure that your little passengers have a comfortable ride.
The wagon fabric is durable and easy to clean. Radio Flyer wagon is equipped with a magnet to hold the handle upright when not used.  This radio flyer wagon is ideal for children from 1 1/2 years and above.
Best folding wagon with canopy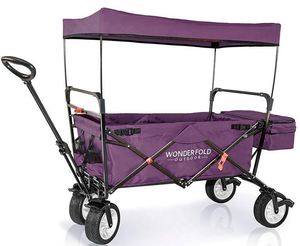 A folding wagon with a canopy option can be an ideal option for transporting your children from one location to another. With a folding wagon means that it can easily fit in a small car trunk and hence saving you more space. The canopy will also help protect your children from scorching summer sun especially if you live in sunny parts of the United States where temperatures can get high than normal.
The best folding wagon with a canopy is WonderFold Outdoor High-End Wagon. The wagon has a 180 degrees steering swivel handle, and it's fitted with an auto safety locking system. It's also fitted with large tires ideal for all-terrain and removable padded fabric. An extra basket attached to the wagon offers extra storage space where parents can store their kids' stuffed toys.
The only limitation with WonderFold wagon is that it doesn't have built-in seatbelts and it's relatively expensive.
Best cheap wagon for baby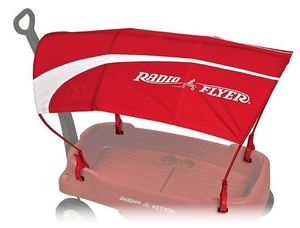 If you want the best affordable wagon for baby with similar features as the premium end models, Radio Flyer Wagon Canopy will serve you right. It's fitted with a canopy to keep your little passengers cool on sunny days. The canopy includes four clamps that fit in other wagons by the same manufacturer.
Its unique features include:
Four easy to use clamps
Storage bag
Ideal for 1 ½ + years